Bengal polls 2021: BJP MP, SP plotted before firing, says Mamata
The CM also claimed to have got the names of the CISF personnel who had opened fire and killed the four voters and injured four others on the day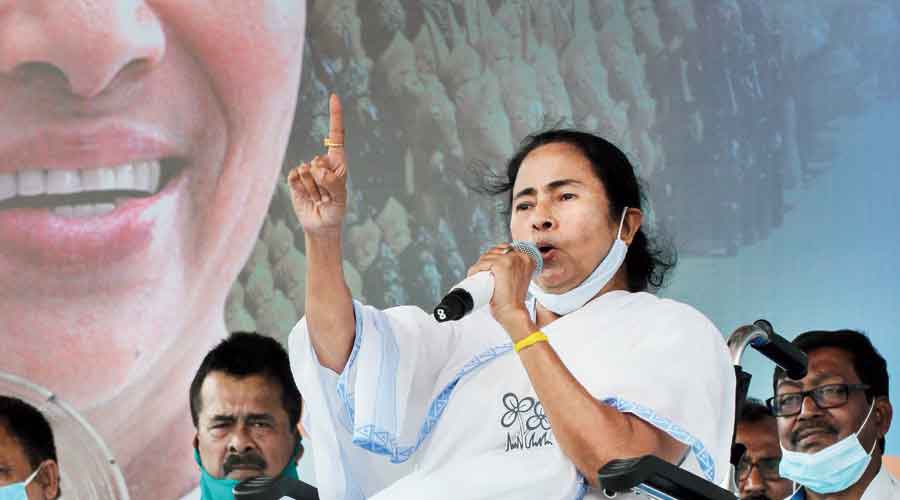 Mamata addresses the rally at Ranaghat on Monday
Telegraph picture
---
Ranaghat
|
Published 13.04.21, 01:51 AM
|
---
Chief minister Mamata Banerjee alleged that a conspiracy had apparently been hatched a day before the fourth phase of election in Sitalkuchi where four voters were killed in a firing by central forces during the polls on Saturday and vowed not to spare anyone involved in the incident.
Speaking at a public meeting in Ranaghat on Monday, the chief minister claimed Cooch Behar BJP MP Nisith Pramanik and superintendent of police Debasish Dhar had held a meeting a day before the incident.
She also claimed to have got the names of the CISF personnel who had opened fire and killed the four voters and injured four others on the day.
"Boys aged 20-22 years have been killed. They conspired and killed… BJP has conspired with the SP. I'll surely investigate this. I'll bring (out) the real incident…They sat and conspired the entire thing and conspired to shoot…then they gave clean chit (to central forces)," Mamata said.
She went on to allege that Union home minister Amit Shah was involved in the incident and Prime Minister Narendra Modi was aware of it as well.
"The SP was not our appointed person. He was appointed by the BJP. All the appointments were done by the BJP. They removed the DG law and order, other senior police men, the SP, the DM and also removed my security staff," she said, raising questions about the motive of such a decision.
Showing a list of names on a paper during her meeting in Ranaghat, Mamata said: "I have collected all the details about the jawans who opened fire. I will spare none...I also came to know that the SP had held a meeting with the MP where everything was planned".
Later speaking at another election meeting in Dumdum, Mamata alleged that the election was being held in an atmosphere that resembled the "Emergency".
"The election is being held here under undeclared President's rule. I can challenge them at every point. Factually and legally, I am right," she said.
Terming the firing in Sitalkuchi as a planned attack, she said: "It is clear that the attack was well planned ahead. I will investigate to find out the real mystery behind it. I will check who opened fire and how they held meetings...how they planted a woman to stage a drama of missing her child."
Speaking about the murder of a first-time voter, which took place in Sitalkuchi prior to the CISF firing incident, Mamata said: "BJP killed its own men who was a Rajbanshi, but accused others. They also did it in Pulwama incident and begged votes using the incident later."
Jibe on Bangla visit
At another rally, Mamata Banerjee referred to Narendra Modi's regular comments about infiltration from Bangladesh and then juxtaposed his recent visit to the neighbouring country before accusing the Prime Minister of double standards in his dealings with Bangladesh.
"He never misses a chance to talk about infiltration from Bangladesh and accuses Mamata Banerjee of encouraging it and then he visits Bangladesh during the polls in Bengal to seek votes... This is double standard," the Bengal chief minister said while addressing a rally in Basirhat.
Mamata brought the issue up while issuing a rebuttal to Modi's claims in some recent rallies that she had done nothing for the immigrant Matua community.
"You had visited Bangladesh before, but you didn't visit (Orakandi) then... If you had so strong urge to visit that place, you could have done it after the elections. Why did you visit during the election?" she asked.
She then expanded the scope of the attack on Modi and even accused him of triggering riots in Bangladesh. "You went there and then riots followed... Wherever you go, you trigger riots," Mamata said, obliquely referring to unrest in Bangladesh during Modi's visit in which some people lost their lives.
After accusing Modi of using Bangladesh trip to campaign for the polls, she said that the poll panel should have taken action against him.
"Earlier also, he did similar things as he visited the US to campaign for US president Donald Trump... His visa should have been cancelled," she said.
To buttress her argument, Mamata referred to the plight of Bangladeshi actor Ferdous Ahmed, whose visa was revoked for his presence in a Trinamul campaign during the 2019 Lok sabha poll.