Bengal Polls 2021: A cottage industry thrives around bomb-making every election season
Besides political murders, bombs are used to spread panic or to take control of villages after elections are declared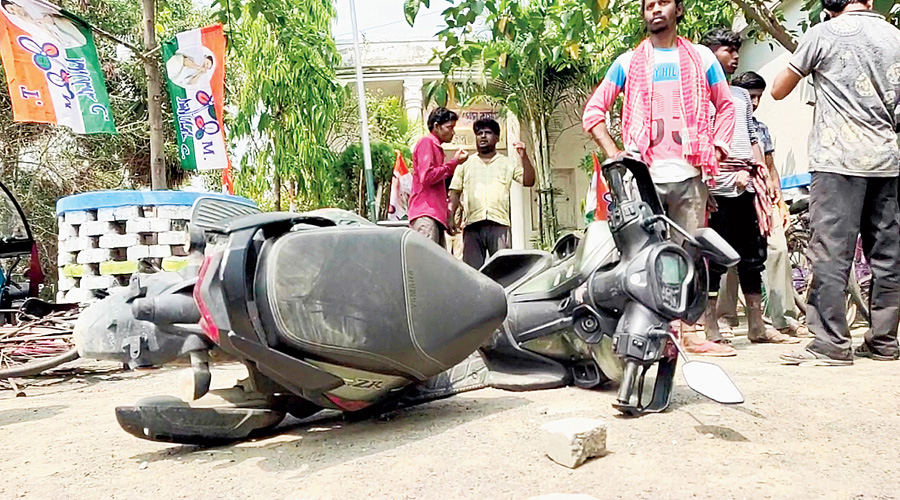 ---
---
Elections are back with a bang, literally. Ballots in Bengal have spawned a cottage industry over the years — that of bomb-making. Political clashes before polls have often involved crude bombs and many lives have been lost, prompting police crackdowns in which large caches of explosives have been seized.
Bomb-making, however, continues unabated. "Do you think BJP and CPM workers will reciprocate with rosogollas if Trinamul men hurl bombs at them?" asked a 45-year-old crude bomb-maker in Birbhum's Nanoor, breaking into laughter.
"Yes, we get orders to make bombs from both the ruling party of the day and those in the Opposition. Bombs are a badge of strength. Those who have more goons and bombs are stronger. It is a weapon. Can the army fight with bamboo sticks against opponents armed with AK-47 rifles?" he asked, requesting anonymity.
"Election is like war time. The demand for bomb-makers and explosives increases before polls. Political parties start stocking bombs a few months before elections," he said.
Central Bengal districts such as Birbhum, East and West Burdwan, Murshidabad and Malda witness frequent clashes with bombs. The use of bombs is not uncommon also in North and South 24-Parganas and some north Bengal districts.
Politicians this newspaper spoke to said the practice of using bombs during elections dated back decades.
Besides political murders, bombs are used to spread panic or to take control of villages after elections are declared.
According to police records, 2,000 crude bombs have been recovered in the past year only in Birbhum. The number is around 250 since the elections were declared in February.
Police sources said at least a dozen complaints had been lodged over clashes with bombs.
Bombs stocked in vacant government establishments like ICDS centres, abandoned buildings of health centres and other places have often accidentally gone off in Birbhum, the sources said.
A senior police officer who has served in Birbhum for at least 10 years said the stocks of crude bombs appeared unending. "We get tired recovering bombs but the stocks never end. This has been continuing since CPM rule," the officer said, preferring anonymity.
The bomb-maker this newspaper spoke to said he had no idea that a seven-year-old boy in Burdwan town had died on March 22 while playing with a crude bomb that he had apparently mistaken for a ball.
"It was the fault of the local people who had stocked bombs…. But do you know how many people lose their limbs preparing bombs? No political party looks after them after they become useless," he said.
Sources said three types of crude bombs were usually used in political fights —known locally as sutli (tied with jute cord), kouto (explosives crammed into an iron canister) and socket (explosives stuffed into an iron pipe whose two sides are closed).
A sutli bomb costs Rs 500, a kouto bomb can be had at Rs 600 and a socket is sold at Rs 1,000-Rs 1,200.
"A bomb-maker charges Rs 150 to prepare a crude bomb (sutli). Every poll season, I receive orders for at least 100 crude bombs," the bomb-maker said.
"We earn between Rs 2 lakh and Rs 5 lakh by making crude bombs during elections. Orders come from all the prominent political parties. At the beginning, the fight was between the CPM and the Congress, then it was the CPM and the Trinamul Congress. Now, it is between Trinamul and the BJP…. The business is alive," he added.
In February, junior minister Jakir Hossain and 10 Trinamul workers suffered splinter injuries when unidentified people hurled around a dozen crude bombs at them at Nimtita railway station in Murshidabad.
Political leaders did not deny the use of crude bombs during elections but passed the buck onto each other.
Recently, the BJP candidate from Bolpur, Anirban Ganguly, had accused Trinamul of stocking crude bombs and demanded that all booths in Birbhum be declared as sensitive.
Abhijit Tah, the BJP president of East Burdwan, said: "It is Trinamul that always uses crude bombs to create panic among voters and threaten our leaders in the villages. The BJP does not believe in such violent tactics. Trinamul claims that we use bombs but people know the allegations are false."
Birbhum Trinamul president Anubrata Mondal alleged that the CPM had started the culture of using bombs and now the BJP was emulating it.
"The CPM used bombs to manipulate elections. Now, a large number of CPM goons have joined the BJP and are using bombs freely," Mondal said.
The CPM distanced itself from such claims. "Those who fight with bombs are criminals, not political persons. It is unfortunate that some political parties are using bombs," said Goutam Ghosh, a CPM state committee member.
Asked about the allegation that the CPM had encouraged the use of bombs, Ghosh said: "Our party never supported such people."