Vulture saviours seek ban on 3 medicines
In the 1990s, India's vulture population was dwindling, which prompted ornithologists, the BNHS, and the UK-based Royal Society for Protection of Birds to take up vulture conservation in earnest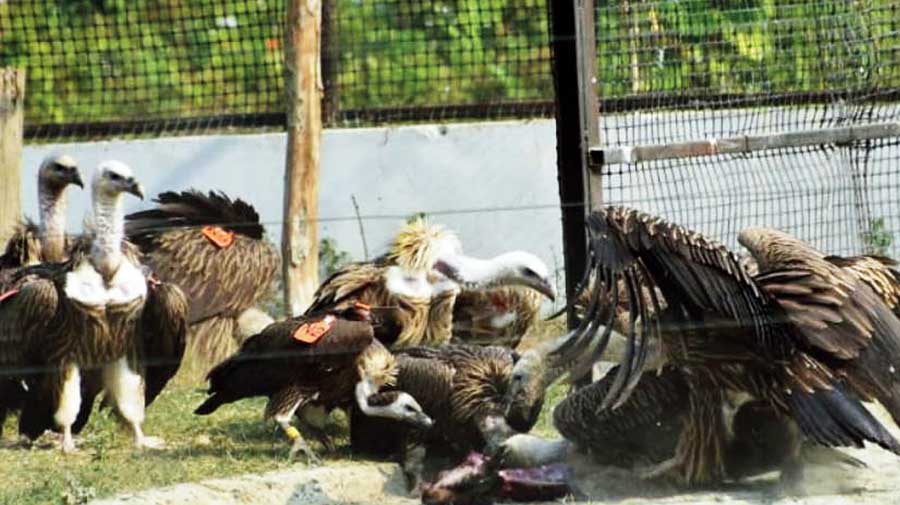 Some of the vultures before their release on Saturday
Telegraph picture
---
Alipurduar
|
Published 11.01.21, 04:38 AM
|
---
Authorities of the Bombay Natural History Society (BNHS) working for vulture conservation have asked the Centre to ban the use of three painkillers on cattle that are fatal for vultures who later feed on cattle carcasses.
Vibhu Prakash, the deputy director of BNHS who was at the Rajabhatkhawa Vulture Breeding Centre at Buxa Tiger Reserve in Alipurduar to witness the release of eight vultures — two white-backed and six Himalayan griffons — on Saturday, said medicines aceclofenac, ketoprofen and nimesulide were fatal for vultures.
"We have written to the Centre, seeking a ban on use of aceclofenac, ketoprofen and nimesulide on cattle. Earlier, we had found that use of diclofenac on cattle was causing vulture deaths and it was banned on cattle in 2006. Now, these three medicines should also be banned to conserve vultures," Prakash said.
In the 1990s, India's vulture population was dwindling, which prompted ornithologists, the BNHS, and the UK-based Royal Society for Protection of Birds to take up vulture conservation in earnest. Under the project, two vulture captive breeding centres were readied in Pinjore (Haryana) and Rajabhatkhawa.
"The captive breeding project worked and now we have started reintroducing vultures in nature in a phased manner. At this point, it is necessary that these three drugs on cattle are banned," Prakash added.
Rajabhatkhawa has 140 vultures. Of these, 76 were born in captivity since 2006.
The eight vultures were released with wing tags for identification. Two white-backed ones also have PTTDs (platform terminal transmitter devices) to track their locations. "Another flock will be released from here on February 18. We plan a vulture census across Bengal next month," said V.K. Yadav, the PCCF (wildlife).
Yadav also said they planned to open two more aviaries in Rajabhatkhawa and open the first captive breeding centre for Asian King Vulture.
The Asian King Vulture or the red-headed vulture, sources said, is a critically endangered species. As of now, there are hardly 1,000 Asian King Vulture left in the world, said foresters.
Elephant dead
Carcass of a female adult wild elephant was found at the Damanpur forest range area of Buxa Tiger Reserve on Saturday. Foresters suspect poison or infectious disease and are awaiting post mortem report.