Visva-Bharati vice-chancellor invites criticism for lecture by MP
The teachers and students, owing allegiance to the Left and Trinamul also accused Chakrabarty of trying to push forward the BJP's agenda to saffronise the university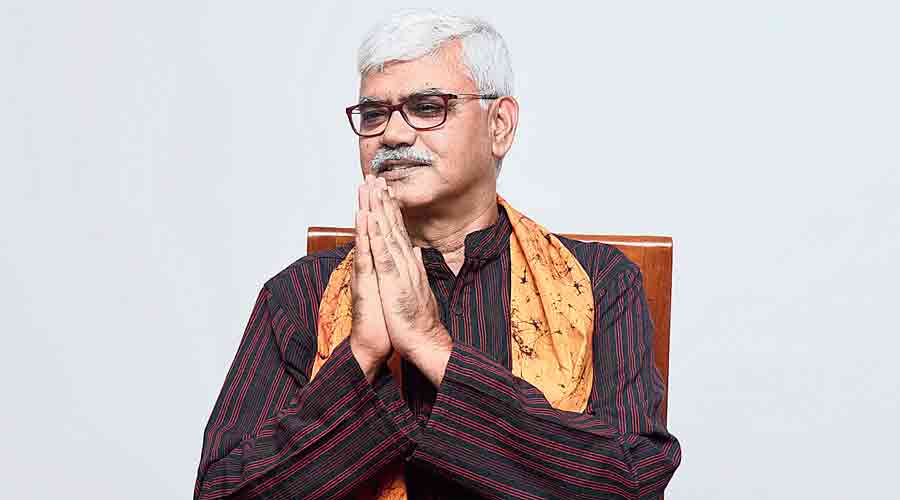 Bidyut Chakrabarty.
File photo.
---
Santiniketan
|
Published 22.01.22, 01:11 AM
|
---
Visva-Bharati on Friday evening organised a lecture by Rajya Sabha member Vinay Sahasrabuddhe and invited fresh criticism from teachers and students, who charged vice-chancellor Bidyut Chakrabarty with holding the event to "please" the parliamentary standing committee on education, headed by the BJP leader, which is looking into complaints levelled against him.
The teachers and students, owing allegiance to the Left and Trinamul also accused Chakrabarty of trying to push forward the BJP's agenda to saffronise the university that had been established by Rabindranath Tagore.
Choosing Sahasrabuddhe as the speaker for the lecture also stands out as he is the chairperson of the parliamentary standing committee on education. Among the complaints levelled against Chakrabarty include those by a few MPs who are members of the parliamentary standing committee on education.
Sahasrabuddhe, who had also served as BJP's national vice-president till September 2020, came down to Santiniketan to speak on "Dimensions of India's soft power" at the central library hall on Friday evening for over an hour in the presence of Chakrabarty, a few varsity teachers and officials. It was 46th lecture in the series started in Chakrabarty's tenure. Despite the physical presence of seniors, the online link of the event was circulated widely by the varsity.
"Several MPs, including three members of the standing committee on education, had lodged written complaints against the VC with the education ministry for his several acts including harassing employees and ruining Tagore's ideology in campus. The action taken report would be placed soon and we expect the ministry to take steps against him. In such a situation he invited the chairperson of the standing committee on education to influence him," said a senior professor of Visva-Bharati Faculty Association. 
VBUFA has sent a letter referring letters by the MPs to chairman of Rajya Sabha Venkaiah Naidu, Prime Minister Narendra Modi, education minister Dharmendra Pradhan and many others in New Delhi in this connection.
Bolpur's Trinamul MP Asit Mal, Congress MP from Kerala's Thrissur T.N. Prathapan, CPM's Rajya Sabha MP Bikash Ranjan Bhattacharyya had either written letters or raised the issue of Visva-Bharati and the alleged "wrongdoings by the VC" in Parliament and with the education ministry.
"Actually, there will be an action taken report from the education ministry as several MPs had lodged complaints against the VC. So, it is nothing but a move to please the chairperson of the standing committee on education," said another varsity professor.
Varsity students said the event was an attempt to saffronise the campus after the "failed attempt to do it when BJP MP Swapan Dasgupta was invited to address a seminar at the height of the CAA movement".
Visva-Bharati's acting public relations officer Atig Ghosh, however, did not take calls or reply to a WhatsApp message seeking his version.
A senior official however said: "He (Sahasrabuddhe) was invited as the president of the Indian Council for Cultural Relations. There is no political connection to it."