Visva-Bharati names & blames TMC 'vandals'
The central varsity has also written to the office of its chancellor seeking central forces to protect the campus, and said it would demand a CBI probe into the vandalism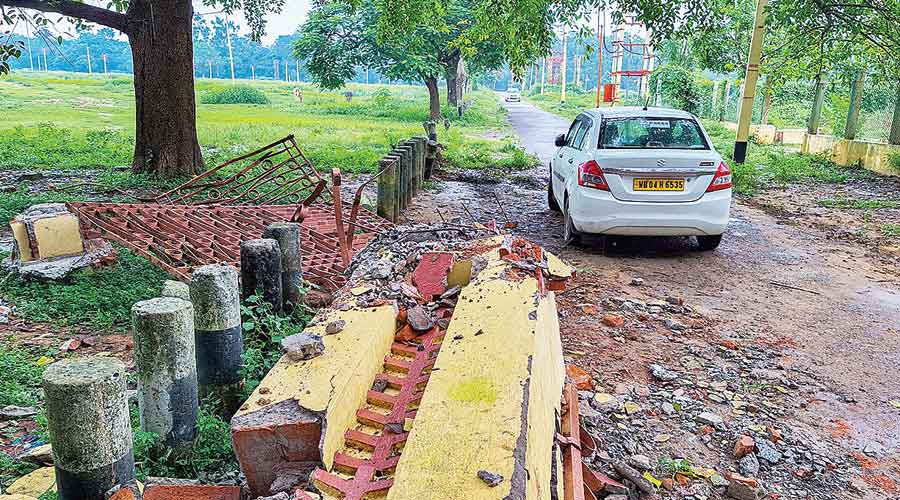 ---
---
Visva-Bharati authorities have filed a complaint of campus vandalism and loot against a Trinamul MLA and three other ruling party leaders, accusing them of leading a mob on Monday against the construction of a boundary wall on Pous Mela ground to pitchfork the controversy into a full-blown political battle.
The central varsity has also written to the office of its chancellor, Prime Minister Narendra Modi, seeking central forces to protect the campus, and said it would demand a CBI probe into the vandalism.
In the complaint, officiating registrar Asha Mukherjee of Visva-Bharati accused Trinamul's Dubrajpur MLA Naresh Bauri and three other party leaders of leading a mob on Monday to vandalise a gate of Visva-Bharati and a pandal erected as a camp office of the authorities, and of looting construction material.
Visva-Bharati authorities have argued that as custodians of the Pous Mela ground, they had the legal right to put up a boundary around it.
The varsity's news release on Tuesday evening also clearly blamed Trinamul, indicating it was now putting the blame squarely on the ruling party for Monday's incident.
This comes in the wake of chief minister Mamata Banerjee's strong disapproval on Monday of a wall on Pous Mela ground. Citing varsity founder Rabindranath Tagore's philosophy and ethos that went into setting up the institution, Mamata said at Nabanna: "I don't want any construction that would barricade the natural beauty of Santiniketan and its red soil."
Birbhum's Trinamul chief Anubrata Mondal dismissed the varsity's charges. "Trinamul had no connection with Monday's incident, which was a result of spontaneous mass outrage against Tagore's ideology being slighted with a boundary wall. Varsity authorities are trying to politicise the issue and frame our leaders," he said. "I know that authorities had called up a BJP group to use them as human shield to stop protesters (on Sunday)."
Tension over the wall started brewing early this month, and escalated when a group of traders protested against the construction on Independence Day, Saturday, by allegedly heckling the contractor. On Sunday, Visva-Bharati allegedly called up some varsity employees and BJP workers to act as a human shield against protesters.
Responding to the Trinamul's charges, Birbhum BJP president Shyamapada Mondal called it the ruling party's ploy shift blame.
"The Trinamul is trying to shift blame now that they are formally accused of campus vandalism," he said.
District magistrate Moumita Godara Basu invited vice-chancellor Bidyut Chakrabarty to the Bolpur SDO office to discuss the issue with residents and students, in accordance with the chief minister's Monday order. However, sources said Chakrabarty on Tuesday hinted he would not attend any such meeting. Visva-Bharati is yet to officially state its stand.
In its news release on Tuesday, Visva-Bharati also clarified for the first time that it wasn't planning to put up a wall but a four-foot high fencing. "The height of proposed fencing shall only be 4 feet from the ground, which will be decorated by creepers and plants…. and on top of it there will be a 3-feet iron grill…with seven gates on the eastern side of the mela ground," it said. The varsity will hold a 12-hour "fast protest" on Wednesday against the vandalism, it said.
Varsity officials also alleged that goons ransacked the Santiniketan home of journalism professor Biplab Loho Choudhury on Monday evening. "They threw brickbats at his house," a varsity source said.
So far, eight persons have been arrested for vandalism in the case filed by the police, district police chief Shyam Singh said. The varsity's separate complaint is being looked into, he said.