Village youth found hanging after moneylender's 'abuse'
Tragedy brought to light how rural poor don't easily get loans from banks and instead get trapped in loans with astronomical interest from local lenders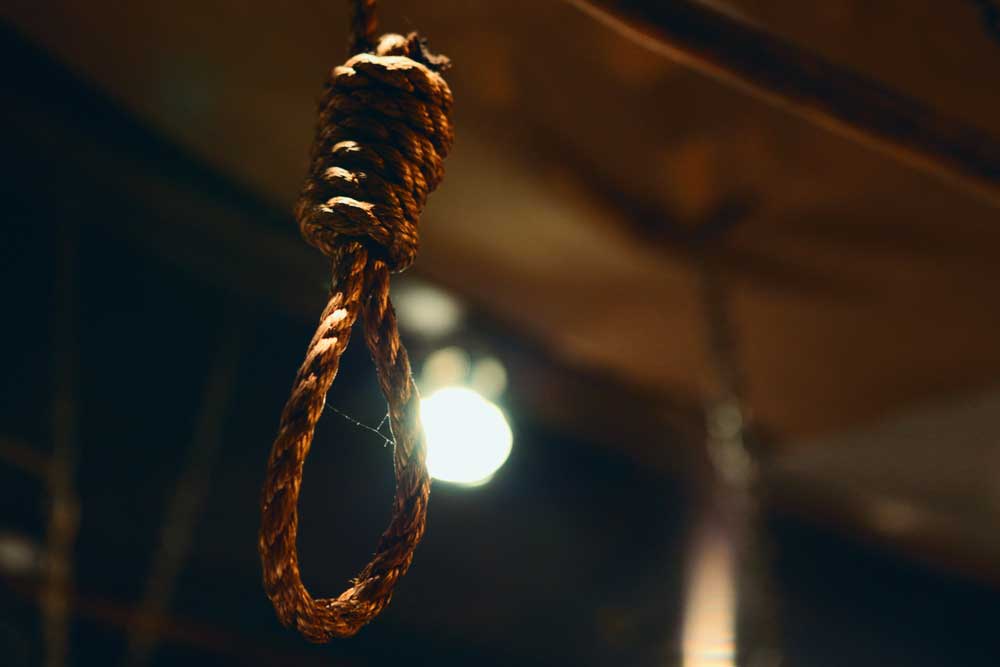 Representational image.
Shutterstock
---
Behrampore
|
Published 05.07.22, 01:35 AM
|
---
An 18-year-old from a Murshidabad village on Sunday night reportedly hanged himself as he was allegedly humiliated and assaulted by a local moneylender for failing to pay Rs 500 per month as interest for the past two months against a Rs 5,000 loan he had taken before last year's Durga Puja.
The tragedy brought to light how the rural poor don't easily get loans from banks and instead get trapped in loans with astronomical interest from local lenders.
Family members of the youth, Bishnu Pal of Baruipara village of Murshidabad's Suti, said he had to borrow Rs 5,000 in October last year to buy new clothes for Durga Puja from local moneylender Narayan Chowdhury.
The moneylender's condition was he would pay Rs 500 per month as interest till he repaid the principal.
According to the family members, Bishnu had already paid Rs 3,500 as interest in the past seven months.
However, he could not pay these past two months as he lost his job in a local hardware shop.
This provoked the moneylender to humiliate and assault the youth on Sunday, Bishnu's father alleged, adding that this led the youth to kill himself.
"The moneylender along with four others came to our house on Sunday evening and snatched the mobile phone from my son for not paying interest for two months. They also beat him up and threatened to break his limbs if he did not pay the money within a few days. My son closed the door of his room and later we discovered him hanging from the ceiling," Manotosh Pal, father of the youth.
Pal on Monday lodged a complaint with police against the moneylender for abetment to commit suicide.
Emami Biswas, the Trinamul MLA of Suti which Baruipara falls, said the incident was worrying.
"Common people can't approach banks for a short-term loan as they seek a lot of papers and ask for a list of formalities. In case of such personal loans, banks also seek guarantor/s… So, poor people borrow money from those moneylenders at high interest," said MLA Biswas.
"In the case of this youth, he was already repaying his loan at 120 per cent interest annually which is certainly an abnormal figure. If he could get a loan from a bank, he certainly would not have approached the private moneylender," he added.
Mir Sakir Ali, the additional superintendent of police in Jangipur police district under which the village falls, said that the cops had lodged a case of abetment to commit suicide against moneylender Chowdhury following complaint of father of the youth.
Police and local sources said that a large number of illegal moneylenders had started doing brisk business in the pandemic years despite the fact that the area has several banks.
"Moneylenders offer loans and they don't want to take back the principal amount in parts. As a result poor villagers keep paying interest for years and the principal amount is never paid," said a villager in Baruipara village.
Chief minister Mamata Banerjee has in the past repeatedly criticised the alleged apathy of scheduled commercial banks in offering credit to the poor people in rural areas.
She had also been critical of banks for not extending loans through students' credit cards.
"We have found that the bank officials' negative attitude towards sanctioning loans even when the state government was the guarantor. It is a problem in the banking sector in Bengal," said a bureaucrat.
To this charge, a senior manager of a nationalised bank said they follow the norms while assessing credit applications.