Village school constitution excites economist
Kaushik Basu learns how kids fixed rules & responsibilities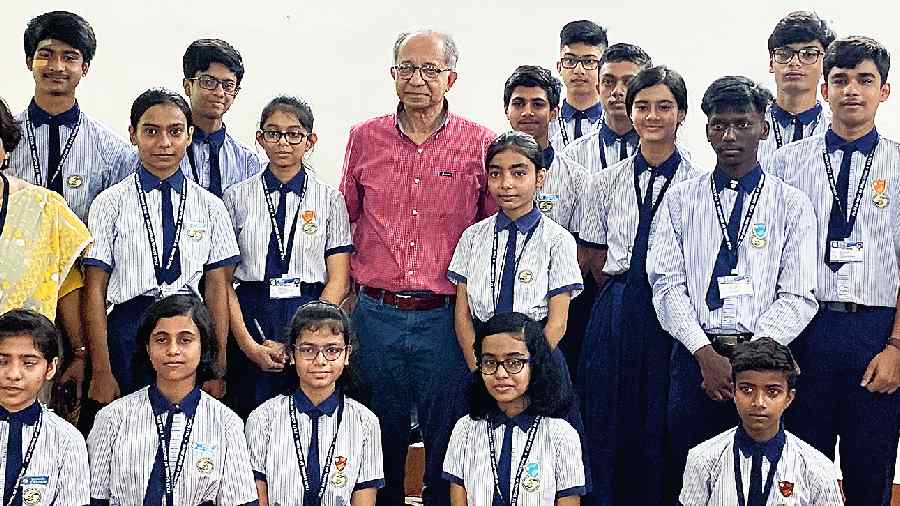 Economist Kaushik Basu with students of the Filix School of Education at Barandanga village in Para, Purulia district, on Thursday.
Snehamoy Chakraborty
---
Purulia
|
Published 24.06.22, 12:10 AM
|
---
"Sir, please look here, this is our constitution."
The 'sir' was former World Bank chief economist Kaushik Basu, who immediately turned to Sayna Naaz, a Class VI student of the Filix School of Education in Barandanga village in Purulia, adjacent to Para, to see what she was pointing at.
What Basu saw excited him visibly. He immediately took out his cell phone to take a few snaps of the "constitution" hanging on the wall.
During his visit to the village school on Thursday, the "constitution" attracted him the most. It was not the Indian Constitution, but the constitution of a classroom, prepared by students to fix the responsibilities of students and teachers.
"It was quite new for me and currently I am very interested in the constitution of countries and for the world. I feel that there is a need to create global agreements and a global constitution. I am now researching on that. So suddenly seeing these students thinking along those lines was really exciting for me.…" said Kaushik Basu, the Carl Marks Professor of International Studies at the department of economics at Cornell University, when asked about his excitement.
He also asked several questions to students about the idea and the process that went into preparing the constitution, asking in particular how they fixed the responsibilities of students and teachers and if there were many debates on it.
Students, while explaining their constitution, added that it also mentioned consequences that violators of rules could face, including teachers.
One of the rules for the teachers is they can't scold students unnecessarily. If a teacher breaks the rule, he or she has to distribute chocolates to all students, they explained.
"It was really very good that the students were encouraged to write about the responsibilities of the teachers also…. this is not happening in Calcutta, Delhi or Mumbai, but in a remote place in Para of Purulia, far away from the city," said the former chief economic advisor to the government of India.
The Filix School of Education, run by Nanritam, a social welfare organisation has over 400 students up to Class X. Most of them come from remote villages. Many students are from poor families and first-generation learners.
Basu is the chief mentor of Nanritam and takes special care of education here. He had visited this school the last time in July 2018.
On Thursday, Basu spent over three hours with the school students and discussed their projects, study and progress.
He later participated in an impromptu question and answer session with the children of the school.
He also met the students who came up with projects on different subjects including puzzles on mathematics and geometry — things which the economics professor has a special interest in.
"We try to give a different form of education here. Many scholars from abroad also come here as guest teachers. We are really happy that the idea of our students was appreciated by him (Basu)…." said Nanritam secretary Ranjana Sengupta.
The school is conducting an 'Education For All' drive to spread the teaching method among teachers of other schools in the state.
A three-day programme involving teachers from 150 schools from 10 Bengal districts was conducted from Tuesday.
Nanritam also runs a super-speciality eye hospital, the Lokeswarananda Eye Foundation on its Purulia campus. A new operating theatre complex of the eye hospital was inaugurated by Basu on Thursday evening. The eye care unit serves over 300,000 patients every year, with 12,000-plus surgeries, most of them free of charge.
Basu said he was worried about high inflation and divisive politics in India but he is also optimistic about the prospects of the country in the long run as it has creative people with innovativeness.
He added his hopes shot up after visiting the school run by Nanritam.