UN platform for peace initiative of two young women from Calcutta and Karachi
Friendship defies barbed wires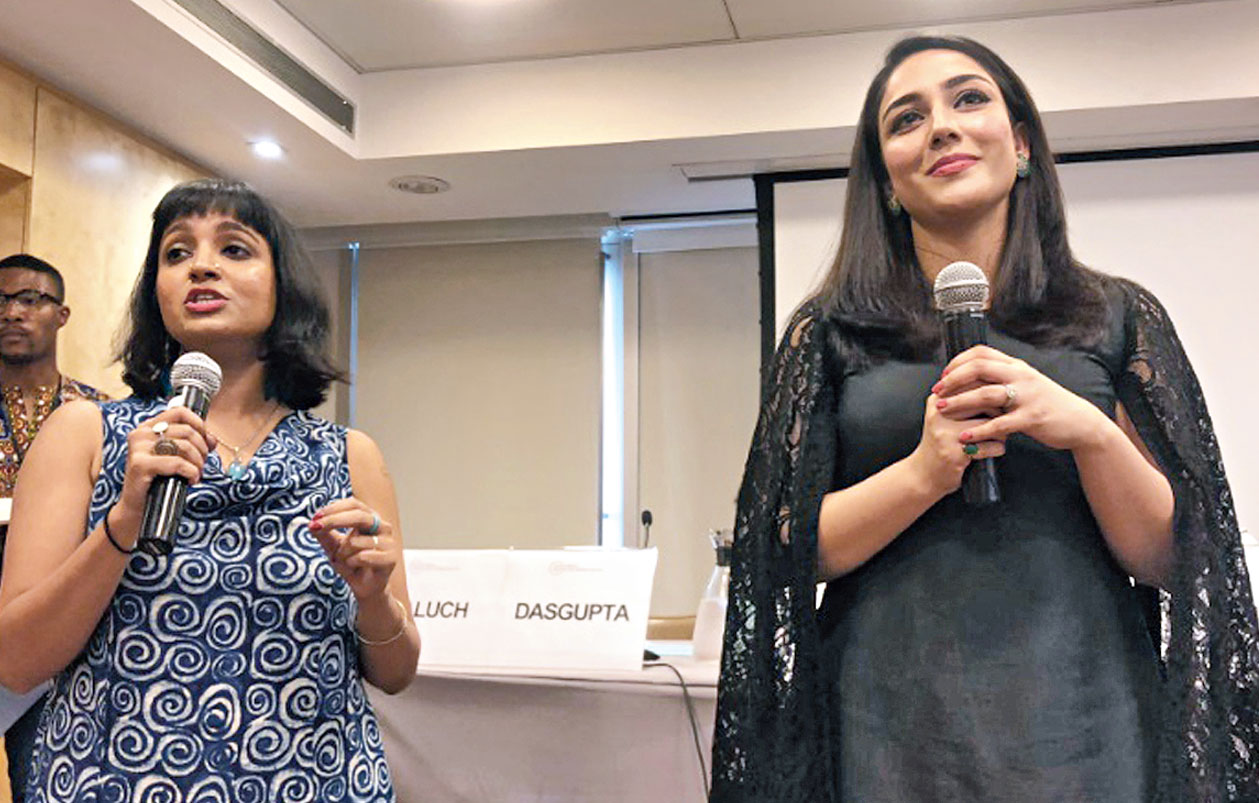 Rudrani Dasgupta from Calcutta and (right) Ramsha Baluch from Karachi at the voices of SDG16+ policy forum at the United Nations in New York.
Picture courtesy: Adam Lupel Twitter (@ALupel)
---
Calcutta
|
Published 20.07.19, 08:31 PM
|
---
The Balakot skirmish had pushed India and Pakistan almost to the brink of a war, but for two young women from across borders the volatile situation was a reason to turn peace crusaders.
To counter the relentless warmongering on both sides of the border, the duo — Rudrani Dasgupta from Calcutta and Ramsha Baluch from Karachi — launched "Chai Ki Dukan" on Facebook to encourage friendship between the citizens of the two countries.
Their Facebook page invited people to share their stories of bonding with those from the other side of the border.
It didn't take much time for "Chai Ki Dukan" to become a talking point with 18 stories of bonding being shared on the platform.
The initiative attracted global attention and the two women were recently invited to the United Nations High Level Political Forum at New York to talk about the platform.
The idea of such a platform came from the lived experience of Rudrani and Ramsha when they were students at the University College, London, during 2015-16.
They had both experienced how Pakistanis and Indians bond well in a third country.
"Ramsha and I were very good friends while we were students in London. The fact that she was from Pakistan and I was from India didn't create any problem," said Rudrani, who now works for an international NGO in Bengal.
Rudrani said that after the Balakot skirmish in February, warmongering in a section of the media, as well as in the social media, had created a situation where it felt like people from the two countries only had enmity for each other.
"But that is not the case as we had seen several instances of camaraderie and love among the diasporas of the two countries. We felt there was a need to amplify and give prominence to the alternative narrative," said the Jadavpur University alumni.
This alternative narrative was one where Indians and Pakistanis would talk about how they were helped by each other and bonded like any two people.
"Ours is a small grassroots initiative for peace. It is a people's initiative where no government is involved," said Rudrani.
In the five months since its formation, "Chai Ki Dukan" has got some fabulous stories.
Bhargav Maddi from India wrote how Khurram Mayo from Pakistan and he used to troll each other initially, but later became friends.
Khurram lovingly calls Bhargav "dushman" (enemy). Khurram recently got married in Rawalpindi, but Bhargav felt sad that he couldn't attend the event. He wants to meet the newly married couple in Dubai soon.
Ahsan Hayat, a Pakistani, has shared a picture of his masters degree graduation ceremony with his two Indian friends on two sides.
Ahsan wrote that he would like to have a reunion with Sidharth Gurjar from Bangalore and Siddharth Surana from Mumbai soon.
Ahsan added that it was because of Surana that he got addicted to Parle-G biscuits.
Some of the storytellers also talk about how much they would love to visit the other country, but tough visa policies prevent them.
The name "Chai Ki Dukan" was chosen because endless rounds of debate while sipping tea is a cultural commonality that people of the two nations share.
Ramsha, who is the lead of students affairs in an engineering college in Karachi and also a teacher there, told Metro over phone that their objective was to portray people of the nations in flesh and bone.
"Not everyone in India and Pakistan have the privilege of seeing each other. So we wanted to let them see each other as normal human beings who share a fairly similar language and culture," she said.
Talking about the United Nation's high-level political forum held between July 9 and July 12 in New York, Rudrani said they got to know about the event while browsing the web.
Several NGOs that work with the UN were looking for projects that help achieve goal 16 of the Sustainable Development Goals (SDG).
The duo sent a video in May narrating the project and it was chosen for presentation at a session running parallel to the political forum.
They were also given the opportunity to take part in the forum's meeting where UN officials and ministers of several member nations were present.
The sustainable development goals are 17 goals set by the United Nations General Assembly in 2015 with a target to achieve them by 2030.
Goal 16 talks about promoting "peaceful and inclusive societies for sustainable development, provide access to justice for all and build effective, accountable and inclusive institutions at all levels".