20 injured in campus clash
The incident happened at the Gobardanga Hindu College in North 24-Parganas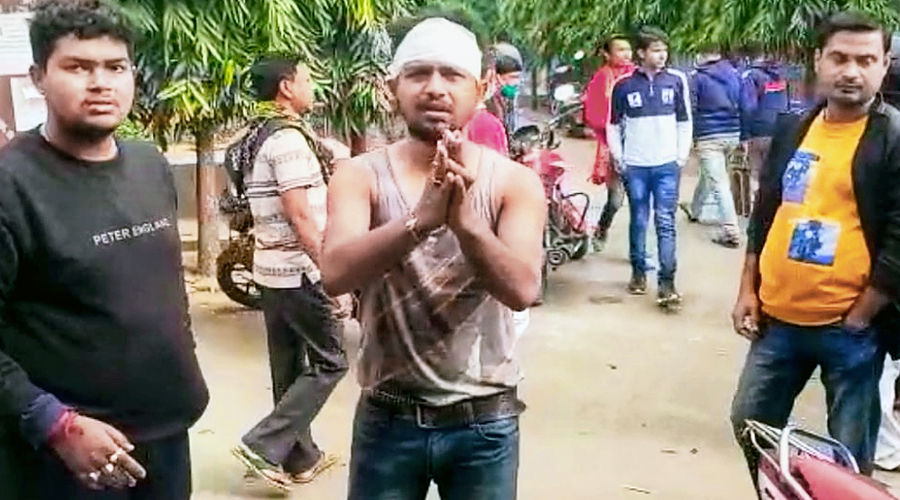 Students injured in the clash at Gobardanga Hindu College on Friday.
Picture by Chanchal Pal
---
Gobardanga
|
Published 12.12.20, 03:37 AM
|
---
At least 20 persons, including students, were injured during a clash initially between the Trinamul Chhatra Parishad (TMCP) and right-wing Akhil Bharatiya Vidyarthi Parishad (ABVP) supporters, which the BJP youth wing later joined, at the Gobardanga Hindu College in North 24-Parganas on Friday.
ABVP supporters allegedly ransacked the TMCP-run students' union office, damaged furniture and vandalised over a dozen bikes in retaliation to an attack earlier in the day on its delegation that had gone to the college to submit a deputation demanding justice for an alleged assault of two of its supporters by TMCP students wing on December 8. 
The clash fanned tension in the vicinity of the college in the town's Jamdani area, forcing shops to pull down shutters. 
A large police contingent from Gobardanga and Habra finally brought the situation under control.
Barasat superintendent of police Avijeet Banerjee said: "Police teams have been deployed in the area and we have begun a probe to examine what led to the flare-up."
Till late Friday evening no one, however, was arrested.
Trouble started brewing around noon when an eight-member ABVP team went to the college to submit a deputation demanding justice for its two assaulted supporters, both third-year undergraduate students, on December 8 when they had gone to submit hard copies of their online exam papers.
When the ABVP deputation reached the college campus on Friday, a group of about 30 TMCP activists allegedly barged inside and began beating up members of the delegation.
As the news of attack on the ABVP deputation spread, many supporters of the BJP's youth wing rushed to campus and went on a rampage.
College sources said violent BJP activists ransacked the TMCP-run student union room, broke furniture, fans, glasspanes and damaged 17 motorcycles. TMCP supporters were chased and beaten up by BJP activists. Police dispersed the warring sides.
Anik Chakraborty, vice-president of ABVP North 24-Parganas unit, said: "There was no provocation from us. We came to submit a deputation to condemn the assault on two of our student activists by TMCP supporters and outsiders."
Anik added: "We went to demand a ban on entry of outsiders to the college and this angered Trinamul activists who started beating us. They molested two of our women activists and beat us with iron rods, bamboo sticks. Five of us had injuries that required stitches."
President of the Gobardanga unit of the Trinamul Youth Congress Pradipta Dutta Roy blamed "ABVP activists aided by local criminals" for "unleashing terror on campus. "They assaulted our activists, ransacked our union office, damaged bikes and vandalised college property. At least 10 of our activists have been injured."