Turtle deaths prompt health scan
Lab confirms herpes turned fatal for endangered reptiles in Cooch Behar lake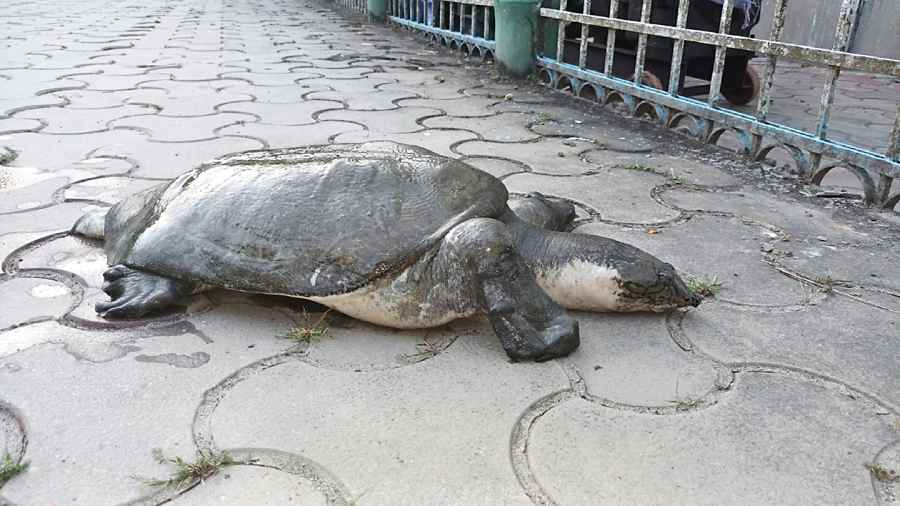 A turtle basks in the sun at Baneswar in Cooch Behar on Saturday.
Main Uddin Chisti
---
Cooch Behar
|
Published 20.11.22, 05:55 AM
|
---
The deaths of five black softshell turtles (Nilssonia nigricans) at Shiv Dighi in Baneswar of Cooch Behar district since the last week of October has prompted the district administration to take a slew of steps to protect them.
Black softshell turtles are a critically endangered species according to the red data book of the International Union for Conservation of Nature (IUCN).
On October 25, a turtle was found dead and floating in the lake at Baneswar. Later, four other dead turtles were recovered.
The administration sent a sample of a turtle that died to the veterinary lab in Belgachhia of Kolkata.
"We were informed that herpes infection was the cause of the death. Somehow, the viral infection has occurred at the lake (Shiv Dighi)," said a source in the administration.
Acting on the report, the administration identified nine turtles to be treated in quarantine to prevent the spread of a suspected viral infection behind the deaths.
In Cooch Behar, turtles are found in a couple of old water bodies, especially in Shiv Dighi of Baneswar. Locals refer to them as "Mohan" and venerate them.
The administration, along with the animal resource development department and the forest department, has also consulted international experts to prevent the death of the turtles.
"We examined the water of Shiv Dighi and also confirmed that there is no shortage of food for the species in the water body," the source added.
The administration engaged workers and brought in five vets to the site for the safety of the other turtles in the water body.
Nets were used to catch the turtles after which the vets examined each of the reptiles.
Altogether, 37 turtles were caught in the net. During examination, it was found that seven of them were sick. The ailing turtles were taken out and the remaining were released into the water. These seven were kept in quarantine for treatment so that the infection cannot spread.
Apart from the seven, two other turtles were found sick a couple of days back. These two are also in quarantine in two other locations.
"We are in touch with experts on more steps for the safety of the turtles. Some water has been pumped out of the lake and food has been sprinkled for their well-being," added