Trucks with illegal sand seized
The seizure was made during raids in Barabani and Raniganj blocks following complaints from people living close to the rivers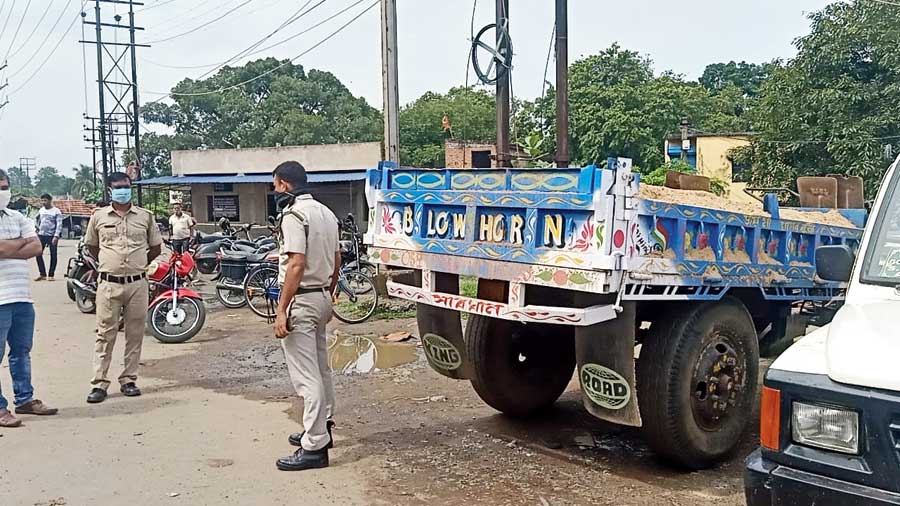 One of the seized trucks laden with sand.
Santosh Kumar Mandal
---
Asansol
|
Published 23.09.20, 02:45 AM
|
---
The West Burdwan district administration on Tuesday seized 17 trucks carrying sand illegally mined from Damodar and Ajay river beds.
The seizure was made during raids in Barabani and Raniganj blocks following complaints from people living close to the rivers.
The 17 trucks were carrying 1,250 cubic feet of sand. The administration has also blacklisted five trucks for not having goods carriage licences. Out of the 17 trucks, 10 are registered in neighbouring Jharkhand.
Sand being lifted from the illegal mines — a block for which licence has not been obtained from the government — with excavators and manually in copious amounts and being loaded onto trucks parked on the dry riverbed has always been a major headache for the district administration as the illegal trade continues because of alleged political and administrative connivance.
During every administrative review meeting in the district since she came to power, chief minister Mamata Banerjee — aware of the menace — would asked police and administration to stop illegal coal and sand mining
Sources said the district administration had set up a special task force led by additional district magistrate Khurshid Ali Kadri to keep vigil on illegal sand mining.
The team comprising officials of land and land reforms department, transport department and police split into groups and raided several areas in the Barabani and Raniganj blocks near Asansol and intercepted the trucks around 10am on Tuesday.
The special teams were formed with police personnel not attached to the police stations where the raids were carried out.
"The block land and land reforms officers and officials of police stations where the raids were carried out were not kept in the loop about Tuesday's operation to rule out chance of information leakage," said a senior administrative officer of the district.
"The trucks seized during the operation did not have proper challans or were possessing fake permits," said a district official.
A case has been registered at the Asansol North police station and owners of the trucks summoned.
A source said the special task force had seized 50 trucks carrying smuggled sand from Kanksa and Pandaveswar blocks in the district in the past 10 days and added that the raids would continue.
Asked if the administration had any plan to deal with the menace of illegal coal mining in the region, a senior district official said another task force would be set up to take on the coal mafia.
Opposition parties in the district have long been blaming the ruling Trinamul Congress for the lack of action against the sand and coal mafia. Setting up of the task force and the recent spate of action show the administration's eagerness to crack the whip on sand mafia in the run up to next year's Assembly election.