Truant rain ensures Durga Puja revellers have all the fun
The Telegraph lists how Calcutta stayed during the Puja days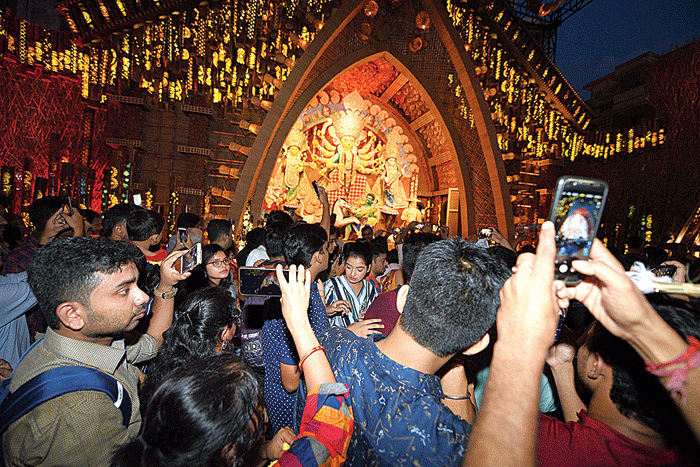 ---
|
Calcutta
|
Published 09.10.19, 08:33 PM
---
Pandal-hopping from Chaturthi, surge in app cab prices even on routes without any snarl, frequent ride cancellations and the absence of as much rain as was apprehended were the highlights of this Puja. Metro lists how Calcutta stayed during the Puja days.
Crowd
Pandal-hoppers were out from Dwitiya (September 30) and even a forecast of showers could not keep them indoors. Crowd management by police was mostly satisfactory.
The surge of crowds started on Chaturthi, a holiday (October 2). But the early start didn't mean thinner turnout towards the later part.
Pandal-hoppers thronged the Shibmandir Sarbojonin's pandal on Lake Temple Road since Dwitiya. Partho Ghosh, the secretary of the puja committee, said the rush didn't end even on Dashami. "There were people in our pandal around midnight on Tuesday," he said.
A police officer said Ashtami evening had the largest turnout in Gariahat area. The queue for entering Chetla Agrani went up to the Chetla bridge on a few occasions. Even on Dashami afternoon, people were jostling to get inside Kumartuli Park's pandal.
One of the organisers of Ballygunge Cultural Association said in previous years the crowd would usually thin out around 4am but this year there was a steady stream of pandal-hoppers till early in the morning.
App cab
Some Calcuttans felt app cabs were the new demons this Puja. There was a constant surge in the fares, irrespective of the time and route.
Unavailability of cars and alleged frequent cancellations by drivers made matters worse. A woman from Shyambazar couldn't find an Uber in one-and-a-half-hours early on Monday to return home from Ballygunge. "Seven of my friends kept trying between 3am to 4.30am for an Uber, but there was no car," said the woman.
Several people complained that ride cancellations were very frequent. An elderly couple was refused on Sashthi morning when they tried to book an Uber. "We were going to Mudiali from Kasba. The driver called and asked the destination. Soon he cancelled the ride," said the man.
Uber officials were not available for comment.
Traffic
Evenings and nights were better than afternoons. Vehicles moved faster around the crowd-puller pujas with police controlling pedestrian movement across roads. But on other stretches of arterial roads pedestrians came down on the road, triggering snarls.
"I didn't have to wait at the Gariahat crossing. It was so smooth. I could see pandal-hoppers restricted beyond the ropes. But between Deshapriya Park and Hindustan Park stops, people were walking on the road and this triggered snarls," said a Golpark resident.
Also in the afternoons, people parked their cars on both sides of roads and lanes. This made roads narrower and triggered snarls.
Broken bridges
A broken bridge in the south and a rickety one in the north messed up the city traffic on the Puja days.
The Tallah bridge was open only to small vehicles. Many buses had to take a detour via Chiria More and Belgachhia, slowing down traffic along Jessore Road and Belgachhia Road up to Shyambazar.
At any time of the day traffic was slow from the Belgachhia bridge to Shyambazar. To cover this distance of 1.5km, it took commuters an hour instead of the usual 15 minutes.
Bidhan Sarani was no better. The ripple effect was also felt along VIP Road, where commuters took double the usual time to travel.
The Majerhat bridge had created other pain points for those travelling from Behala to the city centre. It took more than an hour to travel fromTaratala to Alipore on Saptami evening. The stretch is usually covered in 30 minutes.
Metro Railway
Metro seems to have passed the litmus test as no snag was reported on the Puja days.
From Tritiya to Dashami, Metro carried 61.6 lakh passengers in 2,960 trains. Last year it had carried 57.9 lakh passengers. This year on October 3, which was Panchami, Metro ferried 9.28 lakh commuters, which is an all-time high for the service.
Metro's previous record of carrying 9.07 lakh commuters in a day was registered on Sashthi last year. A commuter, who took the Metro services several times during Puja, said that Metro travel was "much better" during the Puja than the peak office hours on a working day.
Metro tried to restrict overcrowding on and off platforms. At some stations like Kalighat it had deployed steel barriers to temporarily stop people from entering platforms once they got overcrowded.
Immersion
Calcutta police and the civic authorities were geared up for the immersion. More than 1,300 idols were immersed in the city on Tuesday, the first day of immersion. The last idol was immersed at 5.40am on Wednesday. Calcutta Municipal Corporation officials said Baje Kadamtala Ghat and Judges Ghat were the two most busy ghats.
"Last year, a little over 300 idols were immersed at Baje Kadamtala Ghat the first day. This time the number is about 600. We were wondering last evening why there is such a rush to immerse idols on the first day," said a CMC official.
Civic workers retrieved the wooden frames from the Hooghly soon after immersion. Separate enclosures have been created for throwing flowers.
Nearly 200 CMC trucks transported the dumped stuff from the ghats to the Dhapa dumping ground.