Tribals of Deocha-Pachami coal zone greet BJP with protest
The saffron party accused the ruling party of arranging the demonstration. After police intervention, party leaders were allowed to enter the villages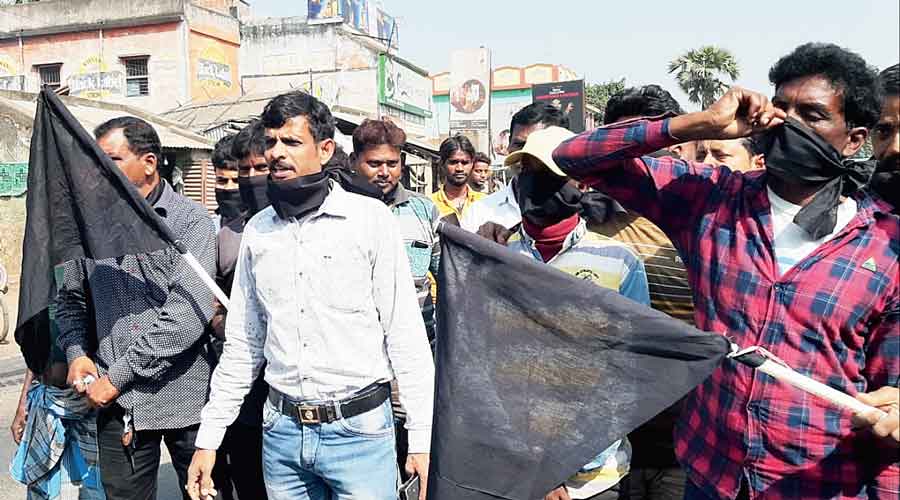 Protesters with black flags at Deocha on Thursday.
Photo: Himadri Mondal
---
Bolpur(Birbhum)
|
Published 19.11.21, 02:45 AM
|
---
A BJP delegation headed by the party's state vice-president, Raju Banerjee, who came to interact with tribal people in the proposed Deocha-Pachami coal mine area, was greeted with black flags by a group of local residents who accused the saffron camp of trying to halt the project.
Although there was no Trinamul Congress flag with the protesters, BJP leaders accused the ruling party of arranging the demonstration.
"Trinamul people showed us black flags and tried to prevent us from entering the area," said Raju Banerjee.
However, after intervention of police, the BJP team was allowed to enter the tribal villages of Pachami and the leaders went around three hamlets for over two hours.
On Thursday morning, BJP leaders, including Banerjee, national secretary of BJP's ST Morcha Khudiram Tudu and Sonali Murmu, reached the Deocha-Pachami coal mine area to interact with the tribal people.
Near Deocha bus stand, the cars of the BJP leaders were stopped by a group of around 50 villagers who raised "go-back" slogans and accused the leaders of trying to provoke local people against the project.
"This coal-mine project will bring employment and prosperity to our area. But the BJP leaders were trying to provoke the local people against the project. So, we came to protest with black flags as none should stop development of the area," said Santigopal Banerjee, a resident of Deocha who denied any connection with Trinamul.
After visiting a few houses of villagers in three tribal hamlets, Raju Banerjee said they would not allow the project to happen as it would affect poor people.
"The local people do not trust this state government. Mamata Banerjee, who once accused the Left Front government of taking decisions sitting in Calcutta, has forgotten about Singur or Nandigram. We demand that the government hold dialogue with every villager. We are not against the industry but will not allow poor and tribal people to be deprived of their rights," Raju Banerjee said.
On a day BJP leaders visited Deocha, a BJP mandal president of the coal mine zone Lakshmiram Hansda joined Trinamul in presence of Birbhum district party chief
Anubrata Mondal. BJP leaders, however, said he was forced to switch sides following threats from Trinamul and the police.
"BJP leaders came to instigate the local people who have welcomed Mamata Banerjee's rehabilitation package. Lakshmiram, who was a BJP leader in Mohammedbazar, joined our party to support the development drive in his area," said Mondal.