Trekker recounts Himalayan horror
Team from Calcutta caught in snowstorm; one member died and another was airlifted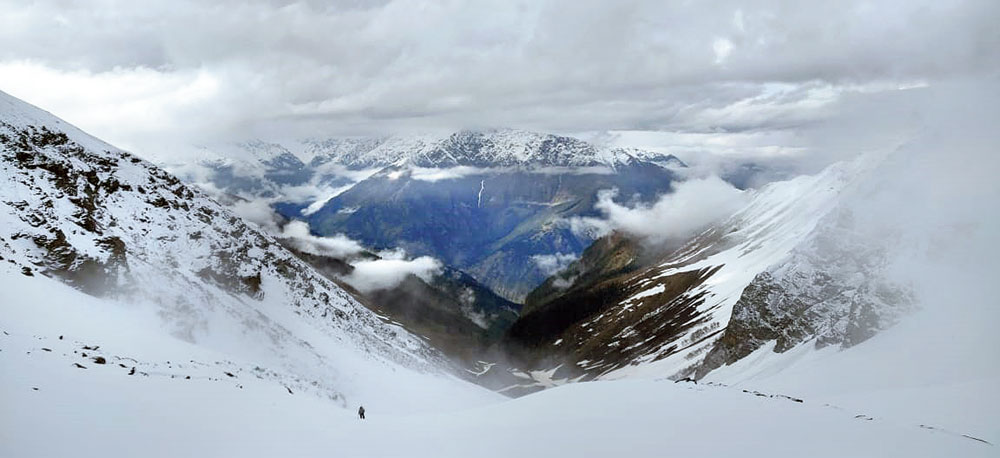 ---
|
Calcutta
|
Published 28.05.19, 11:09 PM
---
One of the seven trekkers from the city who went to Himachal Pradesh to cross the Buran Ghati pass recounted their horrific experience in the last leg when they were caught in a snowstorm and lost a friend, Debasish Mahato.
Another trekker in the group, Rupam Ghosh, fell critically ill and had to be airlifted.
The Buran Ghati pass — also called Barua pass — rises up to 15,000ft and links Shimla with Kinnaur district.
Sudipta Mitra, 37, who narrated the group's experience to The Telegraph, said he and a few others in the group from Madhyamgram were without food for almost 20 hours. Excerpts of what Mitra said while travelling with Mahato's body from Sangla to Rampur in Himachal Pradesh.
We were caught in a snowstorm in the afternoon of May 24. Visibility varied between zero and one metre and the trail had vanished. Debasish had collapsed and the guide was carrying him on his back.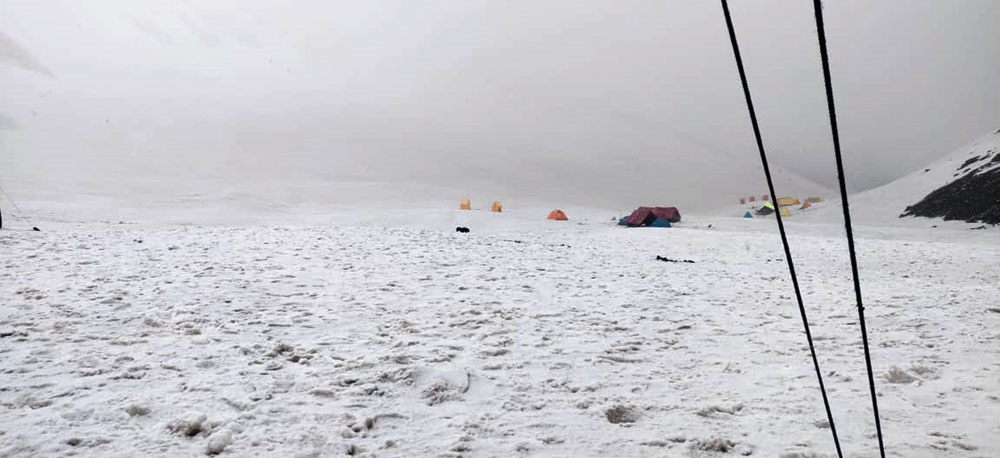 We were around three hours from Munirang, where we were to camp for the night. Hours earlier, we had crossed the Buran Ghati pass. Our group had scattered. Debasish, Rupam Ghosh, his wife Sukla, our guide and I were together. We did not know which way to go and at one point our guide Deepak told me to find the route. I tried to find the trail in knee-deep snow but gave up after 15 to 20 minutes.
Deepak took the lead. He walked ahead 10 steps and we followed him. He then walked back to carry Debasish.
After a while we reached a hilltop. It was around 3.30pm and the snowstorm had stopped.
We had started that day at 5.30am from Dhunda, which is at 13,500ft. The Buran Ghati trek starts from Janglik village in Shimla district and ends at Barua village in Kinnaur.
All of us had reached the top of the pass at 10.30am when the snowstorm started. After the storm weakened, the group started rappelling down a steep ice wall.
After around 15 minutes, Debasish said he could not walk anymore. We tried to motivate him by saying that the Munirang camp site was three to four hours away and a cup of warm tea was awaiting us.
Debasish started walking but collapsed after another 15 minutes. Deepak gave him supplemental oxygen but that hardly helped.
We later learnt that Sandipan Das had taken refuge under a rock and Brijesh Gupta and Rakhi Mondal had walked ahead.
Rupam was still on the hilltop. While the others rested, I walked a bit and saw Rakhi and Brijesh. They were at least an hour ahead of us. I then saw two of our porters coming up. I asked them to escort Debasish, Rupam and Sukla and started descending. After a while I looked back and saw Sukla sliding with a porter and Rupam with another. Our guide Deepak was pulling Debasish by a rope through the snow.
After some time I saw some greenery where the snowfield ended. Rupam and Debasish were made to sit. Both were given supplemental oxygen. Debasish became disoriented and started behaving in a weird way. At one point he was trying to take off his jacket in that biting cold.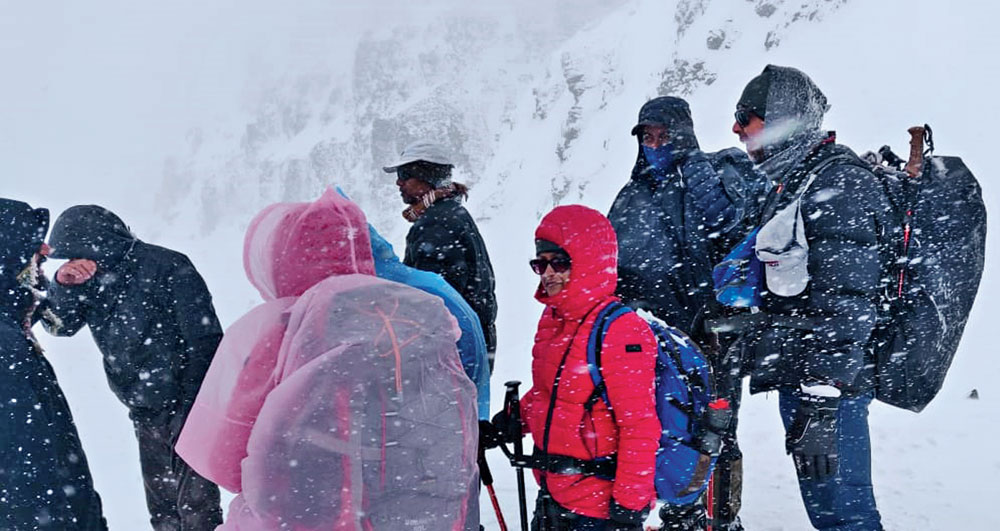 After some time we met one of the organisers of the trek. He held Debasish tight and wrapped him in a sleeping bag to protect him from cold. After a while a stretcher came and he was carried down.
By then Rupam, too, had become disoriented and he failed to recognise his wife. I asked a porter to escort Sukla towards Munirang. Two other porters, Deepak and I stayed back with Rupam. It was 11.30 at night.
We decided to spend the night in the open. The porters lit up a fire and massaged Rupam vigorously to keep him warm. They warned that Rupam should not be allowed to sleep.
We heard the sound of a waterfall nearby. Deepak went and got us some water. We had last drunk water at 11.30 in the morning. I ate some dates, the first morsel of food since 4.30 in the morning.
Deepak and I took turns to keep Rupam awake.
The sky was clear but it was very cold. At 3am I asked Deepak to get some help. He went and returned a little after 6am with a rescue team. I learnt that Debasish had died the previous night.
We reached the Munirang camp site at 10.30am. Others had reached before.
Rupam was given oxygen and ORS and flown away around 12.30pm on an air force helicopter. We then left for Sangla.