Tots, tantrums & phone addiction
Parents mostly give in to their kids' demands for mobiles. On Children's Day eve, Brinda Sarkar finds out the effect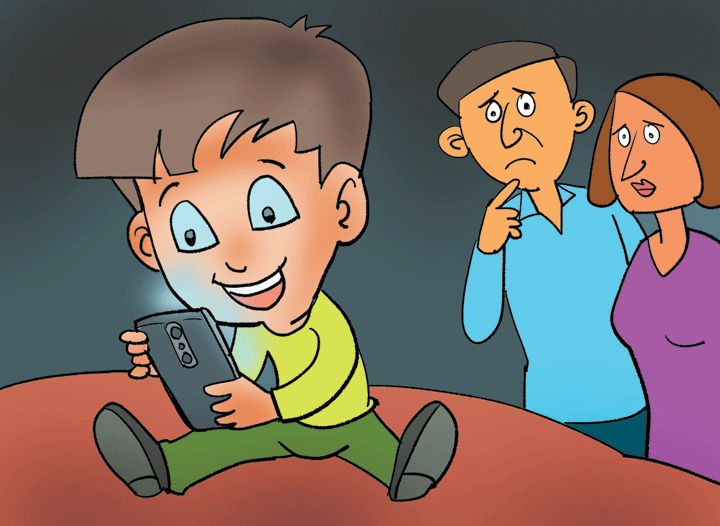 ---
|
Calcutta
|
Published 15.11.19, 07:01 PM
---
They spend up to four hours a day on the phone. Some of them have their own phones. Every now and then, even between other activities, they feel the urge to go and browse the gadget… These are not teenagers we are talking about. They are toddlers.
While mobile phone addiction has been a burning issue for a few years now, its latest victims are pre-schoolers. Wailing infants, toddlers throwing tantrums or refusing to eat can all be tranquillised by the simple surrender of their parent's smart phone. These gadgets work like digital cocaine and the children, now distracted, can be made to do anything the parents want them to.
There are fears of overuse, of course, but most parents say they have their backs against the wall.
Catnip for kids
Searching for a child who eats without the phone is like finding a needle in a haystack. "My son, who is less than four, flatly refuses to eat without the phone," says Kaushik Mitra, who lives in Sector V's Midland Park. "Kaunav has been using phones since he was two and would use my wife's and my phones so much that we had to buy him his own mobile. He uses it up to four hours a day."
Mitra downloads educational games but the child clicks on advertisements of war games and installs them on his own. "We are concerned about the violence on these games but don't know how to wean him off. If we refuse him the phone it may create a distance between us, just like how our generation used to resent parents when denied the TV," says the father.
Most kids are introduced to the phone at mealtime. "Without the phone we'd have to chase our kids around the house with food and that's a daunting task," says Saimantika Munshi, mother of a four-and-a-half-year-old. "Phones and tabs make kids sit still and we can feed them while they're distracted. Eating is my son Shloke worst activity and spending time on the tab is his best; so by clubbing the two I can make him look forward to eating."
It's not uncommon today to see kids accompanying parents to parties with tabs in hand and staring into them all night. They know how to crack their parents' passwords, downloads games, search on Google using voice commands…
"My daughter uses the phone while eating and when she's idle but I'm worried about her using the internet. We may fix her a cartoon but she may follow links and end up watching crime," says Sairaj Tripathy of AK Block. "Watching too much could also strain her eyes."
New Town's Candor Techspace is a special economic zone (SEZ) that has its own preschool and day-care centre, Eurokids.
"Whenever we have new students their parents, who work in the SEZ, drop by now and then to show them videos and feed them. The parents say the kids wouldn't eat without the phone but we do not allow it. Yes, the kids cry for a few days but then fall in line when they see other kids eating without phones," says Ananya Poongundran, partner and principal. "It's not impossible to discipline them."
Smart phones, smart parents
Some parents are finding loopholes in technology to keep the phone usage under control. "I have spent hours studying mobile addiction in a bid to free my three-year-old twins from its clutches," says Jayita Hazra Choudhury of BH Block.
Jayita has got a Fire TV Stick that can be connected to non-smart TVs and used to watch videos on television. "When kids watch something on the phone, they invest all their attention on a tiny screen. But by watching the same content on a large screen TV they multi-task. My twins play and watch it together. This reduces their involvement with the screen and also denies them the freedom to scroll and choose content. I get to decide that now," says Jayita.
And if the kids start binge watching, she turns off the WiFi and kids realise time's up. It's a major victory considering the twins would previously stay glued to two different phones.
"I've spoken to many kakimas and jethimas about how they would keep kids engaged in their time and realised that joint families allowed division of labour. In nuclear families we just have to outsmart our kids into co-operating."
Many parents like Deblina Saha of Purbasha, near Swabhumi, allow the tots only educational content like rhymes, numbers and alphabets. "While I don't want my four-year-old to get addicted to the tab, I cannot deny its benefits. Shivanshi has learnt much more from the online Khan Academy than her pre-school. As for cartoons, she's only allowed to watch Peppa Pig and spends at most one and a half hours a day on it," says Saha.
Munshi's son only uses an Amazon Free Time. "This is a tab that only enables child-friendly content and he won't have access to violent games like PUBG. Also, I allow him the tab during mealtime and never else," says the AE Block resident. "We have to compromise somewhere as it's neither possible nor desirable to shield him from technology all together. His school itself has asked us to download an app that would be his educational tool."
Poongundran, whose son in now eight, agrees. "When my son was in nursery he asked me for a phone as his friends were taking theirs to school. While I had to complain to his teacher in this case, it's a challenge to maintain a balance with technology as his textbooks have links to apps that recite his poems and explain the chapters using animation," says the resident of Uniworld City.
Cold turkey
Some parents have simply had enough of the phone and divorced the device from their kids' lives altogether.
"Our son's nanny introduced him to the phone and he fell for it hook, line and sinker. It would hypnotise him and make the nanny's job simpler," says Abhradeep Banerjee of GD Block. "But then we realised the boy was not gesturing as a baby of his age should. A neighbour who is a paediatrician blamed the phone. I learnt that prolonged staring at the phone could delay speech and brain development."
Banerjee says the phone was replacing his child's need to socialise. "He was content with the phone's one-way communication. We were alarmed and at the age of a year and nine months, removed all gadgets from his reach. No phone, no tab, no TV. He wailed but we were firm. If he refused to eat, we didn't force food him. And within three months he started speaking," he says.
Chitrita Mukherjee too went cold turkey on her two-year old. "He kicked and screamed for days and it was painful for us to watch but we kept the phone away and ignored him till he calmed down," says the FD Block resident. "He's gotten over the phone now and I allow it only during meals. Otherwise he spits the vegetables out."
Prescription diet
Kakoli Das Mandal, a psychotherapist and herself the mother of a five-year-old, says mobile addiction is one of the top three problems parents come to her for. "Parents need to control this problem before the age of five as after that weaning them off becomes very difficult," says the BL Block resident.
As addicted kids grow up, they demand their own phones and get aggressive if refused. They lose respect for teachers as they think they can Google it all. "In fact they refuse to study, saying they will earn in millions by winning video games like PUBG. Plus if a student plays violent games five to six hours a day, its philosophy enters their system. Then if parents snatch away their phones, they resort to violence as that's all they know," says Das Mandal. "Phone addiction is like a drug that reduces their need for human interaction." (See box for remedies).
Chandrika Ramakrishnan, principal of Mongrace Montessori House and Day Care Centre in New Town says she can make out from a child's behaviour that he has been binge watching. "They start acting unruly, imitating characters they watch. Their accent changes or they start calling the parents 'mom' and 'dad', like on western shows…. At our parent-teacher meetings we keep telling parents to shun the phone and read them stories," she says.
Sanyukta Baheti, principal of Mother's Pride play school in AL Block accepts that phones have replaced Barbies and cricket bats on a child's wish list. "But screen time takes away from physically exploring the world through play and interactions. Parents and teachers have to inculcate traditional methods of keeping the child busy like reading and outdoor games," Baheti says.
Keep a check-
1. Restrict the use of mobiles as early as possible. Disciplining kids gets tougher as they grow. Allow them 10 to 15 minutes on the phone or as a reward for good behaviour.
2. Lead by example. Your kids won't comply if you tell them to stop using the phone but staying glued to it yourself. Spend the evenings with the family and use the phone after the kids go to bed.
3. Offer alternatives like books, artwork, building blocks
4. If they refuse to give up the phone, take away privileges like candy and outings.
5. If they behave aggressively without the phone take them to NGOs to interact with those who have less than them. This will raise empathy.