To London 1948 with Olympic old boys
Read more below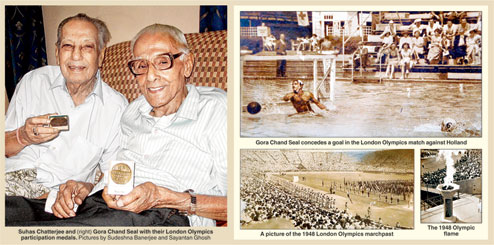 ---
Published 27.06.12, 12:00 AM
|
---
A month from now, on July 27, when Queen Elizabeth declares the London Olympics open, two men from north Calcutta, living a 15 minute-drive away from each other, will be reliving memories of their participation in the last Olympic Games held in the English capital.
Gora Chand Seal, 89, and Suhas Chatterjee, 87, are teammates who played waterpolo for India in the 1948 Olympics. The two octogenarians keep in touch over telephone but when Metro made them sit together, the decades rewinded in a flash.
India's 2012 Olympic contingent is unlikely to leave home more than a week before the inauguration but the 1948 squad had left almost a month ago. "It took us 21 days to reach English shores," recalls Seal, the more active of the two, both physically and mentally.
In the 16-member team, 11 were from Calcutta, so popular was waterpolo in the city then. "Our tournament final tickets used to get sold out weeks in advance," says Seal. He and Chatterjee belonged to Central Swimming Club of Hedua.
The ship bearing the Tricolour — christened the Empire Brent, a World War II veteran — had set sail carrying members of all sports except hockey.
"And such a reception we were given! When the ship docked at Aden, gunshots were fired. We sailed through the Suez Canal and eventually reached Liverpool," recalls Chatterjee. It was a maiden voyage for almost all the lads and seasickness spared few.
The venue for the Games was Wembley Stadium. "We were put up in tents at Richmond Park in south-west London." It was a battle-scarred country hosting the Olympics, and all corners were cut to spare the hosts expenses.
In fact, the post-World War II edition of 1948 came to be known as the Austerity Games in Olympic history. "There was no Olympic village as such. I remember India took rice along to feed its own team," says Seal.
But there was no dearth of warmth from the hosts. "We were given a tour of London in Ford cars — Buckingham Palace, Madame Tussaud's museum..." Chatterjee's eyes light up.
"We did well in a practice match versus a local team called Penguin," says Seal. But the match made them realise the need to pick a European brain. So a trainer called Mariott was enlisted. "He suggested a different technique but with barely a week in hand for our first match there was no way we could change our style," Seal says.
The first match, on July 30, went well, India defeating Chile 7-4. A paragraph quoting Reuters appeared in the next day's Anandabazar Patrika.
But the cold got to the boys. Captain Sachin Nag, despite netting four goals, caught mumps. It didn't help that the next match was against the strong Holland, which eventually bagged bronze.
"Such a landslide loss it was! Their players were all ex-army men and looked gigantic next to us. One shove from them was drowning me, ball and all. Not that our defenders could keep the ball in possession long enough for it to reach me often," says Chatterjee, one of the team's forwards.
He was then a 23-year-old student, who had gone to the Olympics taking a two-month break from MBBS studies. "Gorada was two years older than me. He was the one who digested all the goals," he says, poking fun at the team's goal-keeper.
It did not help that two of the star players — Nag and Kanti Saha — were tired after their individual swimming events earlier in the day. The next day's Anandabazar Patrika read: "After the Dutch team banged in 12 goals on the trot, Suhas Chatterjee netted one from afar in the final minutes, scoring India's only goal (translated)."
Surprise still fresh in his voice, Chatterjee says: "I had just taken a chance from a distance. The ball somehow went in."
The flurry of goals took a toll on the goalie's fingers. "So powerful were their shots that one ball I managed to fist out cracked my fingers," Seal says, showing a mark that has stayed on for 64 years.
The match also underlined why the Indian campaign would fail. "There was a big flaw in our technique. We were used to dropping the ball in the water before every pass but they took the aerial route. That meant within four passes they were at our goal mouth. If we knew this technique, we could have done better," says Seal.
India qualified for the next round by virtue of the win over Chile. But another trouncing — the duo fails to recall against which team — and it was all over.
Neither represented India again. Chatterjee completed MBBS and took up medicine as profession. Though Seal kept playing at the local level for some time, his father's death in early 1952 put paid to his waterpolo dreams.
"I took up a job as meter inspector with CESC. Soon after, the call came for the Helsinki Olympics but the family's responsibility was on me. I had to refuse," Seal says.
Ask them about their most cherished Olympic memory and both speak of the marchpast.
"We were dressed in blue turban, blue blazer bearing the Olympic badge and white trousers. The crowd gave us a standing ovation. Winston Churchill was there, so was Lord Mountbatten. As we marched behind the flag of independent India, we felt proud that after all the years of seeing the Union Jack fly in our land, at last the Tricolour was fluttering in the land of our former masters. Many sportsmen have represented India since then at the Olympics but that feeling was only for us to savour," Chatterjee says.