TMC to send Modi 'Jai Hind' cards
Bengal CM Mamata counters BJP's divisive politics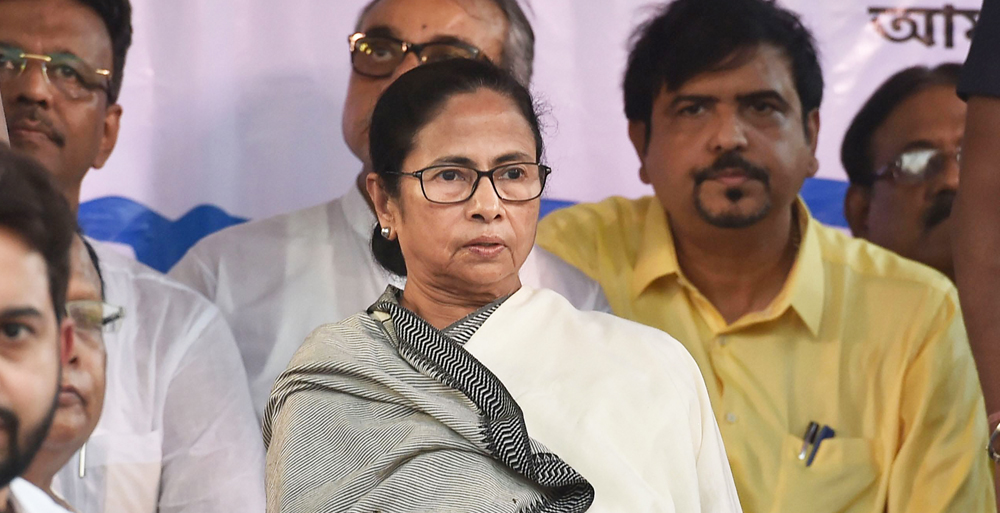 ---
|
Calcutta
|
Published 02.06.19, 09:04 PM
---
Senior Trinamul leader and food minister Jyotipriya Mullick on Sunday said 20 lakh postcards with "Jai Hind" and "Jai Bangla" written on them would be delivered to official addresses of Prime Minister Narendra Modi and home minister Amit Shah.
The plan is part of a bid by Trinamul to oppose "the BJP's attempt to use 'Jai Shri Ram' as a party slogan by mixing religion with politics to spread hatred".
Over the past few days, the "Jai Shri Ram" chant has suddenly become an integral part of the political discourse in Bengal as there have been multiple instances of BJP-Trinamul skirmishes over the slogan.
While Trinamul has said the chant is part of the BJP's divisive politics, the saffron brigade has stressed it has every right to raise the slogan.
Amid the high-pitched war of words, Mamata Banerjee on Sunday tried to address the issue philosophically with a detailed Facebook post. The chief minister explained with care that while she respected the religious and social connotations of the chant, she was against its political use.
"Didi has explained our position very clearly. We have also drawn up our plan to counter the BJP's divisive politics. As 'Jai Bangla' and 'Jai Hind' are out chants, we will send 20 lakh postcards to the official address of the Prime Minister and the home minister," said Mullick.
BJP MP Arjun Singh had earlier announced his plan to send 10 lakh postcards with "Jai Shri Ram" written on them to chief minister Mamata Banerjee's home.
After its poor performance in the Lok Sabha polls, Trinamul seems to have gone back to the drawing board to take on the saffron surge, which is getting reflected with "Jai Shri Ram chants" in different parts of the state.
Mamata has already formed "Bongo Jononi Bahini" for the women and "Jai Hind Bahini" for the youths to fight the alleged atrocities inflicted on people by the BJP.
While announcing their formation on Saturday, the chief minister had said that the two bahinis would keep a close watch and nip in the bud any attempt to create communal strife.
The roadmap of the two teams will get a final shape on June 10 when Mamata will meet senior leaders of Trinamul to chart its future course of action.
Sources said at the centre of Trinamul's fight-back strategy would be Bengal and its culture.
"Our definition of Bengali is not narrow like the RSS and the BJP. If a person from Tamil Nadu is living in Bengal, we call him a Bengali. Similarly, if a Bengali is living in Maharashtra, we will call him a Marathi. We are against any divisive attempts with the use of religion and we will resist it with our culture," said forest minister Bratya Basu.