Christmas is a time of celebration. We commemorate the birth of Jesus Christ who brought a message of peace, love and hope to humanity. Australian singer and songwriter Sia celebrates Christmas with her album Every day is Christmas, which is meant for people with cravings for Christmas music.
The world is painfully different today. There are deep differences among us. We are constantly disturbed. Many of our cities are violent and unsafe. Many are deprived of their dignity and suffer rejection. Children and women are the most vulnerable. They are under great distress and are crying for justice.
Mob violence, lynching, rape and sexual violence against women remain at high levels over the past few years. The government crime figures say 33,658 women were raped in 2017 in India — an average of 92 per day.
Our houses, properties and all we own are at great risk. One can sense the waves of fear and insecurity. Yet, in the midst of all distress, Christmas brings us the message of hope that life is meaningful and worth-living.
Christmas is a celebration of the past to be thankful for the blessings and favours God has showered on us; it is a celebration of the present, an opportunity to share and celebrate the richness of life; it is with this focus of today we can move forward with hopes to tomorrow.
People celebrate Christmas in many ways. Some do it publicly; they throw big parties, wanting to share their excitement with others. Many organisations and offices organise Christmas carnivals. December calendar is often filled with social obligations. But they may not even know the inner reason why the party is being held. The spiritual aspect is often overlooked or even excluded.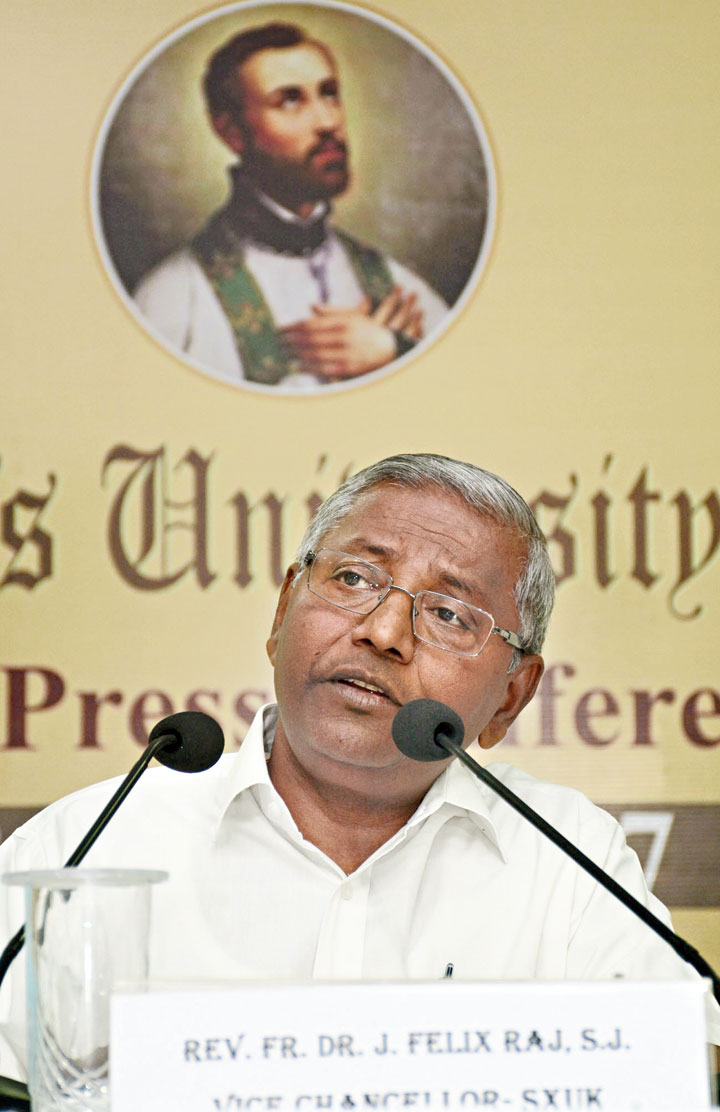 Fr. John Felix Raj, S.J. File picture
Some prefer to celebrate Christmas privately, with their family members and relatives. This type of celebration is warm and supportive. There are individuals and families who reach out to children, the aged, the poor and the dying and destitute and express their joy by sharing a meal or distributing gifts as the Magi and the Santa Claus did.
Gurudeb Rabindranath Tagore has touchingly brought out the divine encounter in human life in his song "Have you not heard his silent steps? He comes, comes, ever comes. Every moment and every age, every day and every night he comes, comes, ever comes". Christ's coming is to propagate peace which is the most precious gift of God. As He visits us He reposes in us the message and meaning of life and common mission.
Jesus is not only a historical person; he is a metaphor for human life, an avatar of love, self-giving and companionship in the service of humankind. So is every preacher of all religious faiths.
On this occasion of the birth of the Divine Babe, let me recall for us the essential truth of every religious belief — religion is a way of life, it is an endeavour to preserve the beauty of our conscience and intention in our actions.
Religions can never be the source of fundamentalism and violence. The root causes of all violence flow from the hidden agenda and opportunistic strategies of our rulers from time immemorial.
As it is said, "A thousand times in history a baby has become a king. But only once in history did a king become a baby". An important message of Christmas is that of joyous giving. The Story of Santa Claus explains this dimension of Christmas well as a lesson for all of us.
Sixteen hundred years ago, there was a man called Nicholas in Patara, a town on Turkey's Mediterranean coast and he became the Bishop of Myra and later a saint.
He was very kind and generous to children and they came to think of him as their dear friend and their beloved saint. So after a time the wonderful things he did were woven into a beautiful legend. Santa means Saint and Claus stands for Nicholas, and that is how he came to be known as Santa Claus.
We are the makers and markers of our destiny — on this joyous occasion of Christmas, let us pledge to break the boundaries of superstitions and parochialism, be illumined by divine delight that embraces us all and relieve the world of suffering caused by misappropriated manifestations of spiritual sentiments and religious fundamentalism.
Wish you all a Merry Christmas and a peaceful and prosperous New Year 2020.
The writer is vice-chancellor of St. Xavier's University, Kolkata