Tiger widows of Sunderbans turn to clay art for livelihood
The predators serve as inspiration for terracotta curios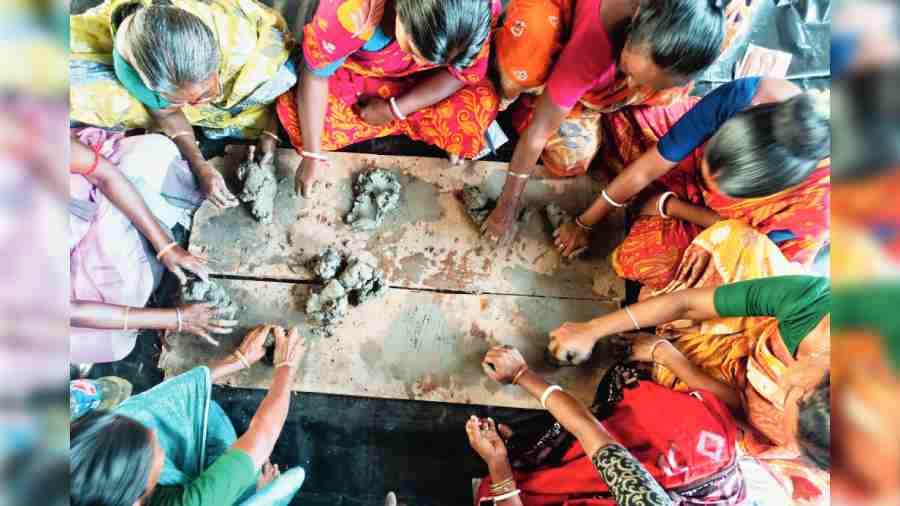 Women make clay models of animals found in the Sunderbans at a workshop in Gosaba, South 24-Parganas
Pictures courtesy: Raj Sekhar Aich
---
Published 02.09.22, 01:50 AM
|
---
A group of Sunderbans women, who lost their husbands to tiger and crocodile attacks, have turned to the predators for a self-sustaining livelihood.
Pramila Gayen, 46, Bina Mondal, 42, Karuna Mondal, 51, and seven other women from Gosaba have joined an endeavour  to "earn a living out of the very predators that made their lives hard".
These women are making terracotta models of tigers and crocodiles, animals that in real life have either killed or incapacitated their husbands during their ventures to hunt crabs and prawns in the creeks of the Sunderbans.
In an area ruled by nature, options to earn a living are limited especially for women. But this group is set to make a fresh start by selling these clay models to tourists.
On September 4, their models will be launched formally at Pakhiralay, a popular tourist destination in the mangrove delta. The women have hired a stall at the Pakhiralay market for sale and display of their works of art.
The Gosaba-based Sunderbans Tiger Widow Welfare Society, a voluntary organisation, will support the endeavour conceptualised by marine social-scientist and transdisciplinary human-shark researcher Raj Sekhar Aich, a professor at Sister Nivedita University in Calcutta, who has been working with the outfit as a human-animal conflict adviser. The Sunderbans delta, with some 54 small islands, has a population of 40 lakh. Its jungles have 96 tigers according to the state government tiger census. It is described as a global hotspot for human-tiger conflict by the International Union for Conservation of Nature (IUCN). At least 40 persons are killed in tiger attacks each year. The number stands at 11 so far in 2022.
Ashim Gayen, the secretary of the Sunderbans Tiger Widow Welfare Society, said: "This is the first time we have taken up a project that can help 'tiger widows' earn a living in a sustainable way. We are grateful to Raj Sekhar sir who showed us the way."
Aich said he came in touch with the Sunderbans Tiger Widow Welfare Society a few months ago. "The plight of these women led us to seek a solution. The area has no legacy of traditional art or craft.... I used to wonder why no handicraft from the region was available that I could buy. I have noticed that tourists prefer buying souvenirs. But at tourist destinations in the Sunderbans, no such items are found related to the area. So we conceived a plan to use the black soil of the delta as a resource material to make a start with minimum investment," Aich said.
The women were trained before they took up the project three months ago.
"The women have an inherent skill of making dolls with soil, as we see in rural Bengal. I invited my two artist friends — Subham Das and Dipu Dutta — to train them in the basic technicalities," said Aich.
Gayen added: "There is a need to create sustainable support for these women. Clay modelling is a micro initiative to begin with. Every year around 50 women lose their husbands in tiger attacks, creating a crisis of survival. If the state government offered help, no such situation would arise."
The outfit has appealed to the state to include treatment for animal attacks under Swasthya Sathi and compensate the victims' families.