Tiger mauls crab hunter to death in Sunderbans
The maneater killed the victim on the spot and tried to drag him towards the jungle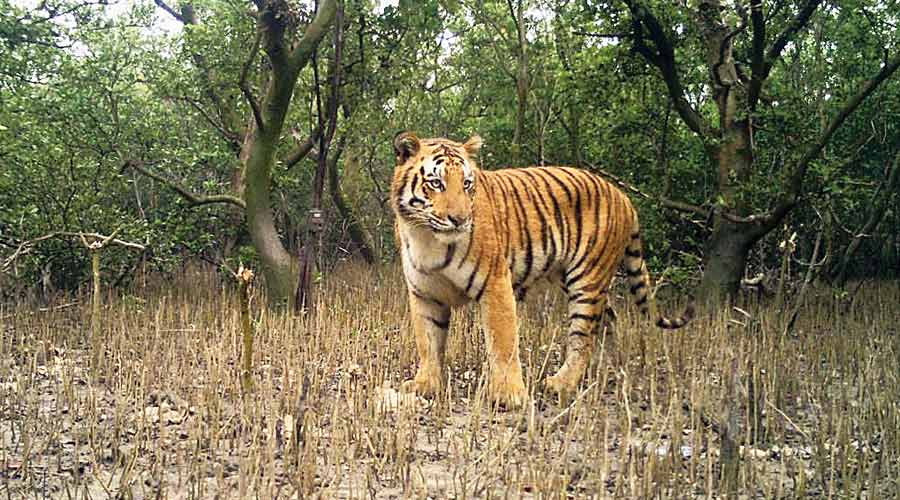 ---
Kalyani
|
Published 04.11.21, 02:01 AM
|
---
A 52-year-old crab hunter was killed by a Royal Bengal tiger in the Bulufeli area of the Sunderbans in South 24-Parganas when he was sleeping on a boat along with two fishermen on Tuesday afternoon.
Police and forest officials said the tiger swam around 100 meters in pursuit of the small fishing vessel, leaped over it, and attacked Srinibas Mondal, a resident of Kishorimohanpur in Maipith coastal area under Kultali block.
The maneater killed Mondal on the spot and tried to drag him towards the jungle. His fellow fishermen thwarted the tiger's attempt by beating it with a bamboo stick and returned with the body to Kishorimohanpur ghat. Police took the body and sent it for autopsy.
"They went deep inside the creeks, which are the turfs of tigers. The big cat attacked the team when they were sleeping on the vessel after having lunch, anchoring it on an unprotected stretch near the bank of a canal," a forest department official said.
The incident brings the toll from tiger attacks in the Sunderbans to 29 in the past 17 months, an official of the state wildlife department said.
Foresters blamed fishermen for "inviting danger" by entering the deep jungle despite strong prohibition.
"There is a strong prohibition on jungle entry. We have been trying hard to create awareness among the fishermen and crab hunters urging them not to risk their lives and have also proposed alternative sources of income like apiculture. But they never listen," a senior official of the state wildlife department said.
The forest department has decided to undertake a renewed attempt to discuss and explore alternative sources of income by organising a meeting on Friday with local MLAs, gram panchayat authorities and district administrative officials.