Tiger enclosure plan at Buxa reserve
It will also develop elephant corridors along five different stretches in Himalayan foothills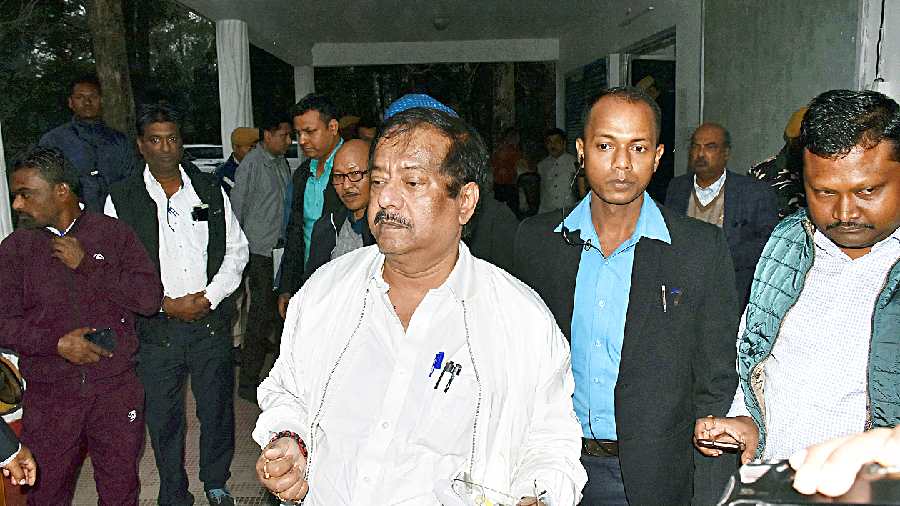 State forest minister Jyotipriya Mallick at Rajabhatkhawa in Alipurduar on Wednesday
Picture by Anirban Choudhury
---
Alipurduar
|
Published 29.12.22, 04:28 AM
|
---
The state forest department will develop an enclosure in Buxa Tiger Reserve to keep tigers to be brought from Assam before the animals are reintroduced into the reserve.
It will also develop elephant corridors along five different stretches in the Himalayan foothills to facilitate their movement and prevent them from straying into adjoining human habitats.
"We will develop an enclosure over five square kilometres to keep the royal Bengal tigers which would be brought from Assam. In due course, they will be released into the reserve area as a part of the reintroduction process," Jyotipriya Mallick, the state forest minister, said here on Wednesday.
For the past few years, foresters have been working on the plan to reintroduce tigers in BTR.
They have developed a prey base for tigers by releasing herbivores and are also relocating villages located within the reserve area.
"The process to shift residents of two such villages is on. We have identified five other hamlets and soon, our officers will speak with the villagers. To make the tiger reintroduction programme successful, it is necessary to shift villages outside the core area of BTR," said the minister.
The department, he said, has also drawn up a new plan to develop seven elephant corridors in different stretches of north Bengal. The idea is to create adequate areas for fodder as well as a continuous stretch of the forest so that elephants and other animals can move along the corridors.
In this region, elephant depredation is a major problem, especially in villages and tea estates near the routes along which elephants move. Loss of crops, properties and even human lives is often reported from these areas.
"Each corridor will be 5kmlong and 200 metres wide. We will spend around Rs 13 crore for each such stretch," said Mallick.
Earlier in the day, he visited Rashamati in Patlakhawa of neighbouring CoochBehar. The forest department is readying a grassland here to develop it as the third habitat of one-horned rhinos."The grassland is developing fast. We plan to release rhinos here in a year," said the minister.
As of now, rhinos can be sighted in Jaldapara andGorumara national parks inAlipurduar and Jalpaiguri.