Three Union ministers skip BJP training
Shantanu Thakur and Nishith Pramanik — confirmed that they would be unavailable for the rest of the three day event as well, whereas John Barla remained incommunicado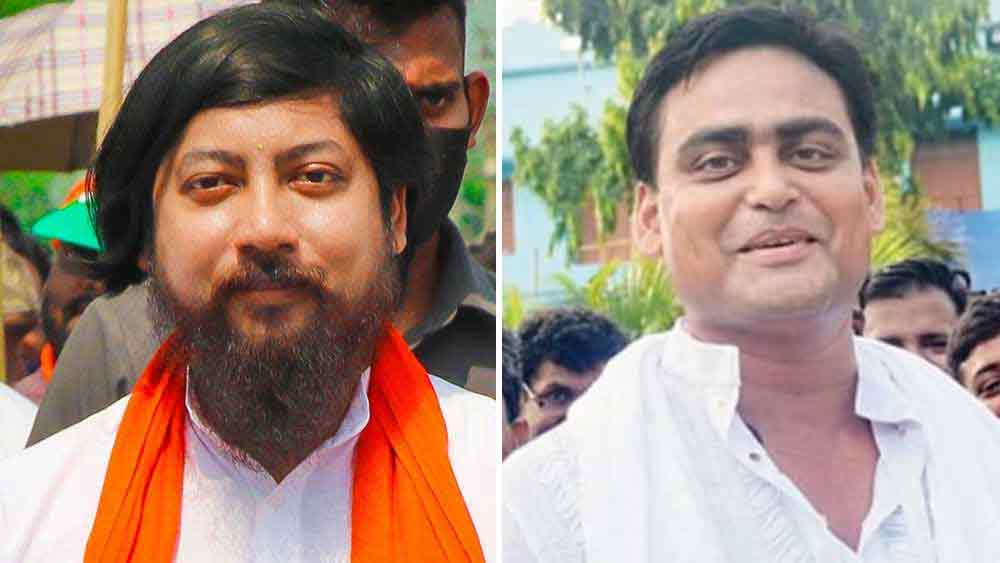 Nishith Pramanik and Shantanu Thakur.
Courtesy anandabazar.com
---
Calcutta
|
Published 30.08.22, 01:53 AM
|
---
Three Union ministers were conspicuously absent from a training programme which commenced for Bengal BJP leaders at a sparesort near Calcutta on Monday.
Two of the ministers — Shantanu Thakur and Nishith Pramanik — confirmed that they would be unavailable for the rest of the three day event as well, whereas John Barla didn't take calls from this newspaper.
This is the second instance of Barla and Thakur skipping an important BJP meet. In June this year, the absence of these two ministers from a meeting presided over by BJP's national chief J.P. Nadda in Calcutta, had sparked a controversy.
Their absence on Monday prompted several party leaders to question whether Barla and Thakur consider the state unit to be unimportant.
"We understand that Shantanuda and Johnda are close with the central leadership. But does that mean they will overlook the state unit completely?" a state BJP leader questioned.
The leader added that on Monday Sunil Bansal, the newly appointed minder of Bengal BJP, met party leaders for the first time and the Union ministers should have been present at such an important event.
"They are ministers and surely are very busy. But do they have no commitment to the state unit?" the source added.
Monday's inaugural event was attended by Bengal BJP chief Sukanta Majumdar, national vice president Dilip Ghosh and leader of Opposition Suvendu Adhikari, along with Bansal.
Speaking to The Telegraph, Thakur, who is the Union minister of state for ports, shipping and waterways, said that he was out of Bengal on some "vital work" and hence couldn't attend the event.
He added that he would not be available for the next two days either. When asked if he had informed the party about his inability to attend the programme, he said, "Yes."
Sources said Thakur is currently in Gujarat.
Pramanik, the Union minister of state for home affairs, youth affairs and sports, said that he was busy with the national sports day celebrations.
"Today (August 29) is the national sports day and our minister Anurag Thakur is in Boston. I was busy taking care of everything and hence couldn't make it to the training programme," he said. He added that he would not be available for the next two days either and had requested the party to connect him virtually during the events if necessary.
However, it wasn't immediately clear if Pramanik will be virtually connected.
Union minister of state for education Subhash Sarkar was, however, present at the programme and participated in lighting the inaugural lamp.
Three other MPs, S.S. Ahluwalia, Raju Bista and Kunar Hembram, were also absent from the event. The trio had also skipped the meeting presided by Nadda in June, which was given a miss by Thakur and Barla as well.
Thakur is publicly known to be at loggerheads with the current state general secretary (organisation) of the party, Amitava Chakraborty. The minister had publicly accused Chakraborty of practicing nepotism and sidelining party old timers.
Former state general secretary Ashim Sarkar — who had performed the task of organising these training programmes since 1985 — took to the social media to complain that the party didn't bother to invite him to the event this year.