Three arrested in Manipur for rhino poaching
The carcass, with its horn missing, was found in the park on Sunday morning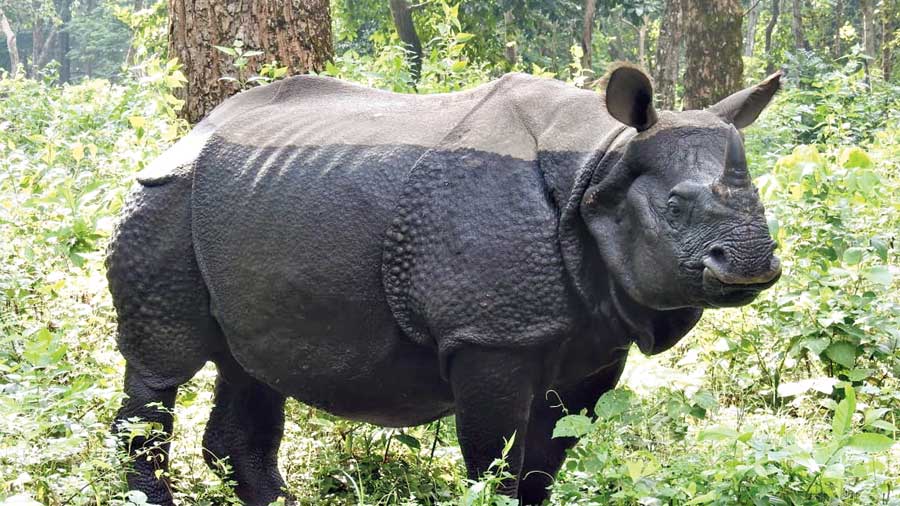 ---
---
The special task force (STF) of Manipur arrested three persons suspected to be members of a gang linked to the killing of a one-horned rhino at the Jaldapara National Park of Alipurduar district.
Two of the arrests were made on Sunday night and one was made on Monday, all in Manipur.
The rhino's carcass, with its horn missing, was found in the park on Sunday morning. Senior forest officials, who immediately ordered an inquiry, said the animal had been killed at least two days back.
Vets who performed the animal's autopsy confirmed it was shot from point-blank range.
V.K. Yadav, the chief wildlife warden of the state, confirmed the arrests made by the STF in Manipur.
"We suspected a poachers' gang from the Northeast was involved and it is good that arrests have been made. Alipurduar district police have submitted a prayer before the court in Manipur so that the arrested can be brought here on transit remand. We hope to recover the horn," said Yadav.
In 2017 and 2018, six rhinos were killed by poachers in Jaldapara. Investigation by the forest department along with the police had revealed the involvement of poachers based in the Northeast.
On Sunday, when this rhino carcass was spotted, foresters and the police immediately passed on this information to their counterparts in the Northeast, which swung into action.
"We have also come to know that the poachers had stayed in some private cottages in nearby Chilapata. We will speak with cottage owners and residents to ensure that in future they alert us in case they find any suspicious guest checking into these accommodations," said a forest official.
The Bengal forest department, sources said, also intends to constitute a special task force. "This force will be engaged for better protection of forests and wildlife across the state," said a source.
Six held with weapons
Acting on a tip-off, the police arrested six suspected members of a gang that planned a robbery, with weapons, from near Manikchak in Malda district on Monday morning. Police recovered a firearm, three rounds of live cartridges and a gas-cutter, a drilling machine, among others, from them.
A team of Kaliachak police station also arrested one Mobarak Sheikh on Sunday night, with 262 gm of brown sugar and Rs 3.30 lakh in cash.
Accident
At least 20 Trinamul supporters got injured as the pick-up van they were in flipped on one side while on way to Balurghat on Monday.
Sources said around 25 supporters of the party from Bolla and Bahicha villages of South Dinajpur, were heading towards Balurghat to join in a rally that was planned ahead of submission of nominations by party's candidates.
On the way, the driver lost control while trying to negotiate with a motorcycle. The vehicle turned side near Pagliganj-Pollapara area under Patiram police station. Residents rushed them to the superspecialty hospital in Balurghat. Some of them are still under treatment.