Theft scan on highway felling
PWD authorities later suspended the cutting of trees for the remaining 18km stretch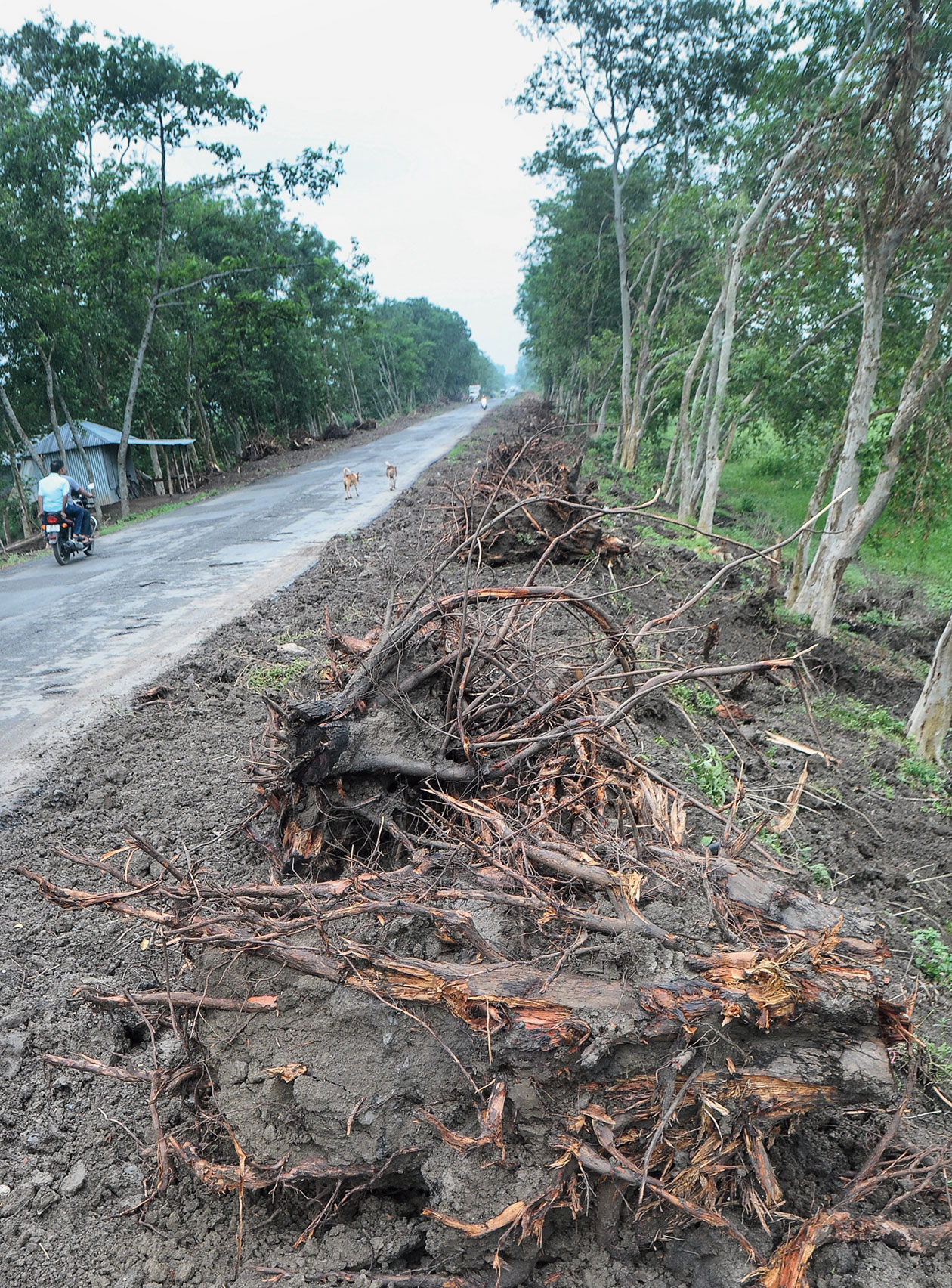 ---
---
Over 1,000 trees were felled to widen a state highway in Nadia instead of the 634 approved, prompting a police probe after a PWD complaint.
Residents came across the "illegal indiscriminate felling" of 1,033 trees along a 7km stretch the highway between Krishnagar and Krishnaganj and alleged that the contractor tasked with cutting the trees had done so to steal timber.
Pradip Sarkar, the contractor, has denied the allegations. A 25km stretch of the road is to be widened.
The residents, some of them nature lovers, stopped the felling. They said the trees were of rare species such as Mahogany, Banyan, Blackboard, Teak, Pride of India, Frywood and Thorny Acacia.
PWD authorities later suspended the cutting of trees for the remaining 18km stretch. The district administration asked the PWD to conduct a physical verification by counting the tree stumps. That process ended on Wednesday and it was found that nearly 400 trees more trees had been cut down.
Amar Bhattacharya, assistant engineer of PWD (roads) in charge of the widening project, said: "We have found that more trees than approved were felled. The number of stumps shows that. We have lodged a police complaint to find out those behind such indiscriminate, unauthorised felling of trees."
However, the PWD authorities did not lodge a specific complaint against Sarkar. "Who was responsible could not immediately be ascertained. There is no specific evidence against the contractor. It could have been done by other persons as well. So, we have requested the police to find out who was responsible," said Bhattacharya.
Sarkar rejected the allegations against him. "My workers did not fell any tree beyond those approved. Residents could be responsible. Let the police find out," Sarkar said.
Swapan Bhowmik, a nature lover, said residents had alerted the PWD about the felling. "We kept urging the forest department and PWD authorities to monitor the activities of the contractor. But nobody paid heed. Now, the PWD authorities are trying to wash their hands of by lodging a vague complaint," Bhowmik said.
"The road is to be widened by 7.5feet on either side. We have spotted trees felled around 40feet from the proposed widening zone," Bhowmik added.