The Calcutta-Siliguri highway is a track everybody loves to take but nobody ever made
At some point while presenting the Union Budget, finance minister Nirmala Sitharaman announced the upgradation of the track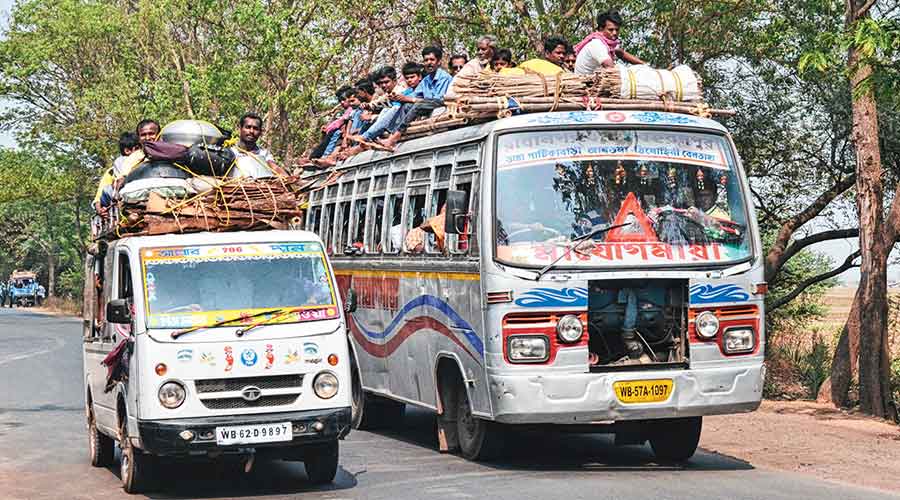 ---
---
For a decade now, Dipankar Bhattacharya has been routinely taking the Calcutta-Siliguri highway. He works in the animal health division of a private sector firm and drives from his home in south Calcutta, down the Eastern Metropolitan Bypass, reaches the Dum Dum airport and thereafter "crawls" through Madhyamgram, Birati, Barasat, till he reaches Ranaghat. "From Ranaghat, right through Krishnagar to Berhampore in north Bengal, the road is horrible," says Bhattacharya. Once upon a time it would take him 10-11 hours to make the journey to Siliguri, now it takes him 18 hours. Of late, he has started taking the route via Burdwan, down Badshahi road to Moregram. He tells The Telegraph, "It is longer by 15 kilometres, but it still saves me two hours."
Mind you, the Calcutta-Siliguri highway is an important road. It is crucial to tourism, business travel and commerce. It links Bihar to north Bengal, Bengal to the Northeast, Assam to both Bengal and Bihar, and India to Nepal, Bhutan and Bangladesh. A part of the East-West Corridor that runs from Porbandar in Gujarat to Silchar in Assam also merges with it. Medical representatives travelling from Calcutta take this road. Nurses from North Bengal and Assam, travelling to private and government hospitals and nursing homes in Calcutta take this road. This route is much travelled by college teachers, government schoolteachers, auto dealers, furniture retailers. Sikkim sends its orchids this way, Assam its tea... And Raiganj, a little ahead of Purnea junction, and thereabouts are much favoured by smugglers and peddlers of illegal goods what with their geo-strategic locatedness within the Chicken's Neck or Siliguri Corridor. The Chicken's Neck is a narrow stretch of land — 22 kilometres in width — with Nepal and Bangladesh on either side.
The 564-kilometre stretch that is the Calcutta-Siliguri highway resembles a whimsical piece of needlework. Someone seems to have used three different skeins of random length.
Skein A is NH12, 438 kilometres and stretching from Dum Dum to Purnea More in Dalkhola.
Skein B is NH27, 132 kilometres, stretches from Dalkhola to Siliguri.
Skein C represents the part of the Asian Highway Part 2, which crosses NH27 a little
before Siliguri.
Arun Basak mans a booking counter at the bus depot in central Calcutta's Esplanade. The Calcutta-Siliguri bus service is pretty much a night service. Buses leave at 5.30 in the evening, reach Siliguri around 8am the next day. Says Basak, "Routinely, the buses get stuck in a traffic snarl at Barasat, barely an hour into the journey. Crossing the Barasat-Ranaghat stretch shouldn't take more than 30 to 40 minutes, but it always takes an hour and a half or more." Reason? Potholes; a single carriageway for trucks, lorries, trailers, buses, bikes, private cars, yellow taxis, app cabs, cycles; frequent accidents; local haats. And in case you are trying to visualise it — remember, it is a single carriageway channelling up traffic as well as down traffic.
The next two pain points are Santipur and Krishnagar. One sweaty May evening in 2017, I remember taking a bus from Calcutta to New Jalpaiguri. At about 11pm, we reached Ranaghat and stopped at a dhaba; as we were tucking into refreshments, the conductor announced that the bus would bypass Santipur as it was too narrow a road to take during the night. And so I continued the onward journey leaving behind crestfallen passengers who had planned to reach Santipur on some business or the other.
So many years later, I understand what the conductor had not bothered elaborating upon. Explains Samiran Sen, who is currently chairman of the Infrastructure Advisory Committee, "The minimum width of a four-lane national highway should be 25 to 30 metres. But NH12 is very narrow — barely 12 metres wide." It also totters left and right like a drunken person, twists and turns, in all making it unfit for safe and speedy passage. According to Sen, "Trailers or 22/24-wheeler trucks often get stuck in the single carriageway while taking a left or right turn; boundary walls crumble from the impact." Basak adds, "A bus and a car cannot pass side by side on this road."
The road between Krishnagar and Berhampore is relatively smooth sailing; it became a double carriageway some years ago. The problem starts a little before Farakka and continues right up to Malda. Aniruddha Biswas, a schoolteacher and resident of Malda, has to do the 32-kilometre commute (one way) every day. He says, "Even the 2.5 kilometre stretch on the Farakka Barrage cannot be crossed in 30 minutes." There are feeble signs of another bridge coming up on the Bhagirathi and Biswas hopes this will make life easy for him some day. Enigmatically though, the bridge's columns have been constructed but there is no sign of a link road.
Ms Sitharaman is no doubt using this highway largesse to pave newer inroads for the BJP in Bengal. But in the past, there have been attempts to solve the NH12's multiple issues, not all of which were politically motivated. Studies have been conducted, reports submitted, scientific solutions offered, settlements razed, compensation doled out to hawkers for land acquisition, but nothing and no one has been able to make this road sing.
1995. The CPI(M)'s Somnath Chatterjee, then chairman of the West Bengal Industrial Development Corporation, announced that a brand new 600-kilometre expressway would be built. It seemed more viable an option than acquiring more land for the widening of NH12.
But nothing happened.
2000-05. The Asian Development Bank or ADB and the UK-based engineering firm Halcrow conducted a deep dive. The report ran into 12 volumes and Volume 13 summarised all the previous volumes. Solutions were proffered, each of which would impact the Calcutta-Siliguri Highway. Upgrade feeder roads. Build this bypass, that bypass. Develop SH7 to ease traffic.
But very little happened.
2008. The National Highway Authority of India took over the Calcutta-Siliguri highway's guardianship. Proposed that the road be built under the BOT model. BOT as in build, operate, transfer model.
Again, nothing happened.
The speed-breakers to the smooth evolution of this highway were always the same. Any widening activity required disturbing human settlements and acquiring new land.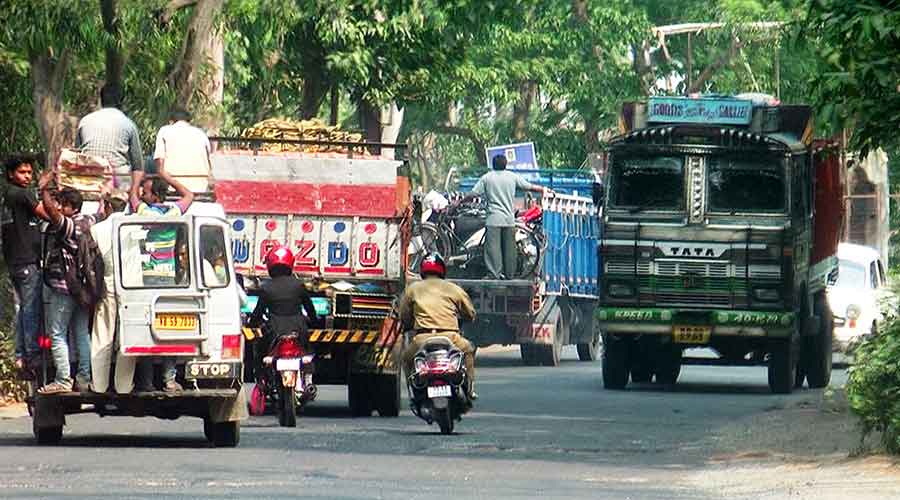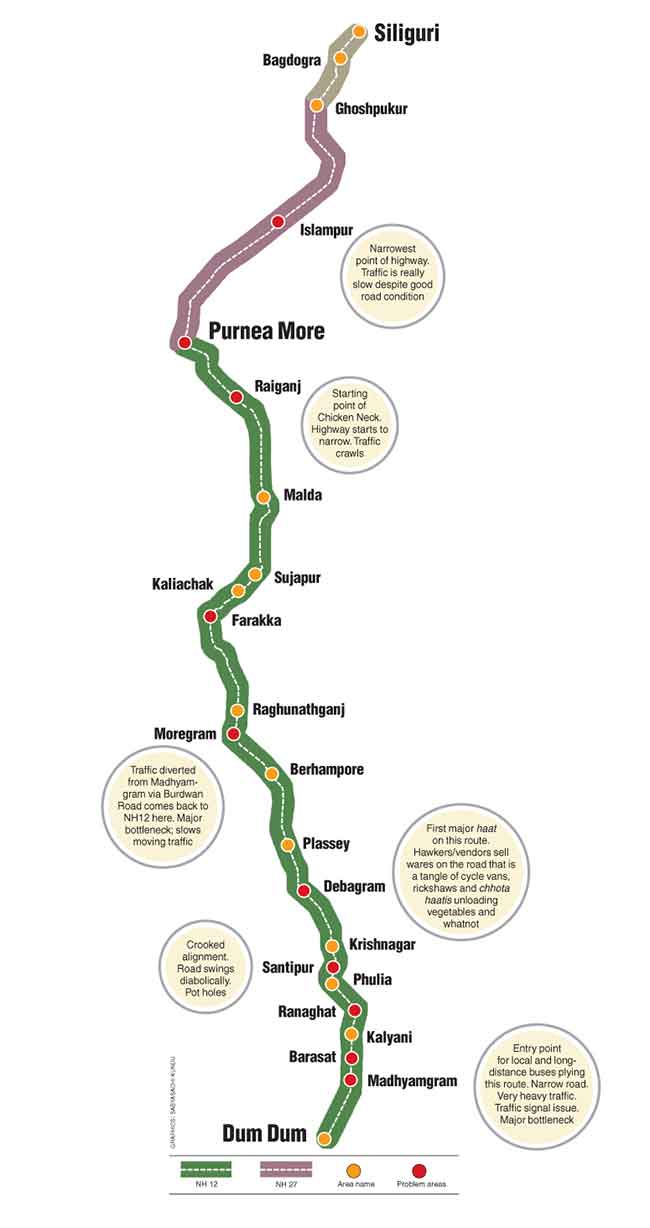 Biswas had spoken about vegetable vendors, roadside eateries and dhabas encroaching on the highway. Bhattacharya talks about the local haats in Bethuadahari, Chakdah, Debagram, also spilling onto the highway. Sen explains, "The world over, human settlements spring up along the main corridors. For India, the main corridors are its national highways; earlier our rivers were our main corridors."
The settlement problem dovetails into the land acquisition issue. Sen continues, "Farmers in Uttar Pradesh, Haryana, Punjab or Chandigarh have large land holdings that they willingly part with at a price. They develop the fields that extend behind these. In Bengal, the farmers own very small plots. If they have to forgo their land, they will have nothing." At the turn of this century, when Sen and his supervisors went to Kazipara in Barasat to take measurements for the Barasat Bypass, he recalls, "We were chased by a group of men with sickles in their hands." The Barasat Bypass could not be made.
Beyond the resistance of the common man lurk other, less obvious speed-breakers. Experts don't tire of telling me that the National Highway Act of 1956 stipulates the state government has to facilitate land acquisition and the Centre will bear the cost. Says Sen, "Now you know; it is sheer lack of intent that has come in the way of developing this highway."
Saunak Das, a National Highway repair contractor, is another frequent traveller on this route. He talks about the road as it runs through Malda. "The problem near Malda has been solved somewhat as the Malda Bypass helps us avoid the town completely. The route between Kaliachak and Sujapur is soon going to become a double carriageway. Work is on."
According to him, it is further north of Malda that the problem lies. "The Dalkhola railway crossing is a nightmare. Recently, I had to escape through a village road when I got stuck in a jam there. It was about seven in the evening. I wouldn't have reached anyplace close to Siliguri that night had I waited."
The Islampur-Siliguri stretch is relatively blameless. If a point must take blame for Saunak's itinerant delays, that would be Purnea More. Amitabha Ghoshal, who is the ex-president of the Consulting Engineers Association of India, says, "There is a problem with the traffic signals, even the signage is all wrong. There is next to no policing. The junction is a chaos of dhabas and shops." The Purnea junction also receives the added traffic load from Bihar's NH31.
Basak from the Esplanade booking counter had said how buses headed for Siliguri never make it back to Calcutta on time to do another trip. He said, "It is a common practice among bus owners to have extra vehicles at the Siliguri Bus Depot to continue service..."
And so continue the olden complaints about a road much taken, much forsaken. Ms Sitharaman has chosen to make a poll sop of its lumbering tragedy.