Darjeeling: Anit Thapa's new party to host key meeting on portfolios
Sources said Amar Lama, who joined his party on Thursday, is one of the top contenders for the post of the party's general secretary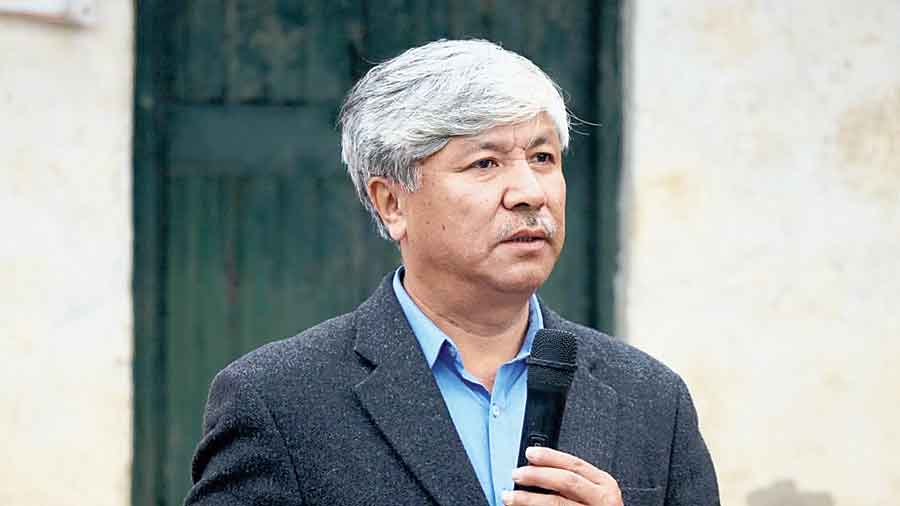 ---
Darjeeling
|
Published 11.09.21, 12:27 AM
|
---
The Bharatiya Gorkha Prajatantrik Morcha (BGPM), the newly floated political party from Darjeeling by Anit Thapa will hold its first central committee meeting on Monday to chalk out the party's future plans, its leaders said on Friday.
"The central committee will decide on the party's portfolio during its first meeting on Monday," said Keshav Raj Pokhrel, a leader of the party.
Thapa, formerly associated with Binay Tamang's faction of the Gorkha Janmukti Morcha, has been appointed the president of the new party but all other posts are still vacant.
Sources said Amar Lama, who joined Thapa's party on Thursday, is one of the top contenders for the post of the party's general secretary.
Even though the majority of the leaders of a faction of the Gorkha Janmukti Morcha are with BGPM, the new party is looking at a major image changeover. Around 40-odd apolitical people were invited at the party's launch in Darjeeling on Thursday.
Attempts are being made to project new leaders to have a distinct identity from the previous faction of the Morcha.
"This is why the meeting is very important. The party might put in place new leaders even in the district and subdivisional committees," said a leader of the party.
Among the 20-odd frontal organisations of the party, immediate importance is being placed on the trade union.
"A new trade union has to be formed and work to register the entity has to start immediately," said the leader.
The crucial meeting to decide the bonus of tea garden workers in the region will start from September 15.
"It is vital for the representatives of the new party to be involved in the bonus negotiations," said an observer.
The Gorkha Janmukti Morcha faction headed by Bimal Gurung is also focussing on issues related to tea gardens in their bid to recover lost ground in this brew belt.
Supporters of Gurung's Morcha faction have started planting party flags across the hills in an effort to make their presence felt following the formation of a new party by Thapa.
Milan Pradhan, general secretary of the Darjeeling-Terai-Dooars Plantation Labour Union, which is affiliated to Gurung's Morcha, said that a meeting of the Joint Forum, which is a conglomeration of more than 30-odd tea gardens from north Bengal, will hold a seminar on minimum wages in Darjeeling on Saturday.
"Representatives of almost all the trade unions from north Bengal, including those of Trinamul, the Congress, the CPM, among others, will be attending the seminar on minimum wages for tea workers. We are confident that the issues would soon be solved as the state government is also positive in its response," said Pradhan.
The daily wage of tea garden workers in Bengal is currently Rs 202 as decided in an interim hike announced by the state government in January this year.
The unions want the state to fix a minimum wage for the workers.