Anit Thapa and Bimal Gurung visit each other's strongholds
Old-timers recalled how leaders from other political parties would hardly visit the Tukvar when Gurung was in absolute control of the hills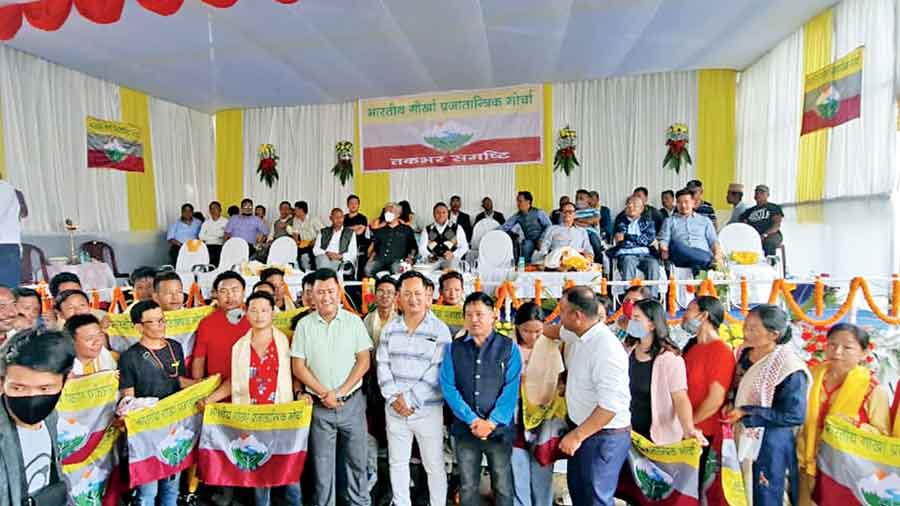 ---
Darjeeling
|
Published 20.09.21, 12:16 AM
|
---
Anit Thapa and Bimal Gurung were at each other's home turfs on Sunday, signalling an intense rivalry to influence each other's core constituencies.
Anit Thapa, the president of the newly floated Bharatiya Gorkha Prajatrantrik Morcha, was in Tukvar, long considered to be a fiefdom of Gorkha Janmukti Morcha leader Gurung.
 "He was there because we, too, have our supporters in large numbers there," said a leader of the newly formed BGPM, who did not want to be named as he is not authorised to speak to the media.
The social media team of Thapa was quick to widely publicise the cavalcade of vehicles accompanying Thapa and the welcome he received in Tukvar.
Even after being on the run for the past three-and-half-years since the 2017 Gorkhaland agitation, Gurung's Morcha faction did lead from Tukvar during the  Bengal Assembly elections this summer. Gurung's candidate P.T. Ola, however, lost the Darjeeling seat to GNLF leader and BJP candidate,Neeraj Zimba.
Old-timers recalled how leaders from other political parties would hardly visit the Tukvar when Gurung was in absolute control of the hills.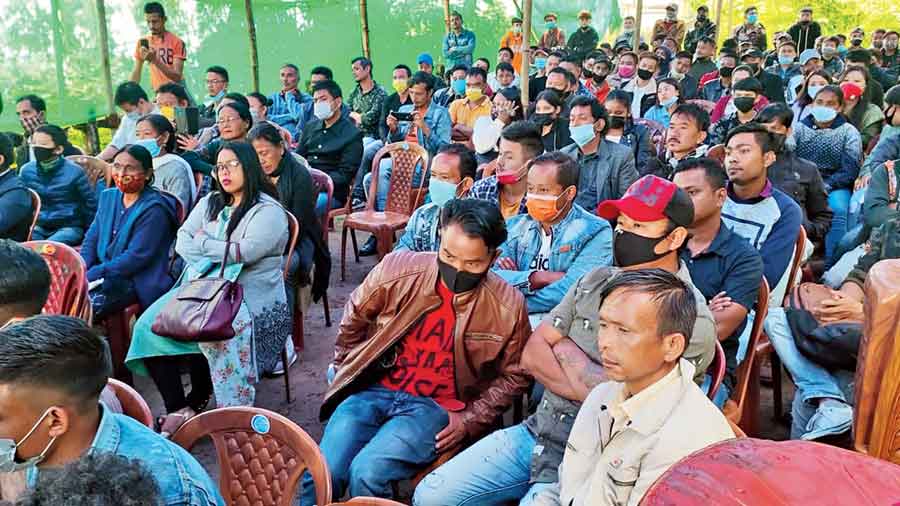 "One would hardly find any Opposition leaders visiting the area to organise political events. Those contesting the elections, mostly Assembly elections, would just do a road show in Tukvar at the most," recalled an old-timer.
Much has changed since..
When Gurung was on the run, Binay Tamang, who was then the chairman of the board of administrators, Gorkhaland Territorial Administration, did visit Tukvar. Tamang headed the rival Morcha faction.
"There seems to be some message in Thapa's decision to hold a meeting at Tukvar," said an observer.
Gurung, too, has been in Kurseong for the past few days. On Sunday he visited the Sitong-Latpanchar area in Kursesong which has a relatively strong presence of Thapa supporters.
Gurung trekked for 3 kilometres to reach Rolak village in Sittong area on Saturday. "I have no interest in doing politics for my gain but I am in politics to ensure a better future for the youths and the coming generation," said Gurung.
Former Morcha leader Binay Tamang also made news. Tamang, in Kalimpong, hinted his new political party will be floated before Diwali.
Mann Ghisingh, the president of Gorkha National Liberation Front and Subash Ghisingh's son, is also touring Kalimpong, where supporters of other parties joined his party. Mann's one-time friend Ajoy Edwards, who left the GNLF recently after claiming he was sidelined, however had the largest number of persopns joining him on Sunday. Mnay from Tamsang, Salbari, Ghoom, Dudhiya, Jhaldhaka, Sukhiapokhri, Chota Mangmaya, Takdha, Singtam and other places came to extend their support to Edwards, has not yet floated any political party. He will visit Kalimpong soon, he said.