Temple ties in culture cauldron
Read more below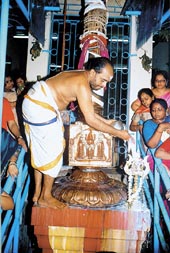 ---
Published 26.08.04, 12:00 AM
|
---
(Top): A priest performs the abhishekham at the Sri Ganesh and Sri Murugan Temple in south Calcutta. (Above): Devotees offer prayers at the temple
Vanakam! Ungal kovil (Welcome to your own temple).
A priest in a dhoti greets you at the entrance of Sri Ganesh and Sri Murugan Temple on Prince Anwar Shah Road, near Dhaka Kalibari — a reflection of the hospitality one enjoys at a South Indian home.
As a visitor steps into the kovil (temple), he is overwhelmed by the fragrance of camphor, coconut oil and flowers. For a moment, it seems the visitor has been transported to a remote village in South India.
The four-lakh-odd South Indians in the city have over the years not only enriched the country's cultural capital, but have themselves inculcated certain qualities that make them bona fide Bengalis.
Calcutta now has six South Indian temples — Sri Ganesh and Sri Murugan Temple, Sree Guruvayurappan Samajam, Rama Mandir, Veda Bhavan, Shastha Samooham and Shankara Institute of Philosophy — which have emerged as social hubs and centres for sarva dharma samanwaya (confluence of all communities).
According to T.S. Srinivasan, art critic and member of the Ganesha and Murugan Temple trust, South Indians are proud to be associated with the city.
"We are more Bengali than South Indian. But, at the same time, we've maintained our identity. Local residents, be it Bengalis, Marwaris or Jains, have recognised our efforts and are helping us run the temples," he said.
T. Ranganathan, honorary general secretary of Gurvayurappan Samajam, echoed Srinivasan: "Devotees from all communities visit our temple every day and help us maintain the sanctity. We have built the temple on the lines of the main Guruvayurappan temple in Kerala, which we draw our inspiration from."
The temples mainly belong to two cults — Shakta (devotees of Shiva) and the Vaishnav (devotees of Narayana). Abhishekham is performed regularly before the deities — Shiva, Ganesh, Murugan, Vishnu, Krishna, Lakshmi, Durga, Amba and Parvati — following the procedures practised in Tamil Nadu and Kerala. Priests — Shantis from Kerala and Gurukal from Tamil Nadu — perform the pujas.
"We record a footfall of nearly 300 a day. During festivals, the devotees number more than a thousand. Apart from running the temples, members of the trusts contribute to social causes, too," said Srinivasan of the Ganesha and Murugan Temple.
Priest Meenakshi Sundaram Gurukkal said: "The deities respond to prayers. I have met all kinds of people over the past year and have fallen in love with the city and its people. Though I cannot communicate with all of them, as I do not know any language apart from Tamil, I feel at home and have realised that Bengalis and Tamils share similar values and are rich in culture."