Team from Calcutta visits sick kids in north Bengal
For past 10 days or so, hundreds of children have got admitted to different hospitals, especially Jalpaiguri and Malda districts and Siliguri subdivision of Darjeeling district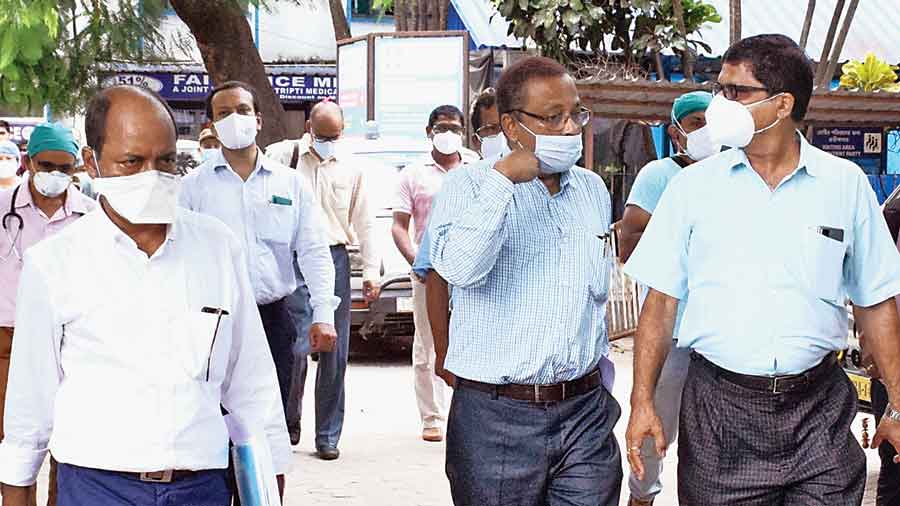 ---
Malda, Siliguri, Jalpaiguri
|
Published 18.09.21, 01:02 AM
|
---
A five-member health team from Calcutta reached north Bengal on Friday to check out the health infrastructure available for children in the state-run establishments of the region and to confirm that the admitted children are getting proper medical care.
For past 10 days or so, hundreds of children have got admitted to different hospitals of north Bengal, especially Jalpaiguri and Malda districts and Siliguri subdivision of Darjeeling district. All of them showed symptoms such as fever, cough and cold.
Doctors have recently found that in most cases the fever is being caused by respiratory syncytial virus (RSV) and B-type Influenza.
During their visit, the team went to North Bengal Medical College and Hospital (NBMCH) in Siliguri and the Siliguri district hospital.
As of now, around 60 children are under treatment at NBMCH, among whom nine have fever. There are two others who have been detected with dengue and Japanese encephalitis, said sources.
On the other hand, 54 children are under treatment at Siliguri district hospital. 
Sushanta Roy, the officer on special duty deputed by the state health department in north Bengal, said illness of the children from various areas of the region have made them draw up a fresh plan.
"We are engaging surveillance teams to identify whether any cluster is developing in any locality. If any child is admitted with fever, the team will visit the patient's house and also check out another 50 surrounding houses. The idea is to prevent mushrooming of clusters with the infection," he said.
In the NBMCH, 50 more beds for children will be added along with the existing 120 beds, added Roy.
Later in the day, the team went to Jalpaiguri.
As of now, 107 children are under treatment at the Jalpaiguri district hospital while in Malda Medical College & Hospital, around 200 children are under treatment.
The visiting team  spoke with Jalpaiguri district health officials who informed that more beds would be made available for children.
"The team members have suggested that to ease the load on the Jalpaiguri district hospital, authorities at block and subdivisional hospitals would be asked to treat the children in their places. Only if there is a critical case, should the child be referred to the district hospital," said a source.