Taxman rediscovers father of taxation - Mullickbazar grave of Economist founder James Wilson gets facelift ahead of 150th death anniversary
Read more below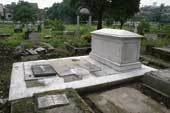 ---
---
The grave of James Wilson at the Mullickbazar cemetery. Picture by Bishwarup Dutta
Dear taxpayer, it's likely that you'd want to see the man who introduced income tax in this land of ours in his grave alone. Let's just say it's possible — to see him in his grave.
James Wilson, known as the man who "evoked order out of the chaos of Indian finance" after the 1857 war of independence, lies in the Mullickbazar cemetery.
While many will dispute that it takes a taxman to know a taxman, it was C.P. Bhatia, assistant commissioner of Income Tax, Calcutta, who discovered the grave of Wilson when he was posted here in 2007.
The Christian Burial Board will observe Wilson's 150th interment day on Tuesday at 10.30 am by placing wreaths on his grave. Incidentally, it is also the 150th year of the introduction in India of income tax, which has as yet shown no sign of failing health from old age.
Bhatia had taken six months to discover the grave of the father of Indian finance, who had already sired The Economist magazine in September 2, 1843, before he was sent here to clean up the jewel in the crown.
Wilson was born on June 3, 1805, at Hawick, a small border town in Scotland, and died in Calcutta on August 11, 1860, "from the combined effects of climate, anxiety and labour within eight months after his arrival in India", according to the inscription on his tombstone, which has been restored recently on Bhatia's initiative.
Bhatia had been researching India's fiscal history for some time to write a book on the country's taxation history, when he came upon the reference to Wilson and his great contribution. He also discovered that Wilson, who had been offered the post of finance member of the Viceroy of India Council, akin to the post of chancellor of the Indian Exchequer, by Lord Palmerston, the then British Prime Minister, in 1859, had died in Calcutta.
When he was posted to this city, Bhatia made it a point to visit the various cemeteries and check the church records. At the National Library he found the gazette published on the day of Wilson's death which said: "He died on 11th August 1860 at the young age of 55 years after suffering from dysentery… Flags were unfurled at half mast and guns were ordered to be fired for 15 minutes from the ramparts of Fort William at the time of his burial."
Not long afterwards, Bhatia located the grave but the inscription was indecipherable. Bhatia convinced the Christian Burial Board that he would restore the writing at his own expense, and now even the name of the well-known mason --- T. Gaffin, 63 Regent Street, London --- responsible for making the marble headstone can be clearly read.
Wilson, the son of a wealthy woollen manufacturer, continued his studies while being apprenticed to a local hat maker. His early hero was the economist Adam Smith who wrote the famous Wealth of Nations. Wilson became wealthy himself, by dint of hard labour.
It was not The Economist alone that Wilson, who also wrote most of its content then, founded. During the Australian gold rush of 1851, he laid the ground for the formation of the Chartered Bank of India, Australia, China.
In India, he imposed an income tax, created a government paper currency and remodelled the whole system of finance.
There is still a riddle about Wilson that remains unsolved. By all accounts, his statue used to stand in Dalhousie Institute, which was demolished in 1960 to construct Telephone Bhavan. Where was it removed from there?
Had Wilson been around he might have said only two things are certain in life: taxes and death. What happens to you after death is not certain at all.