Tamang leads third march in hills
The Tamang camp has been demanding implementation of ILP and declaration of Gorkhas as Original Inhabitants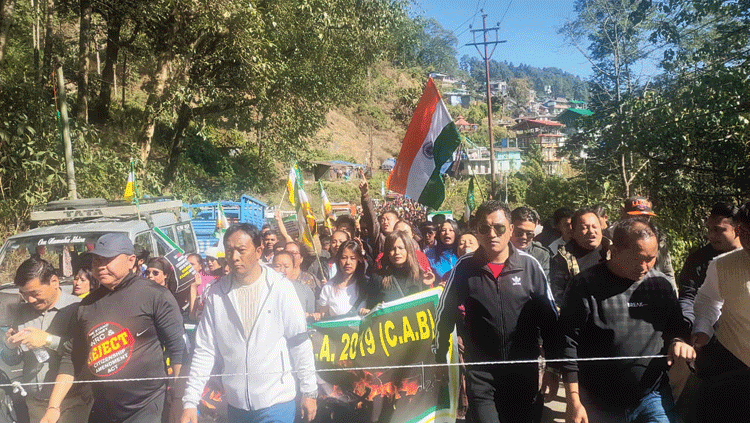 ---
---
Gorkha Janmukti Morcha leader Binay Tamang on Sunday marched 21km from Pedong to Kalimpong to protest against the Citizenship Amendment Act, 2019, and the update of the National Register of Citizens.
He had already walked twice — from Darjeeling to Kurseong and from Kurseong to Siliguri — on the issue in the past fortnight along with Morcha members.
Observers believe the Tamang camp of the Morcha, an ally of the Trinamul Congress, is trying to keep alive the momentum before the proposed march by chief minister Mamata Banerjee in Darjeeling on January 22.
"If you don't wake up now, it will be late," Tamang said while addressing supporters at Damber Chowk in Kalimpong on Sunday.
"I tell you, 87.2 per cent of the hill people reside on lease land. Even in the Kalimpong municipality, 17 acres of land are under lease," the Morcha leader has added, implying that most people in the hills don't possess papers to prove their citizenship and would be in trouble if the Centre takes up the NRC update.
"Our protest is against division of the country on religious lines. Immigrants might be declared as citizens of our country but we the people of this land might be denied citizenship," said Tamang.
The Tamang camp of the Morcha has of late been demanding implementation of Inner Line Permit in the hills and declaration of Gorkhas as Original Inhabitants so that they get some leeway once the CAA is implemented.
Over the past one month, the Tamang faction held five awareness camps at various places on the CAA and the NRC.
A few days ago, Tamang had said "politics of reality over emotion" was finding acceptance among the hill people.
He made the comment while GNLF supporters were joining his party on Friday.
A senior Morcha leader on Sunday said: "The statement of Binay Tamang that politics of reality is finding acceptance after initial setback can be gauged from the fact that supporters of not only the GNLF but the BJP also joined us in the past one week."