Tale of two beloveds MY DARJ - Anjan Dutt
Read more below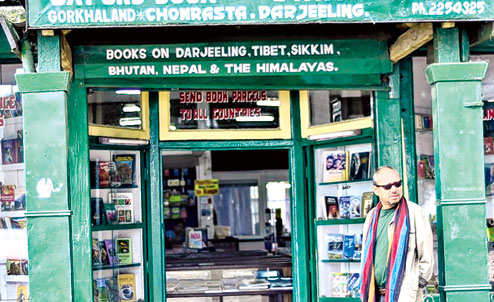 ---
Published 24.06.12, 12:00 AM
|
---
Just the other day a journalist friend of mine from Delhi and a relative of Aparna Sen called me up to help him organise transport from Jalpaiguri station to Darjeeling. I do this kind of offline travel agency job now and then. (Strictly non-profit making and strictly Darjeeling.)
He and his family made it through the terrible road from Kurseong to Darj (once it was 45-minutes long, now almost 1 hour 30 minutes) and returned to SMS me that it had been one of the most terrible holidays in his life. His words were: "It's dingy, it's overcrowded, it's strenuous, the weather has taken a toss, any resemblance to childhood memories is a pure coincidence."
Anjan Dutt at the Chowrasta in Darjeeling
Well, it's really not surprising for me since I frequently hear such or more aggressive opinions from many quarters. I have literally grown up there (almost 11 years since 1963) and have memories implanted of the most quaintly beautiful hill station ever. I have seen time, cheap consumerism and corrupt politics, complete nonchalance of governance take its toll systematically. But still I would like to tell my friend from Delhi or the numerous disgruntled readers who may chance upon this article, that: Take a walk behind the Mall as early as 5am, sit quietly at the viewpoint below the Observatory hill, look down at the misty Bhutia bustee below and think of the rest of our land. You will see the truth.
The truth behind the squalor, overcrowding, bad roads, cheap matchbox structures called hotels with cheaper quality of "maach bhaat", the depressing service of the one-time astounding confectionery called Glenary's, the outrageous din below the classic roof top of Keventers, the pathetic state of Capitol cinema, now a makeshift town hall used for distasteful "chaat" festivals, the monstrosity in the name of a concert hall called the Gorkha Rangmanch (Mr Ghisingh's contribution) that has forever marred the skyline of the Queen of the Hills…. You will see the people.
Gorkhas, Bhutias, Lepchas, Nepalis, Tibetans, Marwaris, Bongs, Biharis, Anglos, British, whatever you want to call them. The real people of Darjeeling, who despite the enormous pressures of political disturbances of almost 30 years and the absolute shoddiness of the basic amenities of life like water supply, electricity, hospitals, roads… still have a glint in their eyes, an inherent kindness in their smile and an eagerness to make you try to feel good. Kanchenjungha is there just as a bonus.
The cisterns in most of the toilets of the one-time luxurious Planter's Club don't work. But the stunningly handsome houseboy Kamal who is always there to serve you tea, pour water into your whisky glass, will tell you stories of his enormous struggles, but will never think of leaving Darj to look for a career elsewhere. Why? Hopes of Gorkhaland? Don't let the dirt in his nails and his torn shoes mislead you.
ANOTHER DAY ENDS SO BEAUTIFULLY
My dear architect friend, 60-plus Austin Plant, who came over to Darj as a child from Burma perhaps has the answer.
The rest of his family all left for London. He married a stunningly beautiful Afghan woman and cannot stay anywhere from Cal to London for more than 15 days. Is it because he has the most stunning view of Kanchenjungha from all the rooms of his superbly designed house?
"It's the friendliest place, Anjan. The quality of life you get here you can't buy anywhere else. Despite the bandhs, the crises, the people are always so bloody kind."
I step out of the cutest hotel ever called Revolver having stuffed myself with the most delicious Naga lunch in this part of Southeast Asia prepared by my friend Aselna, a Beatles freak, and I walk down to Chowrasta to let the smoked pork and sticky rice slowly sink. The walk from Keventers to the Mall seems like Puri's Swargodaar with peddlers selling almost everything from plastic nail cutters, cheap umbrellas to Che Guevara T-shirts, and I literally have to fight my way through, dodging the obvious Bong tourists who pester me to pose for the cellphones. By the time I make it to an equally or more crowded Chowrasta, I literally want to cry.
Kuchi, a dear friend and a second-generation tea seller of the most exclusive heritage tea shop called Nathmulls, hands me a chair on the porch of his tea lounge and pours me a goblet of ruby red first flush that almost looks like rum. "You know Anjanda, it's true we are behind schedule, but is Bangkok any better or Pattaya? What you have to understand is that Darj being so close to Cal and much colder, the main bulk of tourists are middle-class Bongs who get an affordable holiday overnight. You want to make it exclusive only for the rich and classy, it's your headache. The numerous taxi drivers, all the staff of the numerous cheap hotels with ugly structures, the uncountable peddlers selling their cheap mufflers and umbrellas are the majority of our population. You want to deprive them of their livelihood, it's your choice too. All our memories of what was and what could have been cannot be valid in a land where 70 per cent of the population is not rich and classy."
Though Kuchi sells tea worth Rs 30,000 a kg to Japanese tea experts, the sheer ground logic is irrefutable. "You want your old-world charm?" asks one of my best friends, Puran, who runs a cult bar called Joey's Pub in a damp, narrow lane opposite the ugly Big Baazar. "Book yourself a continental supper at New Elgin Hotel. The Shepherd's Pie and Chicken Roast are as good as anywhere in London". I have done that, I have been to London and eaten there quite a few times and cannot but agree with Puran.
Diamond, the perpetually elegantly dressed owner of New Elgin — still by far one of the best boutique hotels I have ever been to — goes around sharing his tea, his alcohol, even suppers, with his guests. "They cannot kill Darj, Anjan. The people here are still simple-hearted. Come let us sit in the Gazebo and look at the sun set on the valley."
We do that. Cookies freshly baked from the hotel kitchen run by Oriya cooks and the best Darjeeling tea is elaborately placed before us. The setting sun turns everything orange. "Another day is ending so beautifully. Aren't we blessed to be up here?"
I think of all the countless Mongoloid faces of people young and old in the lower bazaar, all the bustees, their toiling hands, their soiled clothes, their chinky eyes… all turning orange. And I want to write another sad song.
JUST THE FACES
My best friend Chris Schulz, an engineering consultant from Germany, grabs my hand as we walk into my old school, St Paul's, on Jalapahar overlooking a glittering Kanchenjungha. "This is where the songs and movies are coming from, buddy! This! Now I get it!"
He tells me how he hated the marble and concrete jungle of Gangtok. It was like any other city in the plains. "But this is the real Eastern Himalayas". The man who made it to Everest base camp and wept profusely when he saw the first ray of sun hit the peak almost cried when Jamling Norgay casually walked up to me and said: "What? Another shoot?" "That is Jamling? My legend!!" exclaimed Chris. Jamling chatted for a long time with Chris and his dream came true.
Anjan Dutt at Joey's Pub and (above) Revolver
My wife Chanda was in a nursing home with a hip-bone fracture and the two of us, like naughty schoolboys, bunked our responsibilities and flew to Darj for it was Chris's final weekend in India. He wept, hugged and thanked me unabashedly for bringing him to his best place in India during his two-year tenure at the underground Metro extension in Cal. We walked for hours through the dirt and squalor of the thickly populated lower bazaar. Chris kept taking pictures. A foreigner's fondness to shoot poverty is nothing new to me, but when we sat down at Joey's Pub for a drink, he showed me the shots. One after another, faces of people.
Colourful faces, old faces with innumerable wrinkles and toothless smiles, children, women, coolies, drivers, tourists, endless beautiful faces. Hardly the hills or the mountain range. Just people. That was the pocketful of Darjeeling Chris took back with him. I stepped out into the chill and called up my wife to promise that I will bring her to Darj the moment she would walk. I could have promised Vientiane, Phuket, even Paris, because I can seriously afford it nowadays, the two of us do take off around the world each year and I was really feeling guilty. But it was Darj. I don't know why. Perhaps the faces inside Chris's camera.
By the time we were merrily drunk another dear friend, Deven, a schoolteacher and guitar player walked in. Someone at the bar said: "Darj is still a place Anjanda where you can take a sad song and make it better". So Deven sang Hey Jude and it was suddenly old times.