Tagore family's 3rd school: Crowdfunded, English medium
Supriyo and his son Sudripta, who have taught in various schools in India and abroad, are setting it up in Santiniketan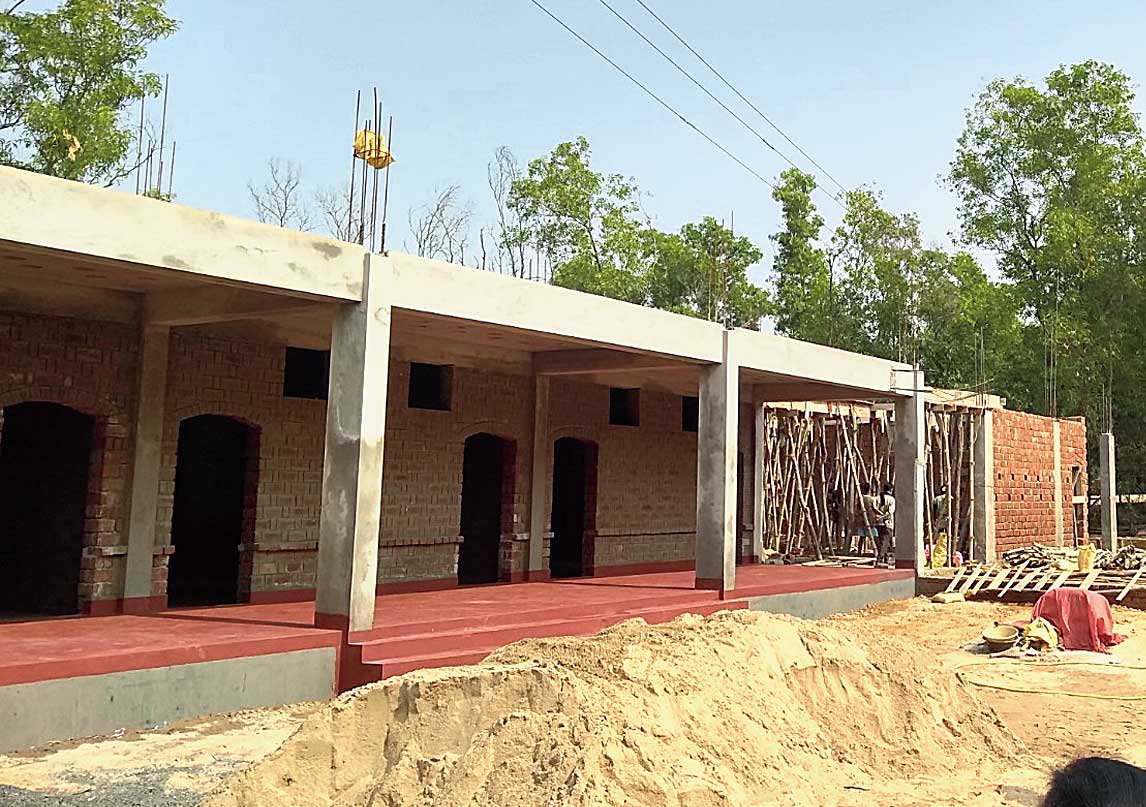 The under-construction school building.
Picture by Indrajit Roy
---
Santiniketan
|
Published 24.01.19, 08:16 PM
|
---
A third school is being built by members of the Tagore family in Santiniketan, about 2km from the Visva-Bharati campus.
This is the first time after Rabindranath Tagore's death that a school is being built by descendants of his family in Santiniketan.
The school is being set up by Supriya Tagore, a great-grandson of Rabindranath Tagore's elder brother Satyendranath Tagore, and Supriya's son Sudripta Tagore. It is coming up at Ballavpurdanga village.
While setting up Ashram Vidyalaya in 1901 — later renamed Patha Bhavana — and Siksha Satra in the 1920s, Rabindranath Tagore had envisaged imparting school education amid nature and introduced open-air classes in the shade of trees.
"We will follow the ideals of Rabindranath Tagore and at the same time merge it with the modern education system," said Supriya, the president of the managing committee of the school.
The school is being jointly built by Supriyo and Sudripta, who have taught in various schools in India and abroad. It has been named Santiniketan Sishutirtha School and classes will begin from April with 70 students.
Initially there will be classes from kindergarten to Grade II. Later on the Tagores wish to upgrade it to a high school with CBSE affiliation.
"The education system has changed in the past 15 years. The ideology of Tagore is still relevant, but it needs to be seen in the modern perspective. We are opening the school where Tagore's ideology will be married to modern pedagogy," said Sudripta, who will be the principal of the school.
Supriya, who studied in Patha Bhavana and had been its principal, said the main difference between his alma mater and the new school would be that the medium of instruction would be English.
Sudripta too had studied at Patha Bhavana and went on to teach at Siksha Satra.
Earlier in 1999, Supriya, with the help of a group of residents of Santiniketan, had set up an orphanage named Santiniketan Sishutirtha. The new school building is being built on the same premises.
"We have chosen Ballavpurdanga village for our new school because the area is in the midst of nature. We will give free education to the poor and orphans at the school," said Sudripta.
"We are setting up the school with funds collected from people across the world. It is based on crowd-funding," he added.