Swadeshi tea for Queen
Two faces of tea: Darjeeling on global stage, Dooars gardens count deaths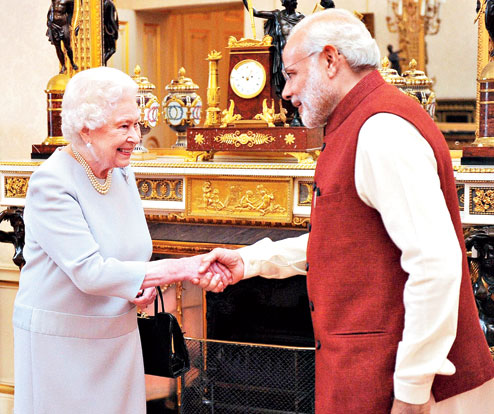 ---
Darjeeling
|
Published 16.11.15, 12:00 AM
|
---
Darjeeling, Nov. 15: Unwittingly or otherwise, Narendra Modi has given Queen Elizabeth a gift with a Swadeshi message.
The Indian Prime Minister gifted the British queen tea from Darjeeling's Makaibari estate, the only hill garden never owned "by the components of the Raj", according to the manufacturer.
The British are credited with bringing tea to Darjeeling and making the brew grown in the hills famous.
A. Campbell, a British doctor with the erstwhile East India Company and posted in Darjeeling, is believed to have brought Chinese tea plant seeds to Darjeeling in the 1840s.
He started a tea nursery at Beechwood, which is now a congested area in Darjeeling town. In 1856, Alubari Tea Garden, the first garden in the hills, was set up. Three years later, Makaibari garden opened.
Makaibari Tea Estates in Kurseong was set up by Girish Chandra Banerjee in 1859. He belonged to a zamindar family from Borai, about 100km from Calcutta.
On Friday, Modi tweeted: "Also presented to Her Majesty some award-winning Darjeeling tea from Makaibari tea estate in West Bengal & fine organic honey from J&K."
According to the estate website, "For more than a century and half, Makaibari has been tended by four generations of the Banerjee family; the only estate in Darjeeling to never have been owned by components of the Raj. Makaibari, was the first tea factory in the world, built by the pioneering G. C. Banerjee, the founding father of Makaibari Tea Estates, in 1859. ..."
It was not known, however, if the Prime Minister was aware of Makaibari's history.
Makaibari has some firsts to its credit.
"The tea garden was the first tea factory in the world, which was set up in 1859 by my great grandfather, Girish Chandra Banerjee, the founding father of Makaibari tea estates," said Swaraj Kumar Banerjee, better known as Rajah, the chairman of the Makaibari Tea and Trade Company.
He added that Modi's decision to gift the garden's most expensive tea, Silver Tips Imperial, came as a surprise. "The tea was Silver Tips Imperial and his (Modi's) decision to gift our tea came as a surprise to me. Last year, the highest price that Silver Tips Imperial had fetched was Rs 1.12 lakh a kilogram. But we normally retail it from the garden for Rs 20,000 a kilogram," Rajah said.
Sources said Rs 1.12 lakh a kilogram was the highest price that Darjeeling Tea has ever fetched.
According to Rajah, Silver Tips Imperial is "handmade semi-fermented light liquoring Oolong tea" and the garden manufactures it in a small quantity.
"We produce very little, about 500kg, of Silver Tips Imperial, while annually, we produce about 1 lakh tonne of made tea. This is because we only have four to five picks for the tea in a year," he said.
Makaibari claims that the tea is manufactured from green leaves plucked only on full moon days and nights.
Only Makaibari garden produces the variety.
The brew, which was served among participants and staff members of the 2008 Beijing Olympics and the 2014 FIFA World Cup in Brazil, is one of the most recognised tea varieties from Darjeeling.
Makaibari, which in Nepali means a maize field, was established after G.C. Banerjee left his family in Borai because of differences with his brothers "who were running the show", according to Rajah. Banerjee was 17 at that time.
"From Borai, he seemed to have come to Tetulia, which is now in Bangladesh. He worked for the British as the official letter writer. In those days, Darjeeling was opening up," Rajah said.
Girish then came in touch with Campbell to set up Makaibari.
Today, Makaibari, which is known as an "organised farmland of seven villages" is spread over 573 hectare, of which only about 250 hectare are under tea cultivation. The rest is forest cover. The garden employs 636 workers.
Last year, the Makaibari Tea and Trade Company entered into a "strategic" partnership with a Calcutta-based group, The Luxmi Group, with an eye on strengthening the brand.
The garden, however, continues to function under Makaibari Tea and Trade Company.
Apart from the tea, Modi also gifted the Queen some photographs of her visit to India in 1961 and stoles from Varanasi.
Does Rajah see a message in Modi's gift to the Queen? "Well, it only proves that we Indians can be the best among the best in every sphere if we are given a level-playing field," said the fourth-generation planter. He hopes to get an audience with the Prime Minister so that he can personally thank Modi for the choice.