Swadeshi movement poet worshipped at Kali temple
Hooghly's homage to Mukunda Das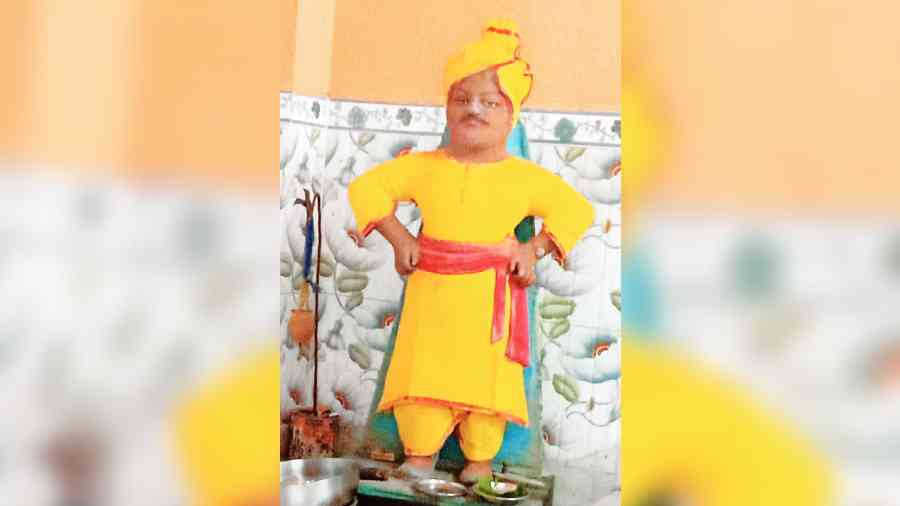 The statue of poet-patriot Mukunda Das, worshipped at the Ma Karunamoyee temple in Jirat's Nattapara, Hooghly district
Sourced by The Telegraph
---
Calcutta
|
Published 24.10.22, 01:08 AM
|
---
Residents of Nattapara in Hooghly's Jirat offer puja to poet and patriot Mukunda Das (1878-1934) after praying before Goddess Kali during Diwali.
Residents of this nondescript village consider the poet as an "incarnation" of Lord Shiva and respect him for his role in the Swadeshi movement. Das penned daring devotional songs that inspired freedom fighters against British imperialism.
In 1955, over 20 years after his death, Kalikrishna Natta, one of his disciples, set up the Maa Karunamoyee temple in Nattapara, where along with the deity of Goddess Kali, he also set up a statue of the poet and began a puja as a "tribute" to him.
The tradition has continued.
"The poet is offered puja at the Karunamayee temple every day. But, puja during Deepawali is a special occasion," said Kalidas Natta, an eminent tabla player and son of Kalikrishna Natta.
"Offering puja to this great poet is a matter of pride. We feel inspired to protest against atrocities," Kalidas Natta, who looks after the temple, added.
During the puja, the poet's daring devotional songs are sung by the villagers. The puja ends with the  chorus "Joy Mukunda Das-er joy".
"The rudra roop or boldness of Lord Shive has been embodied in the poet's words. So Kalikrishna found Lord Shiva in him and began his puja," a villager said.
Mukunda Das, born in Barishal, was a patriot and balladeer, instrumental in spreading the message of Swadeshi in Hooghly and other parts of Bengal.
He raised a Swadeshi yatra group to stage plays across the villages of Bengal.
In 1906, Das began staging Matripuja, which earned the wrath of the British as it aroused patriotic feelings across Bengal.
In 1908, Das was arrested and imprisoned for three years on charges of sedition and inciting violence.
In 1921, Das joined the Non-Co-operation Movement called by Mahatma Gandhi. His Matripuja was banned by the British. He started composing social plays, but in 1932, the colonial government banned all his plays.
Kalidas Natta said: "Poet Mukunda Das in an exceptional way blended his devotion to the Goddess with patriotism, imagining her as a bold mother figure who vowed to protect her children (countrymen) from the oppressive British ruler."
Partha Chattopadhyay, a local historian and professor of Jirat College, said the poet Mukunda Das deserved respect on many levels. "The poet didn't just raise his voice against the British, but also became the voice of the downtrodden who had no recognition in society," said the professor.