Surge of 'outsiders' in homestay business bothers stakeholders
Trend of properties being leased out 'ruining essence of village tourism' in hills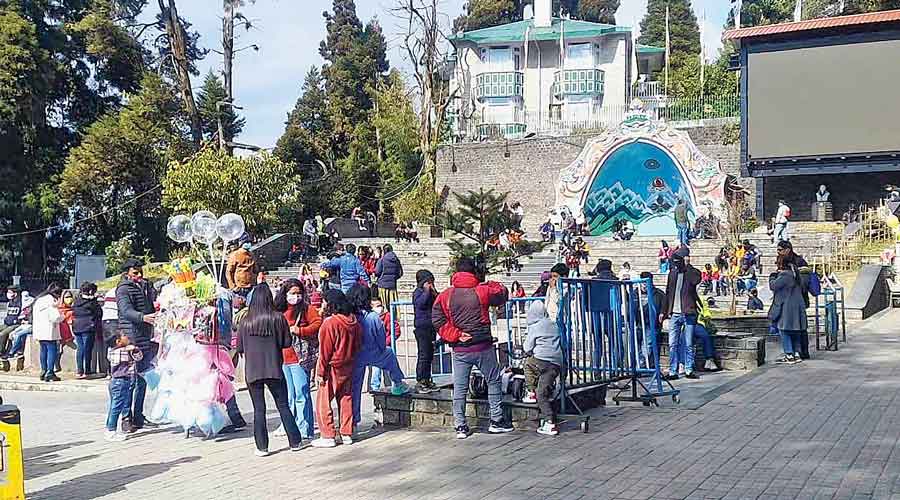 Tourists flock at Chowrasta in Darjeeling
File Picture
---
Darjeeling
|
Published 27.03.22, 01:39 AM
|
---
Tourism stakeholders have raised concern over the emerging trend of leasing out homestays in the Darjeeling hills to "outsiders" and have warned that this would destroy the essence of village tourism.
In Bengal, Kalimpong district has the maximum number of registered homestays at 337, way ahead of South 24-Parganas' 78 and Darjeeling's 63, which hold the second and third position, respectively.
 "However, in the hills, around 43 per cent of the homestays have been leased out and this is not a healthy trend," said Raj Basu, convener, Association for Conservation & Tourism (ACT).
The state government recognises properties, mostly in rural areas, with less than six rooms as homestays.
Basu, who had been instrumental in starting the concept of homestays in the country from Tinchulay in Darjeeling district in the mid-90s, said the practice of leases to "outsiders" was destroying the basic concept of the homestays where the guest is involved with the way the host family lives.
"While I was working with the Union government, there was a suggestion that we work on the bed-and breakfast model. We, however, persisted with the fire-and-food model," said Basu, adding that in the latter the guest gets treated to a "slice-of-life experience".
The Gorkhaland Territorial Administration (GTA) has also taken exception to this emerging trend.
"A tourist wanting to explore a different area will not get the same feeling if the property is run by people from the same place from where the tourist is coming," said Suraj Sharma, assistant director, GTA tourism.
Basu explained that many businessmen were getting into homestays because of the benefits the government is giving this sector. "Since many commercial taxes are not levied on homestays, outsiders want to circumvent taxes through homestays. Some of them are building seven to eight rooms and passing them off as homestays," said Basu.
Those involved in rural tourism maintain that homestays should not have more than two rooms.
"The basic idea is to spend time with the rural family. The concept is also to empower women with earnings. Commercialisation won't help," Basu said.
"Local people give land and the building cost is borne by the other party and profits are shared equally. The state government is giving Rs 1.5 lakh each to homestay owners as incentive, which is encouraging outsiders," said a source.