SC pulls up Bengal govt for delay in BJP youth activist release
Prison officials extracted apology before freeing Priyanka Sharma, lawyer claims in court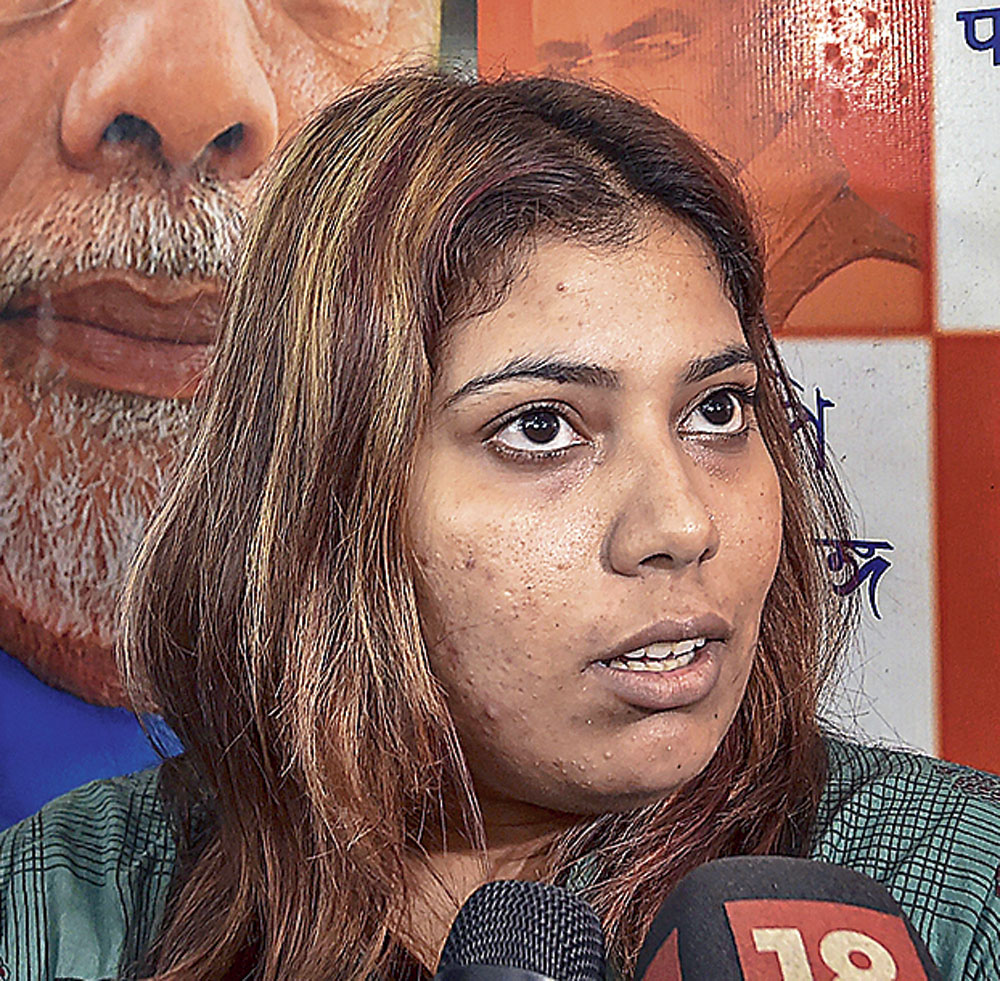 ---
Calcutta/New Delhi
|
Published 15.05.19, 08:44 PM
|
---
The Supreme Court on Wednesday hauled up the Bengal government for violating its directive to release "immediately" on Tuesday BJP youth activist Priyanka Sharma, who had been arrested for sharing on Facebook a morphed picture of chief minister Mamata Banerjee.
"No, this is not done. First of all her arrest was arbitrary. If she is not released, consequences will now follow," a bench of Justices Indira Banerjee and Sanjiv Khanna told the state's standing counsel, Astha Sharma, during a brief hearing.
The bench was dealing with a petition filed by Priyanka's brother Rajib challenging her May 9 arrest by Bengal police as "illegal and unconstitutional".
The judges expressed their displeasure after senior advocate Neeraj Kishan Kaul, appearing for Rajib, rushed to the court on Wednesday morning, complaining that Priyanka had not been released so far despite the order. "She should have been released within half-an-hour," Justice Banerjee observed.
Kaul told the bench the family had on Tuesday gone to Calcutta's Alipore Jail for her release, but was informed by the authorities that she couldn't be freed until they received a written order from the court. Kaul said this was done despite the court on Tuesday categorically ordering her "immediate" release.
"The order was passed in the presence of the state's counsel (Astha Sharma), yet it had been flouted," Kaul complained.
Asked by the bench, Astha said: "I have instructions to say that she had been released at 9.40am today (Wednesday)."
The counsel further said that under the jail manual, the officials had to get a formal order and complete various formalities before releasing a prisoner.
"The order was passed in your presence. Jail manuals can't have superintendence over the Supreme Court order. If she is not released, we will initiate contempt," the bench warned and asked Kaul to find out if Priyanka had been released.
Kaul made some enquiries, confirmed Priyanka's release but claimed "she was forced to give an apology letter" before being allowed to leave the prison. "The forced apology letter, a draft of which was prepared by the police, is in contravention of this court's order," Kaul said in his submission to the court.
The lawyer was alluding to the fact that on Tuesday, the court had ordered Priyanka to be freed and said that at the time of her release, she should tender an apology. Kaul's contention was that the Bengal police had first extracted an apology and released her only after it had done so.
Kaul further claimed that the "state had filed a closure report in the case on Tuesday". "Yet, this fact (of the closure report) was not brought to the court's notice when the order for her release was passed. There wouldn't have been any need for her to tender an apology," Kaul said.
After her release, Priyanka spoke at a news conference at the state BJP headquarters in Calcutta where she said "she would not apologise". "I am not going to apologise for sharing a meme of Mamata Banerjee on social media. I have done nothing wrong to feel sorry about. I have no regrets."
Priyanka alleged that she was forced to sign the apology letter drafted by the jail authorities before her release — 18 hours after the Supreme Court order. "We will continue to fight the case in the Supreme Court in July," said Sourav Chaudhary, national joint secretary of the BJP youth wing.
At the news conference, Priyanka described her alleged plight in the jail. "I spent five nights in jail. It gave me an experience of five years. The jailer pushed me and I was served bad food. There was no water inside the jail," Priyanka said.
Prime Minister Narendra Modi appeared to target Mamata while alluding to Priyanka at a rally on Wednesday in Taki, North 24-Parganas, saying the "daughters" sent to jail were "ready to give you punishment and a lesson".