Sunderbans fishermen look for safer life and better wages
Tiger attacks & depleting shoals drive them to Kerala, Tamil Nadu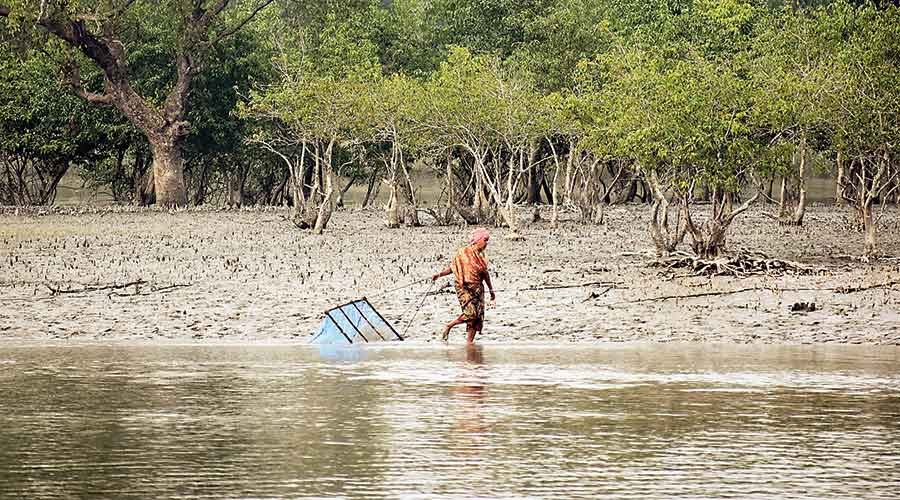 A woman catches fish in a Sunderban creek.
Picture by Chanchal Pal
---
Calcutta
|
Published 07.09.20, 02:07 AM
|
---
Several fishermen from North and South 24-Parganas, who lived off the fish netted from rivers and creeks adjacent to the Sunderbans, are migrating to Kerala and Tamil Nadu, driven by tiger attacks and depleting catch at home. 
Thousands of fishermen from Hingalganj, Basanti, Kakdwip, Kultali, Mousuni, Gosaba and Namkhana, among others, look southward for a safer life and better wages. 
The threat of tiger attacks is a constant. On Sunday, fisherman Gopal Baidya, 54, was mauled by a tiger in Jhila-Jungle (number 6) of Gosaba in South 24-Parganas.
Baidya, a resident of Satjelia-Thakurantala, was eating in his boat when a tiger pounced on him and dragged him away into the forest. He remains traceless.
In the past week alone, at least four fishermen were mauled to death by tigers.
Right now, around 3 lakh people from these two districts are involved in catching fish with trawlers and mechanised boats. But that the trend of migrating fishermen was very much in vogue came to light when some thousand fishermen from the southern states contacted the district administrations for help to return home in the early stages of the pandemic-induced lockdown.
A member of the Dakshinbanga Matsyajibi Forum said: "We don't have an exact number of such fishermen (who have migrated). But it appears to be around 10,000. They have been working in the same profession in Kerala, Tamil Nadu, and even Odisha."
Rakib Biswas of Hingalganj and Shyamal Das of Kultali, along with hundreds like them from the Sunderbans migrated to Kerala to work with marine fish catchers. Das, 42, said: "Repeated tiger attacks forced many of us to quit fishing here."
"There is also an increased level of salinity in rivers and creeks of the Sunderbans (causing fish shoals to deplete)…. These factors, besides better wages, encouraged us to move," added Das, who left in February after selling off his mechanised boat. "Now I earn around Rs 15,000 a month. I never made half of that before I left for Kerala."
Fishermen said the commonplace fish varieties such as parshey, bhangal, bekti, tangra, khorkul, kashkel, foli, chela and datney, once available in abundance, have depleted "alarmingly".
Tanmay Sannyal, an expert in fisheries and limnology teaching in the zoology department of Krishnagar Government College, explained why rivers and creeks were more salty and inhospitable for fish.
"The many cyclones caused tidal waves, resulting in hyper-salinity of the water in creeks and rivers in the Sunderbans. Fish normally available in these rivers and creeks have natural salinity resistance. But tidal waves turned water hyper-saline, making it difficult for fish to survive," said Sannyal. "Such hyper-salinity, coupled with the felling of trees, damaged the plankton community on which the fish survive." 
"Pollution in the rivers has also seriously hampered the reproduction of fish besides damage from the use of micro-hole nets resulting in the catch of juvenile fish."
Acknowledging the crisis, Hingalganj's Trinamul Congress MLA Debesh Mandal said: "We will try to explore alternative scope for fishermen to earn a living. Otherwise, such migration will only turn bigger in the future."
Bankim Hazra, chairperson of the Gangasagar-Bakkhali Development Authority, said: "We will talk in detail and try to find a way out for the fishermen here."