Students join climate campaign
The initiative was taken up by Paschim Banga Vigyan Mancha to motivate young minds to respond against activities that are responsible for climate change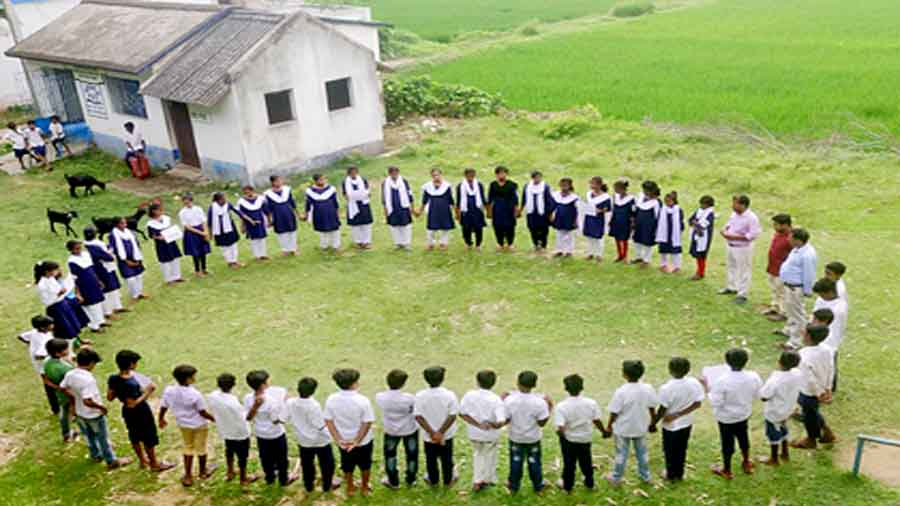 Students of Tentulberia Junior High School in Birbhum form a human chain to observe global climate strike on Friday.
---
Calcutta
|
Published 24.09.22, 03:15 AM
|
---
Thousands of students from hundreds of schools across Bengal on Friday switched off their fans and lights in classrooms for around 30 minutes and formed human chains with posters and placards as part of their protests to demand actions to address climate change.
The initiative was taken up by Paschim Banga Vigyan Mancha (PBVM), a leading science organisation, to motivate young minds to respond against activities that are responsible for climate change. 
Although the movement started in 2019, this year the initiative was taken to involve around 4,000 high schools across the state. 
"The initiative was taken to raise awareness of climate change. The time has come to take action against nations and corporations responsible for climate change. This time we could reach out to around 4,000 schools where students took part in the protest. We will try to reach more schools," said Satyajit Chakraborti, the working president of PBVM. 
The global climate strike happened for the first time in September 2019, when there was a series of strikes and protests to demand action to address climate change issues. The weeklong protests started on September 20 and since then the strikes have been happening globally every year. The idea to include strikes as part of the climate movement was inspired by Swedish environment activist Greta Thunberg, who is known for standing up to world leaders and urge them to take immediate measures to combat climate change. Tentulberia Junior High School in Birbhum's Mohammed Bazar was one of the schools to observe the global climate strike whereover 100 students did not use electricity for 30 minutes and hit the streets with posters "The students sent a clear message that we have to take care of our environment if we want to live peacefully. There is no other planet where we can shift like we change or repair our houses. It was nice to see the response of students to our call for climate strike. At least two dozen schools in Birbhum joined the protests on Friday," said Subhasish Garain, a high school teacher and state committee member of PGBM. 
PGVM activists, however, said the campaign and movement against climate change should get wider and touch more lives."Pollution is one of the reasons behind climate change and a large number of corporate companies are desperately ignoring the crisis for their own benefits. We demand the government should come up with its specific policy to save the environment and keep us safe from the impact of climate change," said Chakraborti.