Straying Himalayan black bears prompt head count
In the past few weeks, a number of animals have been sighted in Kalimpong, the Dooars and the neighbouring state of Sikkim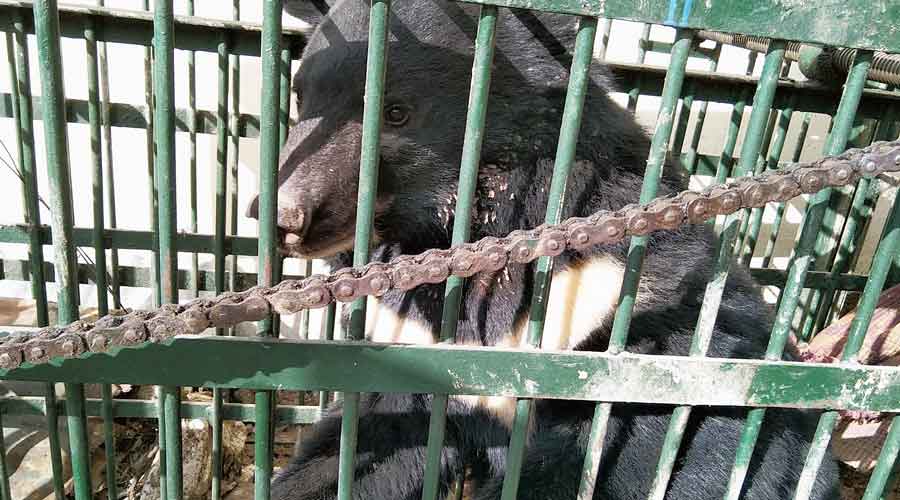 A Himalayan black bear that was recently trapped near Gangtok.
File photo
---
Siliguri
|
Published 03.12.21, 02:01 AM
|
---
Recent incidents of Himalayan black bears straying to the lower reaches of the hills and foothills of North Bengal have prompted the state forest department to plan a survey to estimate the population of the species that usually dwells in the upper reaches of the hills.
In the past few weeks, a number of bears have been sighted in Kalimpong, the Dooars and the neighbouring state of Sikkim.
While most have been rescued by the forest departments of both states and released in the wild, one of the bears, which reached a tea estate in Jalpaiguri and killed an onlooker who ventured too close, was beaten to death by some people in the crowd.
Bears have been sighted in Darjeeling town and in a number of locations of Kalimpong during the past few weeks.
"A number of incidents (bears entering human habitations) have been reported in the Dooars, Darjeeling and Kalimpong. In recent years, we have never come across such cases. That is why we are planning a census of the species to have a clear idea about their population, habitat and food," said Rajendra Jakhar, the chief conservator of forest (wildlife, north).
Initially, this exercise to estimate the bear population will be carried out in Senchal, Neora Valley and Buxa, the forester said.
In north Bengal, the Himalayan black bears dwell in the Neora Valley, National Park of Kalimpong, Senchal Wildlife Sanctuary and Singalila National Park in Darjeeling and in the upper reaches of the Buxa Tiger Reserve, Alipurduar.
Sources in the state forest department said in 2012 a similar estimation of the bear population was done at Senchal Wildlife Sanctuary.
At that time, the presence of around 15 bears was found in the sanctuary located on the outskirts of Darjeeling town.
"The animal usually stays in high altitudes, which means  12,000 feet and above. During winter, it goes into hibernation. Our initial observation suggests that changes in climatic conditions, the increase in population and food shortage may be some of the reasons for the straying of bears in lower areas (human habitations)," Jakhar added.