Stop tea leaf theft: Growers
Secretary of the Jalpaiguri Zilla Kshudra Cha Chashi Samiti accused some brokers of helping the thieves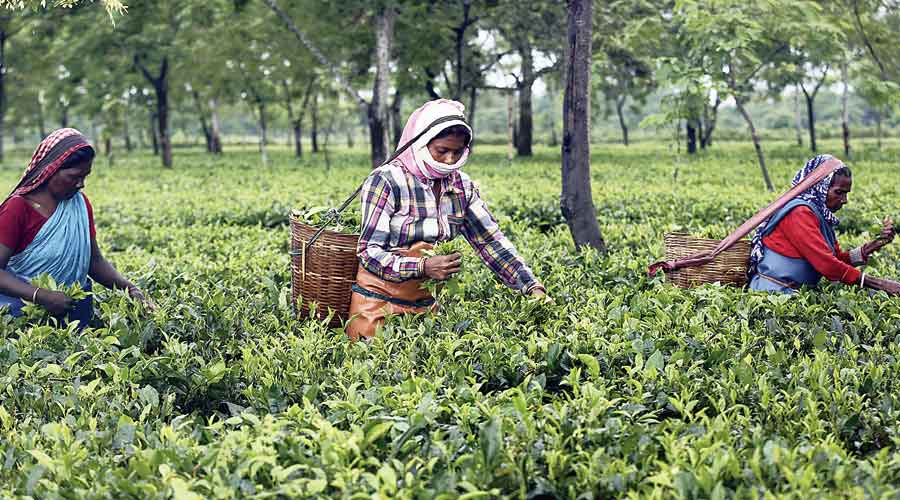 ---
---
Small tea growers in Jalpaiguri district have alleged tea leaf theft from plantations across different blocks of the district.
Growers accused thieves of conniving with brokers to sell the stolen tea leaves.
On Wednesday, they met Jalpaiguri SP Pradeep Kumar Yadav on this issue.
Bijoygopal Chakraborty, secretary of the Jalpaiguri Zilla Kshudra Cha Chashi Samiti or district small tea growers committee, said they had received complaints from members of such thefts since some weeks. He added that growers had to bear losses from such thefts.
He accused some brokers of helping the thieves to sell the stolen leaves to the bought leaf factories (standalone tea factories that buy tea leaves from growers and process them). "Recently, we revised the wage rate of workers, and we have to pay workers bonuses ahead of Durga Puja. If growers have to bear losses now, it would only mount pressure on them," he said.
Chakraborty said one could find vehicles loaded with tea leaves in the tea belts of Jalpaiguri even at 7am though plucking started in tea plantations after 8am and tea leaves were sent to bought leaf factories around 11am and onwards.
He added if police checked the documents of these "untimely" vehicles, thefts could be averted. "Any vehicle carrying tea leaves should have the challan with details of the seller and the buyer."
SP Yadav said he would look into the issue.
In Jalpaiguri, most small tea plantations are in Rajganj, Sadar and Maynaguri blocks. Tea leaf theft has been reported from all three blocks, said growers.
Sources said in the current year, price of tea leaves soared in the past couple of months as supply reduced because of the lockdown and inclement weather.
"On last year, the average price of a kilo of tea leaves was Rs 16 but now it is Rs 35 to Rs 38," said a small tea grower in Jalpaiguri.
In north Bengal, tea production has been less till July this year, says Tea Board data. Last year, 195.81 million kg tea was produced in the region from January to July of which the small tea sector contributed 109.18 million kg. This year, total production till July is 157.04 million kg of which 63.84 million kg came from the small tea sector.