Stink of a short cut to cleaner airport toilets - No fresh contract, just 80 more workers
Read more below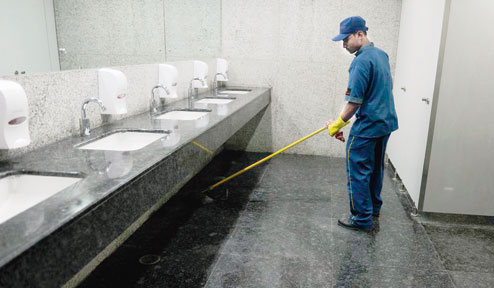 ---
---
A washroom at the new terminal
Calcutta airport has junked the idea of inviting fresh bids for toilet maintenance at its new terminal, sanctioning 80 additional personnel instead to tidy up the 45 dirty toilets that require almost three times more manpower.
The decision was apparently taken after a meeting with Impressions, the Delhi-headquartered private company that has a Rs 19 lakh-a-month contract with the Airports Authority of India to keep the 1,80,000sq metre integrated terminal clean.
In a proposal submitted in March, Impressions had asked for 210 extra personnel for the job. The facility maintenance firm currently deploys 130 workers and around 10 machines, way below the proposed strength of 340 personnel and 18 machines.
Airport officials said they decided to sanction additional manpower for Impressions rather than float tenders because it would have taken months to select a bidder and sign a fresh contract, given the complexities involved.
"We want the washrooms to be manned 24/7. So the manpower will be increased from April 30," airport director B.P. Sharma said on Thursday.
Sources said the expenditure on maintenance would go up by Rs 8 to 10 lakh a month on account of the additional manpower.
Airport officials who did not wish to be named said adding just 80 private workers to the roster was hardly enough to improve the maintenance of the 45 toilets in the arrival and departure sections of the terminal.
"The proposal to deploy 210 more personnel was based on the estimate that each of the three shifts would have 110 workers, 70 more than the number deployed now. The decision to sanction only 80 extra workers means the agency can't add more than 27 personnel to each shift, which will prove inadequate," an official said.
The tentative plan is to deploy more workers during the morning and afternoon peak hours and a lesser number for the night shift.
An official said cutting manpower for the night shift was no solution. "All major cleaning work is taken up at night, when passenger load is low," he pointed out.
In the original contract — Impressions had been chosen because it was the lowest bidder at Rs 19 lakh a month — the scope of work mentioned does not include round-the-clock washroom watch.
Sources said the revised contract would mention toilet maintenance to avoid legal complications.
Metro has been highlighting the poor condition of the toilets at the new facility since the first week of full operations.
A passenger booked on an Air India flight to Delhi on Thursday afternoon said he found the floor of the washroom opposite boarding gate number 20 "wet and generally untidy".