Solidarity march for Jadavpur students
More than 7,000 students and teachers walked from Jadavpur University to Golpark and back on Friday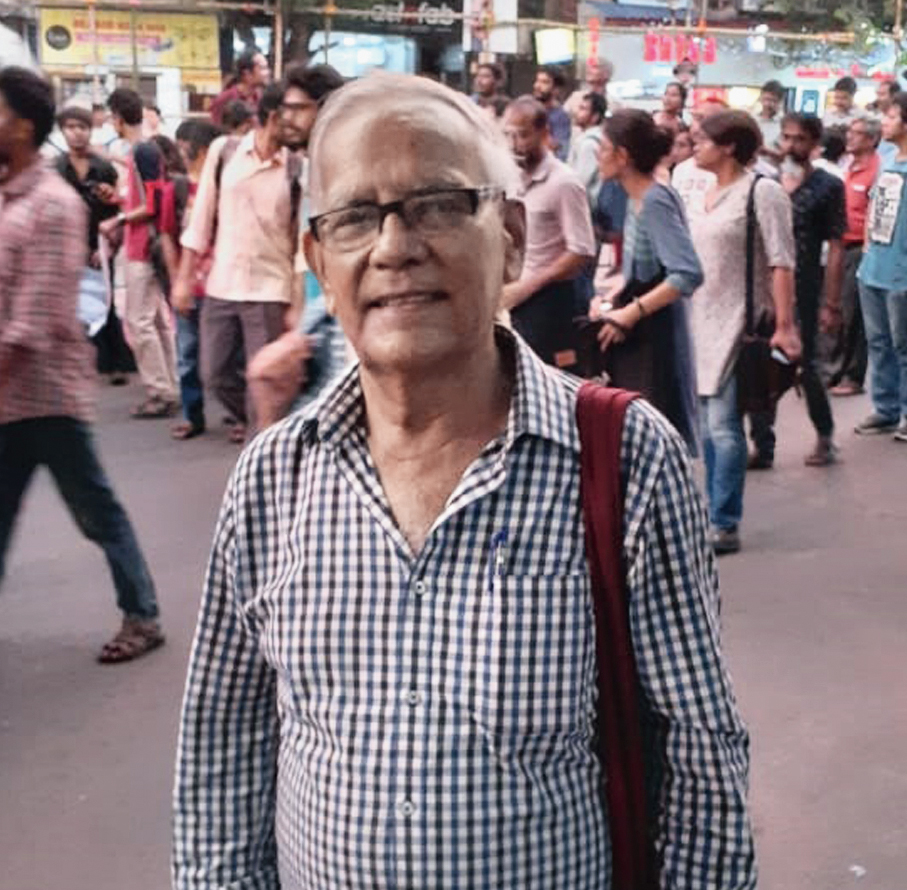 ---
|
Jadavpur
|
Published 20.09.19, 10:52 PM
---
Slogans condemning "fascist conspiracy and terror" filled the air as more than 7,000 students and teachers walked from Jadavpur University to Golpark and back on Friday.
When the head of the rally was on Dhakuria bridge around 5.30pm, the tail was near the Indian Institute of Chemical Biology in Jadavpur, at least 1.5km away. Student leaders put the headcount at around 8,000.
As the protesters sang songs of equality, clapped and raised slogans of revolution, memories of another rally five years ago were rekindled.
The "Hok Kolorob" march in 2014 had been organised four days after a police crackdown on the university. The protesters had found support from all quarters and had enough time to organise the blockbuster rally.
Friday's rally was organised less than 24 hours after the stand-off between Union minister Babul Supriyo and students of Jadavpur University (JU) and the alleged vandalism by ABVP supporters on the campus.
The headcount was lower than in 2014 but the nuanced humour and acerbic wit were the same and so were the spontaneity and spunk.
"Desh bechne waalo ko (to those who sell the nation)," shouted a youngster in the middle of the rally near Jadavpur police station. "A chorus of voices responded: "Ek dhakka aur do (give one more push)". "Awaz do (lend your voice)", shouted a woman, "sab ek ho (let us be one)", others chorused.
O montrimoshai shorojontri moshai, theme thak (Oh Mr Minister, Mr Conspirator, stop right there), read a poster, borrowing a line from Satyajit Ray's Goopy Gyne Bagha Byne. A giant red banner read: Kolorober ei matite fascibader thai nai; Dhormo noy shikkha chai (there is no shelter for fascism in the land of protest; we want education, not religion).
Chhandok Guha, 24, was perhaps the only one who left the walk midway, but not before he had trudged along for a kilometre with an ankle binder and the support of a walking stick.
Guha said this was the first time that he had walked since a fracture. "My friends were beaten up on Thursday evening. How can an outsider have the audacity to call our vice-chancellor a Leftist? I cannot sit at home and watch. I will walk till I can," he said.
Hugs awaited Guha at the end of the walk for showing up.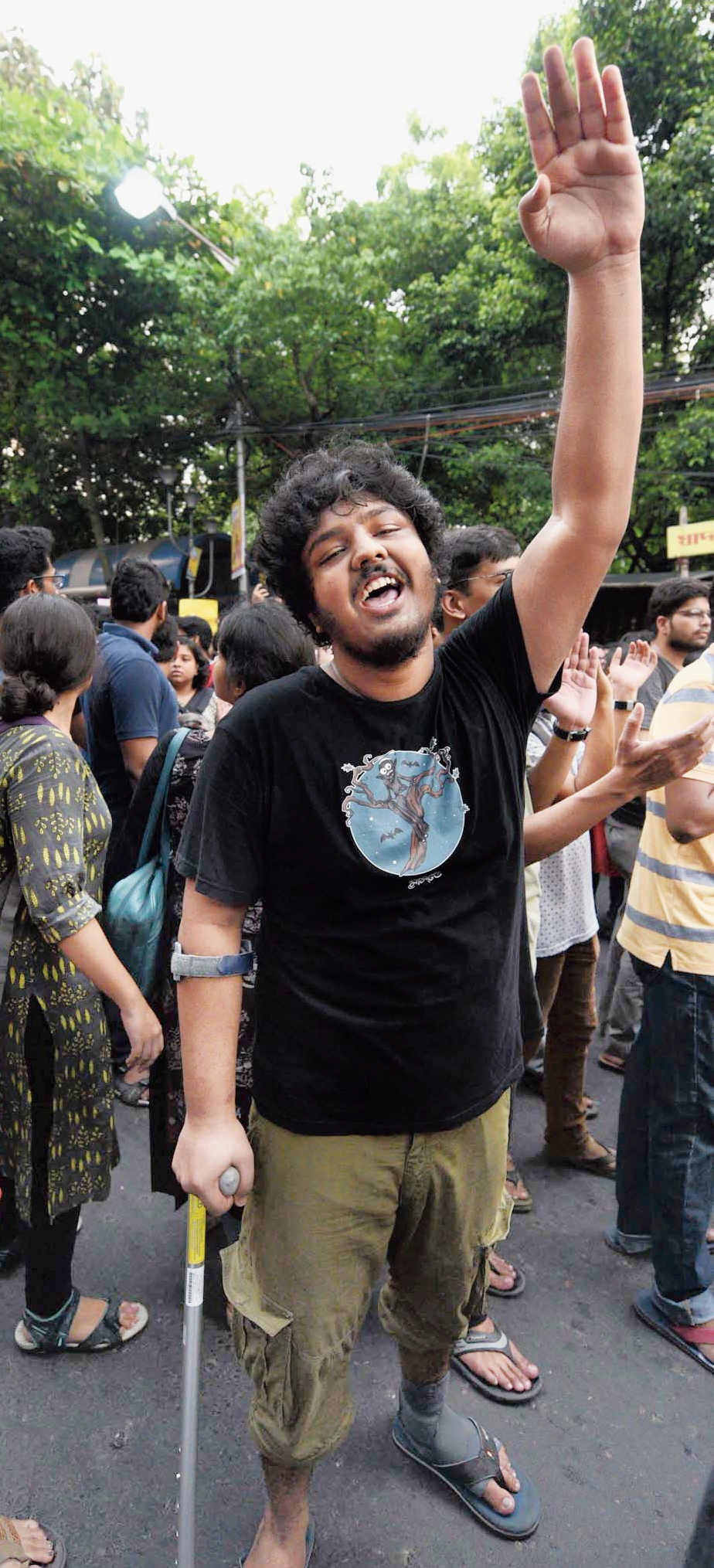 "The vandalism at Jadavpur is alarming not only because it was directed at students but also because it is one of the few remaining places where dissent is prioritised," said Sunandini Mukherjee, a former student of JU. "Fascism must be identified and nipped in its early stage. Unfortunately, we have let it worsen into something that now threatens to demolish every little space of freedom. Students will take to the streets every time such atrocities occur. This is their duty and really the point of education now."
Amalendu Bhushan Chowdhury, who turns 80 this Monday, was perhaps the senior-most participant at the rally. A CPIML-Liberation member, Chowdhury lives near Jadavpur station and is popular among students and teachers alike. He said he took part in Friday's rally because what happened at the university on Thursday was part of a larger conspiracy to crush dissent. "There is so much to learn from these youngsters. Long live their protest," Chowdhury said.
The mood was upbeat at the university much before the rally started. A group of students and workers were busy cleaning up the arts faculty and union room allegedly vandalised by the ABVP on Thursday night.
"The walls will be whitewashed and given a fresh coat of paint," said Subhanjan Basu, who is pursuing his master's in Bengali and is an SFI member.