Smog city chokes & grounds Foul air, moist and smoky- HAZE HAZARD
Read more below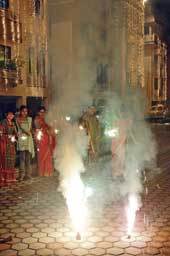 ---
Published 30.10.08, 12:00 AM
|
---
Fireworks sparking smoke and light were a rage on Tuesday, filling the night air with harmful particulate matter. Picture by Bishwarup Dutta
Smog in the city and fog at the airport on Diwali made breathing by night and flying by morning hazardous.
Flight services at Calcutta airport were grounded on Wednesday morning as a fog blanket enveloped the runway, lowering visibility to 50 metres at 6.50am.
"The cyclone that grazed Bengal left behind a lot of moisture. The sky cleared on Tuesday night and the minimum temperature dipped to 21.3 degrees Celsius. The moisture came in contact with the cool air early this morning causing condensation and resulting in fog," said G.C. Debnath, the director of the weather section at Alipore Met office.
Airport officials said 18 flights were delayed by more than two hours as visibility dropped from 5.30am, just after the British Airways flight left for London.
If natural causes resulted in flights being fogged out, the fireworks frenzy covered the streets of the city in smog. "In congested areas, the smoke from burning of firecrackers became smog," said Debnath.
The state pollution control board confirmed on Wednesday that the level of particulate matter in the air — that causes respiratory distress and aggravates cardiac problems — had risen sharply on Tuesday night.
"Calcutta was a smog city with the lighting of fireworks. When we were monitoring noise violation it was clear that the smoke and dust levels were alarmingly high," said Biswajit Mukherjee, the chief law officer of the state environment department.
"At four points of the city the average suspended particulate (SPM) matter was 461 micrograms per cubic metre while the respirable particulate matter (RPM) was 338 micrograms. The figures were around 3 to 3.5 times above a non-Diwali night at this time of the year," said Dipak Chakraborty, the chief scientist of the state pollution control board. The national permissible levels are 200 for SPM and 100 for RPM.
The smog was blamed on innovative fireworks with variable chemical constituents to spark light and smoke. "We have been concentrating on noise violation on Diwali but given our findings on Tuesday we must look into the aspect of air pollution as well," said Mukherjee.