Siliguri gets 40 covered vans for trash
Mayor Gautam Deb flagged off the vehicles bought with funds provided by the State Urban Development Agency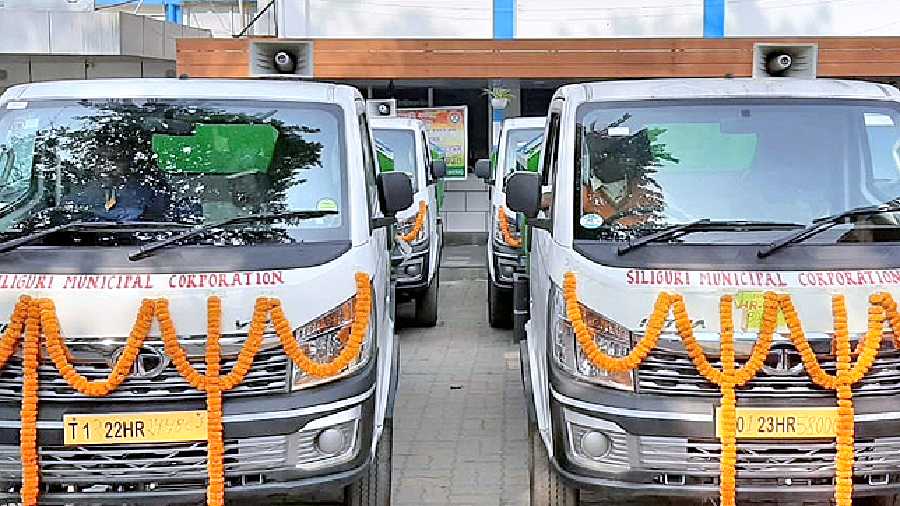 Siliguri Municipal Corporation's vehicles for trash collection
---
Siliguri
|
Published 21.01.23, 03:14 AM
|
---
The Siliguri Municipal Corporation (SMC) on Friday launched a fleet of 40 "hopper-trippers" or covered vehicles for collection and disposal of waste.
Mayor Gautam Deb flagged off the vehicles bought with funds provided by the State Urban Development Agency (SUDA).
"We introduced 40 new vehicles for the SMC area to prevent dumping of garbage on streets. Our plan is to make Siliguri a 'zero waste' city where the garbage would be collected and taken away to the disposal ground. Twenty more vehicles will be added to the fleet soon. We don't want garbage to pile up in municipal wards," Deb said.
Since February last year, after Trinamul bagged the SMC — the largest civic body of north Bengal — Deb has been constantly focusing on prompt and proper collection and disposal of waste.
Sources in the SMC said SUDA provided Rs 5.9 crore for the vehicles, each of which has separate covered storage cells for biodegradable and non-biodegradable wastes. "Each van can carry 1.5 tonnes of garbage at a time," said a source.
The civic body plans to park these vans in marketplaces and centrally located spots.
"We will make announcements to appeal to people to dispose of waste in these vans and not on the streets. Nirmal Bandhu (door-to-door waste collectors) workers will continue visiting households daily to collect trash and dump it in these vehicles," said Manik Dey, member, SMC mayor-in-council (conservancy).
In all, 685 collectors work in 47 wards. Every day, around 350 tonnes of garbage is collected in the city.
Dey said that as a part of solid waste management, they had started fertilisers from waste at the dumping ground off Eastern Bypass. "Samples have been sent to the Uttar Banga Krishi Vishwavidyalaya in Pundibari of Cooch Behar. Once we get its report and certification, we will make fertilisers on a large scale," he said.
Mayor Deb told the media that he would launch "Manusher Pashe Cholo" to reach out to Siliguri residents, next month, where  people would be urged to dispose of garbage properly and obey the plastic carry bag ban, among others.