Sikkim: Namchi district families shift over landslide threat
The district administration said, landslide had been active for over seven to eight months at Pathing village and had not stopped even after the rainy season ended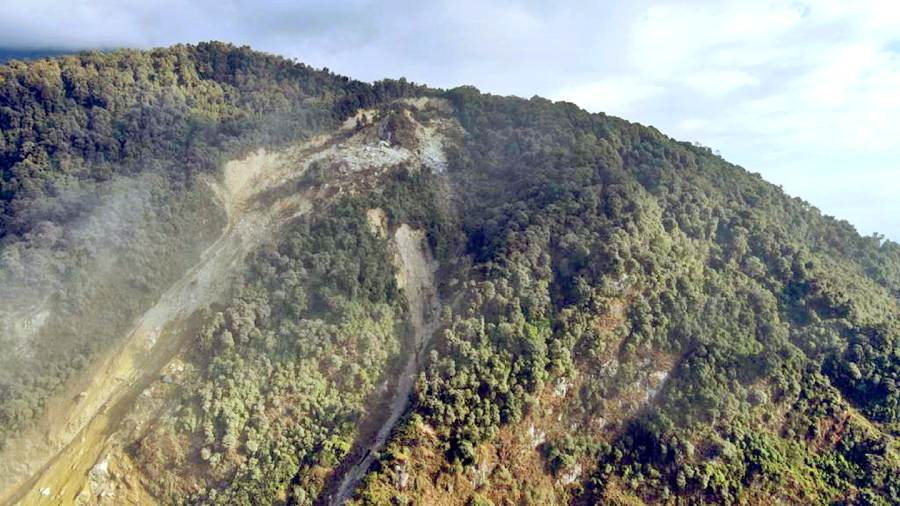 The hillside with the active landslide at Pathing in Namchi district
---
Siliguri
|
Published 24.11.22, 05:50 AM
|
---
About 56 families in the Yangang subdivision of Sikkim's Namchi district shifted to safer places on Wednesday because their houses were facing the risk of coming under the sweep of an active landslide.
The Namchi district administration said the landslide had been active for over seven to eight months at Pathing village and had not stopped even after the end of the rainy season.
The landslide worsened on Tuesday morning with heavy boulders and slush rolling down the hill, posing a threat to houses downhill.  
Anant Jain, the additional district magistrate of Namchi, who visited Pathing on Wednesday, said about 56 families whose dwellings were at risk had been advised to take shelter elsewhere.
"Some of them have decided to shift to the places of their relatives nearby or rented accommodations, others are being evacuated to the relief centre that has been set up at Pathing Junior High School," he told The Telegraph.
Jain said around 60 houses had either been damaged or were at risk of being hit by the landslide. "The quantum of damage, whether it is partially or fully, is yet to be assessed. Our team is assessing them according to the norms of the NDMA (National Disaster Management Authority)…. In a day or two, we will get the final list of houses damaged and according to that, we will proceed," he said.
The ADM also said a team of Geological Survey of India (GSI) officials was carrying out the survey of the landslide and the affected areas in order to ascertain whether or not it was possible to control the phenomenon.
"The landslide is very heavy.  Everything has been washed away there. They (GSI team) will be able to tell us in detail as to what is to be done and not done," he added.
Praful Rao, the president of the Kalimpong-based Save The Hills, who had visited Pathing with his team on Friday, said it was "unusual and dangerous" for the landslide to remain active during this time of the year.
Cash for fire victims
The Siliguri Municipal Corporation (SMC) on Wednesday gave away assistance of Rs 5,000 to each of the families of ward 18 whose hutments were gutted in Saturday's blaze.
Thirty-one hutments were completely damaged and some others got partially damaged after a fire enveloped Ranabusty and Khudiram Colony, two neighbouring localities of the ward, and left around 300 people homeless.
Siliguri mayor Gautam Deb, along with some others, handed over the cash relief to 48 families.
"Acting on the assurance to families that help would come from the mayor's relief fund... we handed over cheques of Rs 5,000 to each family. The civic body has started a survey in the localities so that their homes can be rebuilt," said Deb.
Our Correspondent