Shakespeare in classroom and beyond
A panel discussion on 'Shakespeare in Bengal' at the Victoria Memorial Hall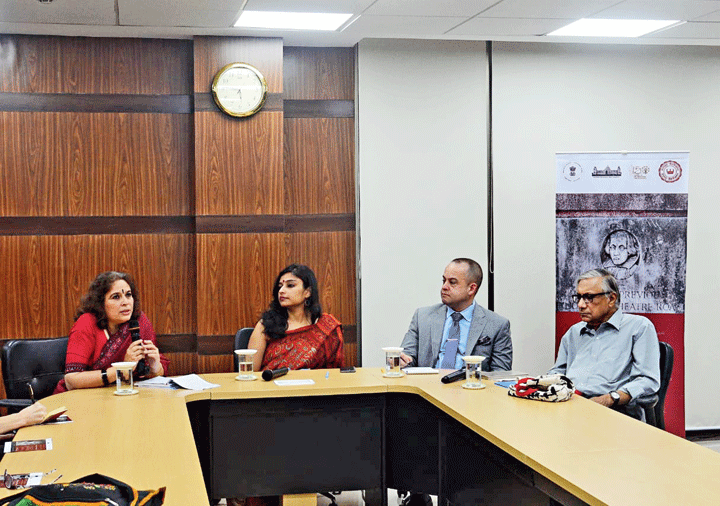 ---
Calcutta
|
Published 26.11.19, 08:40 PM
|
---
In Aparna Sen's 36, Chowringhee Lane, there were two characters who taught English in school, the central character Violet Stoneham, who taught in a tireless, listless way explaining the words to yawning students. She was replaced by another teacher, who got the students to enact Twelfth Night.
Sukanta Chaudhuri, emeritus professor of Jadavpur University, in a panel discussion on "Shakespeare in Bengal" recounted the sequences while explaining the "emotional theatrical tradition of pedagogy" in teaching Shakespeare.
Chaudhuri also narrated how his parents, who were taught Shakespeare by Prafulla Chandra Ghosh, told him that Ghosh "would burst into tears whenever he came to the part where Othello slaps Desdemona".
Traffic of Shakespeare reading and production
Sukanta Chaudhuri pointed out that in Anglophone countries and outside, far more people read Shakespeare than seeing it on stage.
"In Calcutta from the late 18th century onwards there were performances of Shakespeare. The first amateur production was by Drummond's Dharamtala Academy. Apart from the touring British companies and local English theatres, Shakespeare was performed by students enacting scenes. When these students grew up they became the performing Bengali elite who staged Shakespeare. This laid the foundation of Shakespeare's entry into commercial stage."
Both Chaudhuri and Paromita Chakravarti, professor of English, Jadavpur University, spoke of the "traffic of Shakespeare reading and production". Derozio, Ramtanu Lahiri, Keshab Chandra Sen, and Rajendra Prasad all acted in Shakespearean plays as did Girish Ghosh and Sisir Bhaduri of Bengali theatre. Utpal Dutt has produced some of the finest Shakespeare plays and criticism of Shakespeare in Bengali, Chaudhuri pointed out adding that it was the scientist, entrepreneur Prafulla Chandra Ray who carried out an extensive research on Shakespeare and wrote "Shakespeare puzzle" in Calcutta Review.
Exhibition and discussion
Anecdotes and snippets peppered the panel discussion "Shakespeare in Bengal" that featured Eric Johnson, director, digital access, Folger Shakespeare Library, Washington DC, along with Chakravarti and Chaudhuri. Doyeeta Majumdar, assistant professor of English, JU, moderated the session. Shakespeare in Bengal is an ongoing project at the department of English, Jadavpur University, where material related to colonial and post-colonial history of Shakespeare plays and texts in Bengal are being archived.
Why Bengal
Explaining why Bengal was chosen to study how Shakespeare was taught and learnt here, Chakravarti pointed out that "western education was started in Bengal and Shakespeare was an important imperial tool to create native Indian citizenry". But it also created an enlightened space and gave rise to modernist ideas and the notion of Bengal Renaissance. And Shakespeare studies was not restricted to Bengal, as it spread to Maharashtra, south India.
Shakespeare in post-colonial Bengal
In the 60s, a lot of films were made like Saptapadi where there is a screen time of a Shakespeare play in original Shakespeare English with the voice of Utpal Dutt. Then there was the superhit Bhranti Bilas based on Comedy of Errors. "Between 2014 and 2016 there was a spurt of films based on Shakespeare including Zulfikar, Arshinagar and Hemanta that shows a continuing legacy," said Chakravarti.
Folger Shakespeare Library
Eric Johnson spoke about the Folger Shakespeare Library in Washington DC, a private institution established by Henry Folger. The library is in collaboration with Jadavpur University on the Shakespeare in Bengal project. "It has two missions, namely promoting study of Shakespeare and continue to buy early editions and expand its collections and also expand our reach and mission to other parts of the world," said Johnson.