Shah's NRC claim clouds BJP campaign
Saffron party witnesses last-minute turbulence in poll-bound migrant zone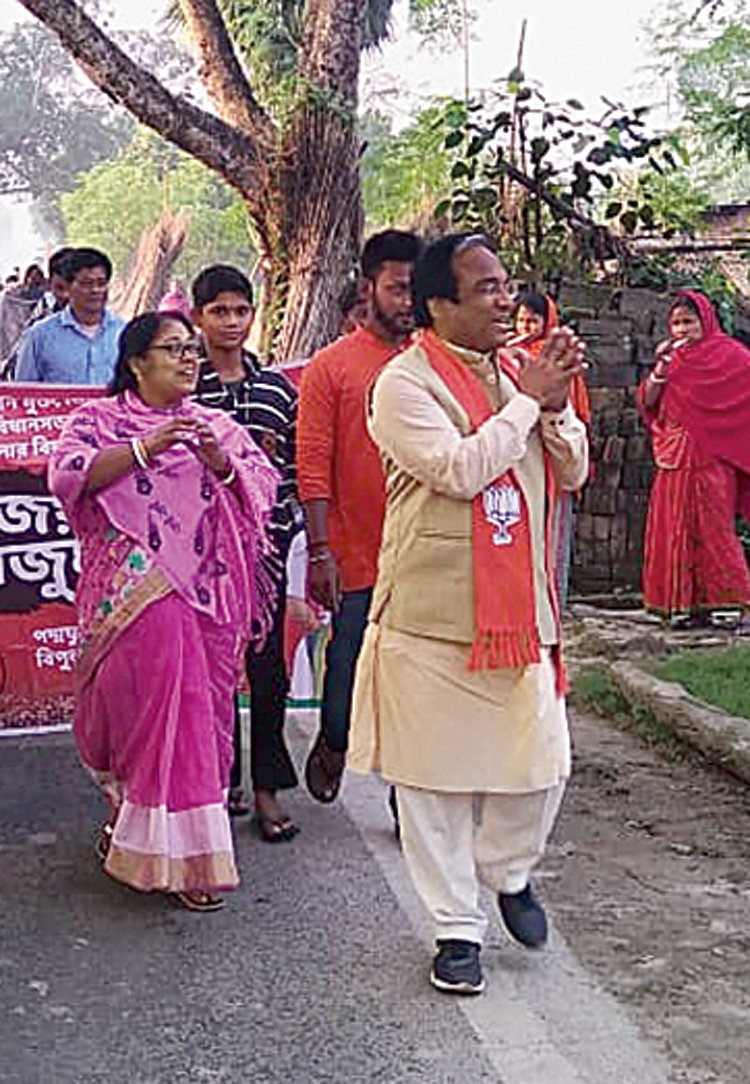 BJP candidate Jay Prakash Majumdar (right) during the campaign in Karimpur
(Picture sourced by The Telegraph)
---
Karimpur
|
Published 22.11.19, 08:27 PM
|
---
BJP leaders in Nadia's Karimpur have been unexpectedly thrust onto the back foot with days to go before Monday's Assembly by-election because of Union home minister Amit Shah's suggestion in Parliament that an NRC exercise would be conducted across the country.
In Karimpur, the BJP had been carrying out a campaign largely accusing chief minister Mamata Banerjee of misleading the people on the NRC.
Following Shah's comments, sources in the BJP said the party would lose considerable ground at the last minute, with no scope of controlling the damage considering Karimpur's sizeable migrant population.
"BJP leaders here went around telling people that though the Assam NRC was the BJP's idea, the Bengal NRC was Mamata's — referring to her 2005 stand in Parliament — and that she was now trying to mislead the people," said a source in the BJP.
He was referring to Mamata's protest in Parliament in 2005 against infiltration from Bangladesh, which she had alleged had been facilitated to boost the Left's vote bank. Mamata, however, has never backed the NRC, making it clear on numerous occasions that she would not allow such an exercise in Bengal.
The BJP leader said the party's Karimpur candidate, Jay Prakash Majumdar, had been trying to soothe nerves on the NRC in the constituency where at least 25 per cent of the electorate is of post-1972 Bangladeshi origin. Karimpur shares a 25km border with Bangladesh.
The sources said Karimpur, in particular, was home to thousands of former Bangladeshis — many of whom are Hindus — who have settled in the area and started families and successful businesses.
Bipul Biswas, 40, a jeweller, said: "Given the BJP's rhetoric, we do not feel safe. We have paperwork for barely 20 years. My entire life is based here now and I have nothing anywhere else."