Season for outdoor action
The Telegraph Salt Lake checks out the sporting options in the twin townships to make the best of the pleasant weather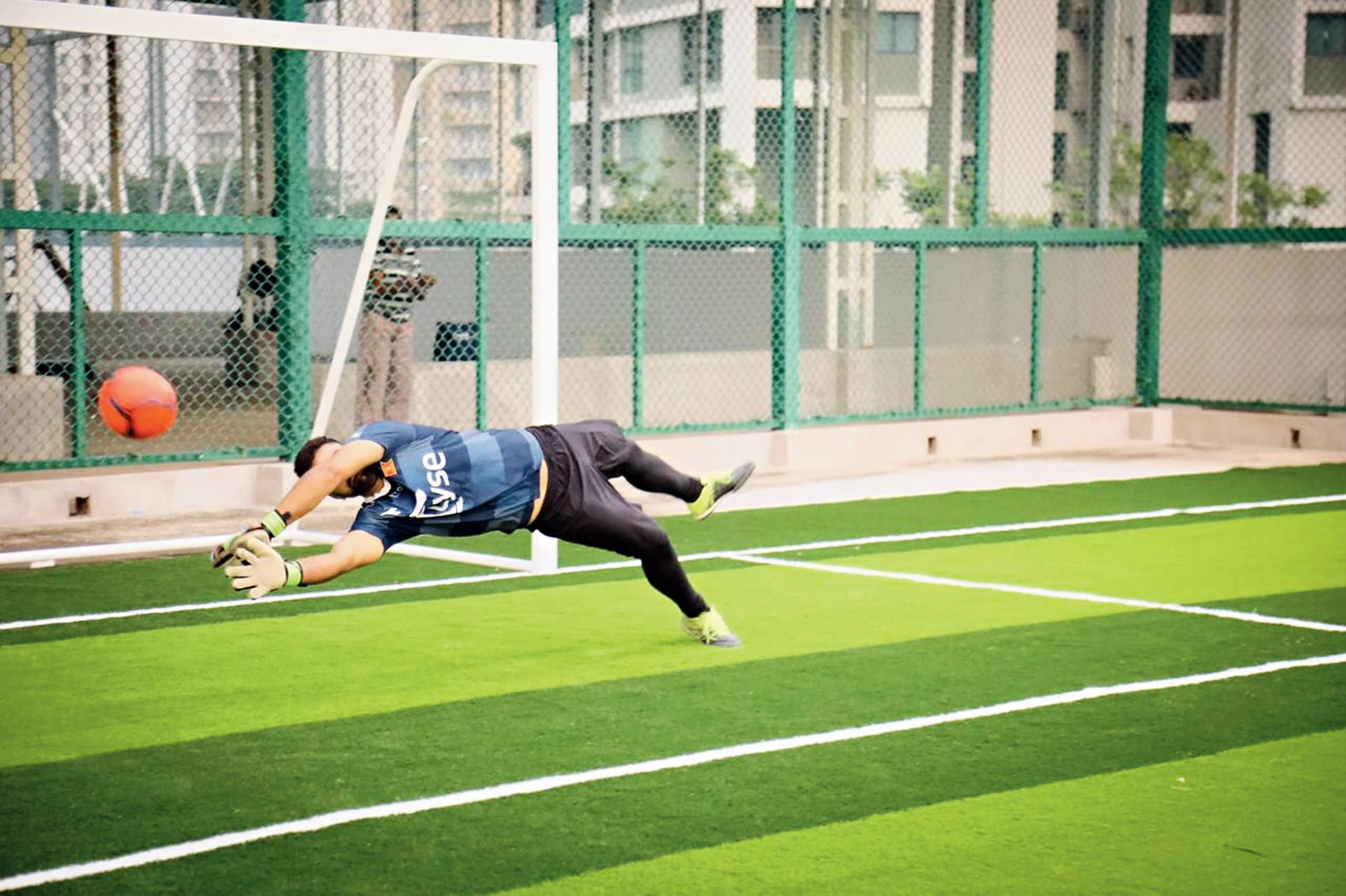 ---
---
New Town has got a new football ground and that too several feet above the ground. A 10,000sqft artificial turf has been inaugurated above Rosedale Plaza, the retail complex of Rosedale apartments, opposite St. Xavier's University in Action Area 3.
"While New Town and Salt Lake have many fields, their quality is lacking. If it rains, the grounds get muddy and the ball doesn't roll easily. So I thought of offering the township a ground with artificial turf," says Vinamra Burman, director of Turf Air Plaza. Burman has completed his Masters in sports management and built some other elevated turfs in the city before launching his own. He also runs V/S Sports Arena in Minto Park, a ground for football and cricket which is not elevated.
Turf Air Plaza allows six-a-side football games but Burman says demand for football and cricket is in 60:40 ratio and he has plans to start cricket soon too. "Schools, colleges, corporate houses are all coming forward but instead of dividing the ground we shall take bookings of one of either at a time. Cricket can be played eight-a-side," he says. Bookings can be done online at turfairplaza.com. Timings are from 6am to 10pm and rates are Rs 2,500 per hour during daytime and Rs 3,000 per hour with floodlights.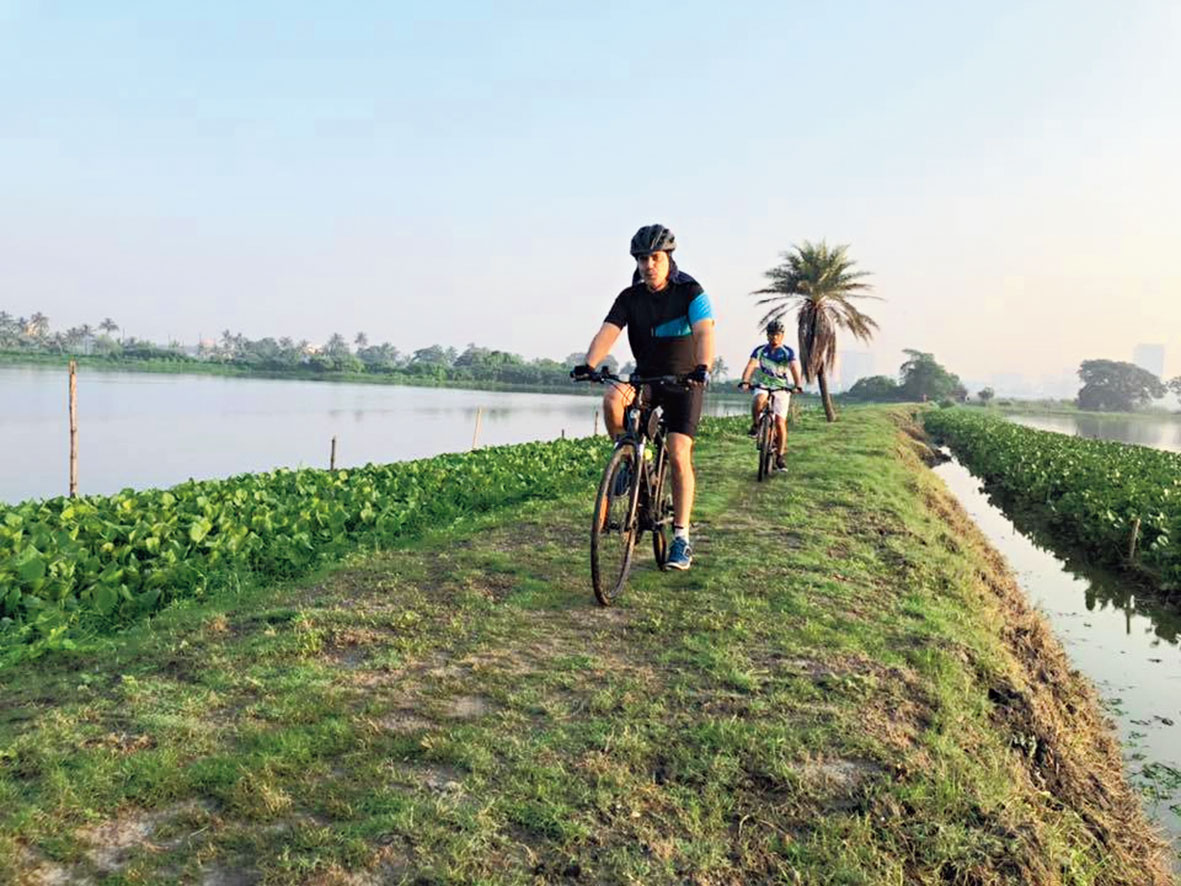 They are also planning a football academy for women and children and have separate toilets and shower rooms for men and women. There is also a viewing gallery, outside of the netted ground, that overlooks the beautiful New Town skyline.
You can go on a guided cycle tour around the bheris before it gets hot. Himalayan Footprints, that runs the adventure sports section in Eco Park, provides a two-hour tour of the wetlands twice a day.
"The timings are flexible but 6am and 3pm would be most comfortable starting points," says CEO Neil Law. He especially recommends the afternoon slot as one gets to enjoy the sunset amid the waters.
Law escorts cyclists and chooses one of two tracks based on their level of expertise on wheels. The novice trail is less rugged and has more halts. "We carry water and stop at picturesque spots or whenever the rider needs a break," says Law.
The sights are breath-taking. One gets to sunset in the backdrop of fishing villages and the Sector V skyline. Since the trail itself is rugged and narrow, it is not possible to ride pillion. So everyone has to ride his own bike.
"Geared mountain bikes are used for the trail and interested riders need to make reservations a few days in advance. This way we can arrange customised bikes as per their height, weight and build," says Law.
The start/end point can be either Eco Park's Golf Arena or opposite Aquatica. Refreshments are served later. The ride costs Rs 2,000 per head.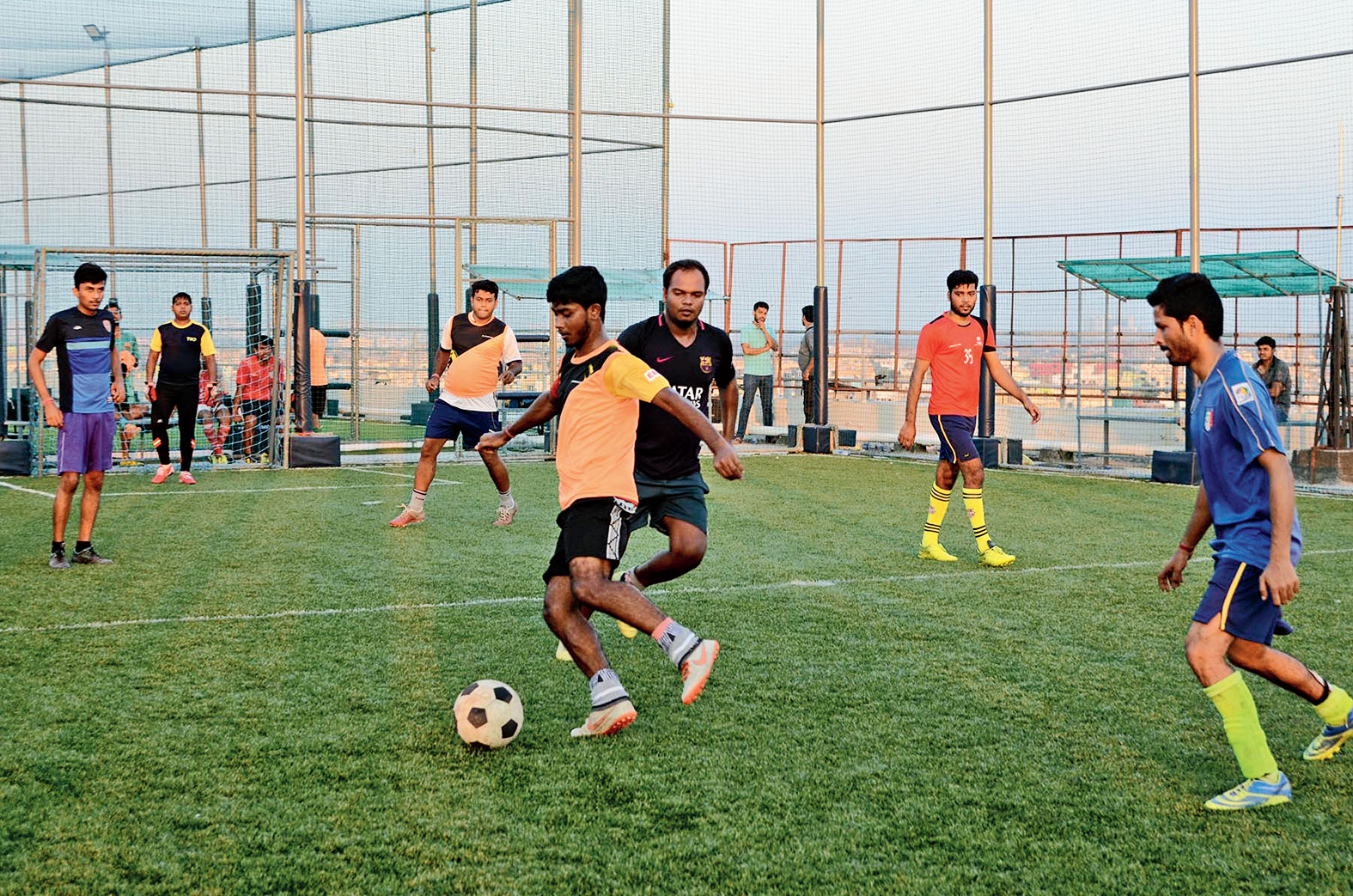 Turf Street, Baisakhi
The first terrace turf to open in Salt Lake was perhaps Turf Street, on the ninth floor of AMP Vaisaakkhi mall. There are two turfs here, of 4,500sqft each — for cricket and football. "In winter, people like playing cricket so we're getting more bookings for the gentleman's game at present," says Aadarsh Choudhary, a partner.
The cricket ground allows the 8-a-side indoor cricket format while the football one permits four or five-a-side football.
The space is open round the clock though they usually get bookings till 1am. "Salt Lake has many parks but they come to us for the infrastructure. Most of our bookings are after dusk too, under floodlights."
The rates are Rs 1,500 an hour for football and Rs 2,000 for cricket.
Turf Street, Sector V
Turf Street also has a branch in Sector V's SLS Towers, with a breath-taking view of the bheris on two sides. "Everyone loves the outdoors in winter but we are up on the 17th floor where it can get extremely windy. So if temperatures dip too low, people cancel bookings," a partner, Aadarsh Choudhary, said.
Being in the IT hub of the city, the turf is a favourite of office-goers but Choudhary says they get lots of youth too, coming with friends and cousins. "It's a 60:40 ratio and in family get-togethers even elderly members participate sometimes," he says.
The ground here is 4,500sqft and can be used to play cricket or football. Rates are Rs 1,800 an hour during the day and Rs 2,000 with floodlights. The ground is open round the clock.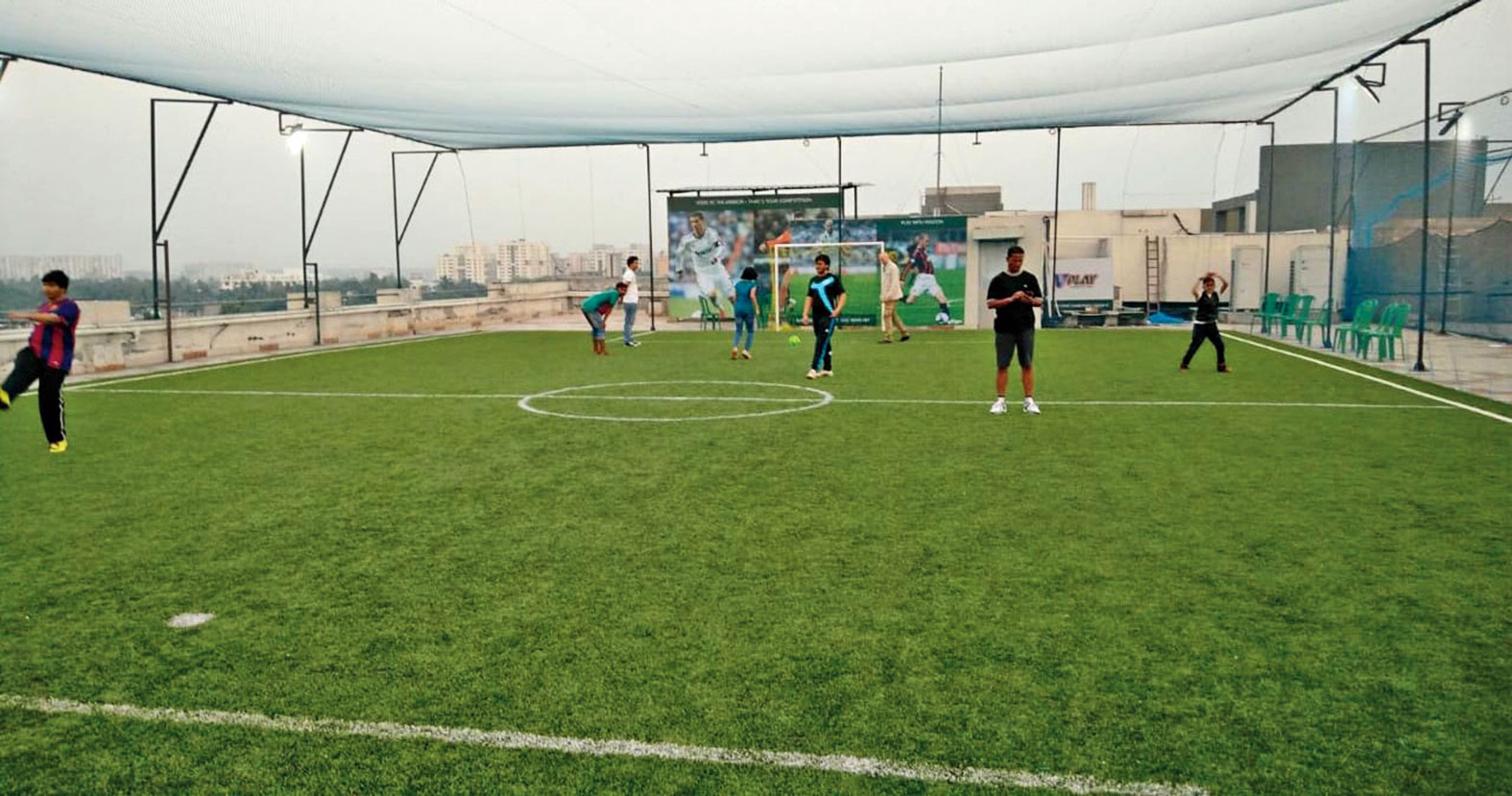 V Play, Chinar Park
How about a round of paintball or lawn bowling while the pleasant weather lasts? V Play, a 25,000sqft space on the seventh floor of Spencer's near City Centre 2, has three grounds for football, paintball and either cricket or lawn bowling.
"During other seasons booking is usually low during the day but in winter we are chock-a-block round the clock. We are a 24-hour facility and people are exploiting every minute of it. Some games are culminating at 4am!" says director Prakash Nahata.
Corporate houses are bringing hundreds of employees over for sports days and clubs from as far-off as Barasat and Madhyamgram are saving up for a sports day-cum-picnic in the clouds.
Cricket here is played eight-a-side, football five. The rates are Rs 1,500 for any ground during the day and Rs 2,000 with floodlights. While all sports equipment is on the house, paintball players have to pay Rs 2 per ball of paint. This is a game where players divide into two and shoot one another with soft balls of paint. They are given protective gear and masks and the balls don't hurt much.
Lawn bowling requires players to roll balls on the turf as per certain rules.