Science made fun for primary students at Science City
Lessons for government school children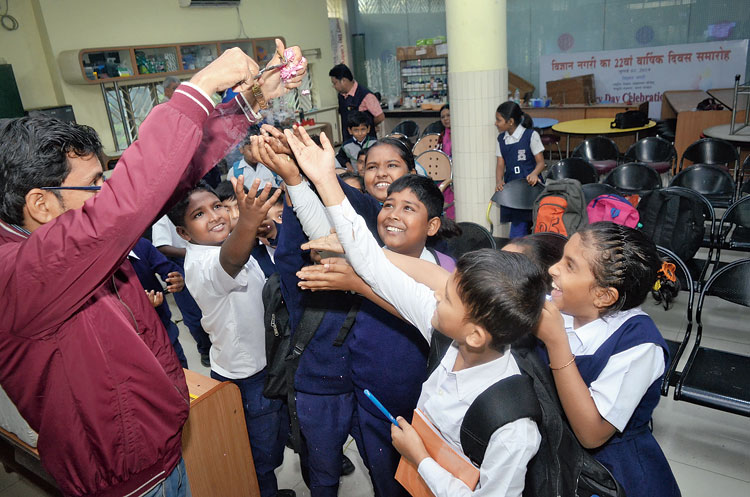 A teacher at Science City demonstrates to the children how a flower turns brittle on coming in contact with liquid nitrogen.
Picture by Biswajit Kundu
---
Calcutta
|
Published 25.02.20, 09:00 PM
|
---
The students had never heard a metal "scream" before. But when they brought a coin near solidified carbon dioxide, it produced a sharp sound, similar to a scream.
Sayan Mondal was excited to see dry ice (solidified carbon dioxide) as he and his friends learnt about the properties of the gas.
This was not their regular science period in school. The 20-odd students from a government school in Dhakuria were attending a two-hour session at Science City. The monthly classes will continue till December.
The education department of Science City has been making science fun for primary students of Dhakuria Paying Prathamik Vidyalaya since last year as part of an initiative by NGO CRY.
Tuesday's class — the first for this batch — introduced the children to different atmospheric gases.
"We are working on chapters from the students' environmental science text book. The aim is to build a better foundation for kids with little exposure," said Rupak Kumar Das, a senior education officer of Science City, who took the class on Day I.
Most of the students had never visited Science City before. The two-hour class brought alive textbook lessons with some simple experiments. Nitrogen bubbles and clouds filled the room, soap water changed colour in reaction to chemicals and a flower dipped in liquid nitrogen turned stiff and brittle.
Over the next few months, the students will be introduced to environmental gases and the causes of pollution, and taken through different evolution processes.
"It always fascinates kids when we take them through a butterfly's life-cycle. Most of them detest caterpillars, the immediate reaction of many is to kill it. Yet children love butterflies and it is important for them to see the whole lifecycle," Das said.
"Even a child can understand physics if simplified. We also plan to teach them the inertia of rest and motion our way," he added.
The children will be taken on a tour of Science City and taught about different birds and animals kept there. They have also been promised a peek into the eco-system pond through microscopes.
"We are trying to make the curriculum a little more interesting. The students will be assessed at the end of the session to check their aptitude for the subject," said Subhabrata Chaudhuri, the director of Science City.
Teachers said they had noted a marked improvement in students who attended the previous sessions.
"We decided to enrich regular lessons with practical knowledge. A lot of children are scared of science because they can't relate it to life. We hope to include more schools in future," said Trina Chakrabarti, the regional director of CRY.